Between The Great Sacandaga Lake & Adirondack Foothills: Northville, NY
Northville is a historic Adirondack village located on the shores of Great Sacandaga Lake. Its unique location provides access to a wide array of Adirondack activities during all times of the year, including boating, hiking, fishing, sailing, cycling, golfing, ice fishing, skiing, snowshoeing, and snowmobiling.
Arguably one of the top attractions near Northville is Lapland Lake Nordic Vacation Center. This family-friendly spot offers opportunities for recreation and lodging all year, and has done so since 1978.
The Northville-Placid Trail is a 133-mile foot trail that runs through much of the Adirondack Park.
Lapland Lake Nordic Vacation Center
Northville, NY
Lapland Lake is a year-round resort that offers a "Touch of Finland" in the Adirondacks! Stay in one of their tupas (cottages) and enjoy a variety of seasonal recreational activities, such as hiking, swimming, paddling, and cross-country skiing.
The Cabins in Hope
Northville, NY
Our 3 cabins are comfortably private and pleasantly set apart. Located on 4 acres of gorgeous Sacandaga riverfront we offer 20th century quaintness with 21st century hospitality by combining the privacy of a cabin with the service & value of a B & B.
Groff Creek Falls
Northville, NY
See three waterfalls at Groff Creek - the first two are fairly difficult to get to. The first waterfall is 30 feet in height. The other two are farther upstream and require a hike downhill to see them.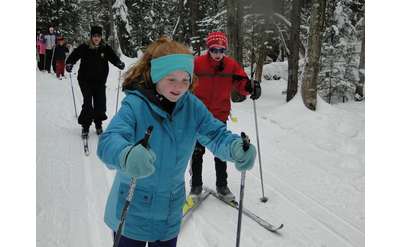 Lapland Lake Cross-Country Ski Center
Northville, NY
Lapland Lake in the southern Adirondacks has been offering a unique winter experience to individuals, couples, and families for over 35 years with cross-country skiing, snowshoeing, lessons, equipment sales and rentals, and more.
West Stony Creek Falls
Northville, NY
West Stony Creek Falls in Hamilton County is accessed by a 1.5-mile one-way hike along an old dirt road.
Adirondack Country Store
Northville, NY
Since 1988, one of the region's most unique shops! We offer quality items many created by skilled craftsmen from the region. Enjoy our collection of Amish Furniture, log furniture, cabin style bedding, baths, rugs, lighting, linens, gifts, and more.