Ready to Pop the Question? Check Out Unique Places to Propose in the Adirondacks
Do you and your partner share a love of the Adirondacks? You already know the beauty of the Adirondack region makes a memorable backdrop for any special occasion, whether you live here full-time, visit frequently, or once a year. To help you plan the perfect proposal, we've selected some of our favorite ideas for unique places to propose.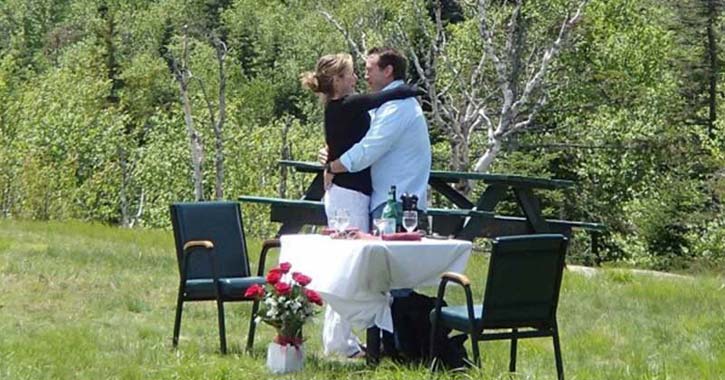 This couple got engaged at Gore Mountain. He surprised her with a private and romantic lunch for two...and a ring!
Special Places to Propose in the Adirondacks
Adirondack Fire Towers - The Adirondack Fire Towers make great hikes and are excellent places to propose to your outdoorsy sweetheart! With incredible views and the firetower to provide a little something interesting for your photos, you and your partner will love an Adirondack Fire Tower proposal hike.
Camp Santanoni - One of the few remaining Adirondack Great Camps, Camp Santanoni is a truly unique place to propose. You can hike in (about 5 miles) or arrange to take a horse and wagon. The trail is open to cyclists, hikers, and horseback riders. In the winter, you can cross-country ski or snowshoe in to the camp.
Gore Mountain - In the winter, there's no better place to propose than Gore Mountain. Surrounded by stunning winterscapes as far as the eye can see, you and your partner will never forget getting engaged at the top of the mountain and then skiing together down to the lodge to celebrate. In the summer and fall, you can even take a scenic skyride in a gondola and propose with all the splendor of the Adirondack mountains displayed before you at Gore.
High Falls Gorge - There are plenty of waterfalls in the Adirondacks, but none are quite as breathtaking as High Falls Gorge. With sturdy bridges and manicured paths, High Falls Gorge is a 30 minute walk with FOUR waterfalls. That's right. Four waterfalls in a mere 30 minutes. After you propose at one of the gorgeous waterfalls, you can celebrate together at the River View Cafe.
Hot Air Balloon Rides - Hot air ballooning is very popular in and around the Adirondacks. Every year hundreds of balloons are launched together at the annual Adirondack Balloon Festival in September, but you don't need to wait for September to schedule a romantic hot air balloon ride and proposal! See Lake George and the Adirondacks like you've never seen them before, and propose while you're floating gracefully above your favorite landmarks.
Propose in the High Peaks - There are 46 High Peaks in the Adirondacks. How many have you conquered? Summit a new one or revisit an old favorite to propose at one of the highest elevations on the eastern seaboard. If you want the mountain view but not the hike (there might be pictures, after all) Whiteface Mountain has both a driving road and the Cloudsplitter Gondola, which takes riders to the top of Little Whiteface.
Raquette Lake Navigation Company - Take a steamboat ride on the WW Durant with the Raquette Lake Navigation Company. There are a number of cruises throughout the day, but the dinner cruise on this historic steamboat offers stunning views, a menu fit for foodies, and - depending on the time of year - beautiful sunsets. Imagine yourself getting down on one knee in the bow with your sweetheart silhouetted by the setting sun. It doesn't get more romantic than this.
Waterfall Proposals in the Adirondacks - There's just something undeniably romantic about waterfalls. Find your way to one of these waterfalls and get down on one knee, because you're not going to find a better place to propose!
Some Tips to Think About Beforehand
Decide if you want a public or private proposal
You know your partner pretty well by now, so it should be pretty easy to decide if you're going to do a public or private proposal (or something in between). Remember, you and your partner are going to be the center of attention, so make sure you are both comfortable with that! If not, a private proposal will be much more comfortable and meaningful.
Choose your location with an eye to the past...or the future
Where you propose is always going to have special meaning. Whether you choose somewhere that already has lots of good memories or a brand new spot that you'll remember forever, the location of your proposal is important. It doesn't have to be flashy, but make the location count!
Ask friends for help
Your partner's best friend knows all the details you're currently fretting over. Don't be afraid to ask for help - that's what best friends are for. Plus, a group outing might just put your partner off the scent of your proposal!
What Happens Next - Wedding Planning!
When the proposal is behind you and the engagement is on, it's time to start thinking about the wedding itself.