The abundance of water in the Adirondacks creates endless opportunities for landscape photographers. Besides all the lakes and ponds, are the many streams and rivers, with lots of different waterfalls and cascades. While taking photos with the camera on Program Mode can capture some nice images, over-riding the camera's settings by using Aperture or Shutter Priority, or Manual Mode lets you set up longer exposures so you can capture the changing patterns that moving water creates.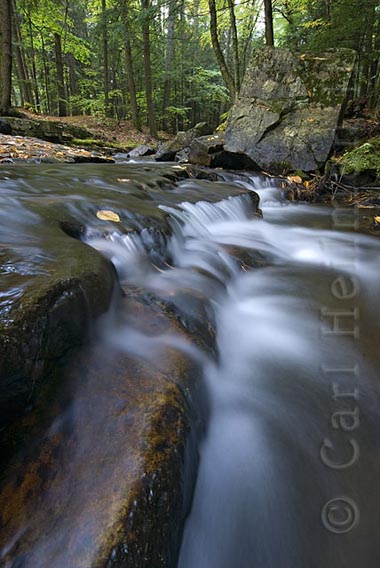 Working with Aperture Priority and setting the camera to the smallest aperture, plus dropping the ISO to the smallest number, gets the camera down to the slowest exposure you can set in the current available light. Be sure to mount the camera on a sturdy tripod so all the rocks and other details are as sharp as possible.
Cloudy days or lower light at the beginning or end of the day are best for getting the slow exposures of about 1/8 sec or longer needed to create a nice soft blur with moving water. Filters, such as a polarizer or a neutral density filter – with a 2 stop to 6 stop light reduction – can be used on the front of the lens to cut down the amount of light, making it easier to shoot longer exposures in brighter conditions.
With digital, once you have taken the photo, it's easy to zoom into the image to check the amount of motion blur to see if you like the effect. Then you can change the shutter speed to a longer or shorter time and try again if it isn't working as well as you'd like!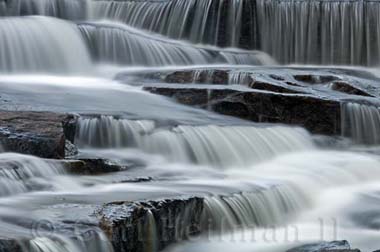 It doesn't take working with a big waterfall to make a great picture – all you need is some moving water in any stream or river, a couple of rocks, and some time to set up a camera and experiment! And, you don't have to be that far away from the road – this waterfall photo was taken in a small park along the main road right at the outlet of Lake Luzerne. It was a wonderful location to experiment with folks on composition and techniques during the workshops I just did at the Adirondack Folk School this past weekend.
Happy shooting!