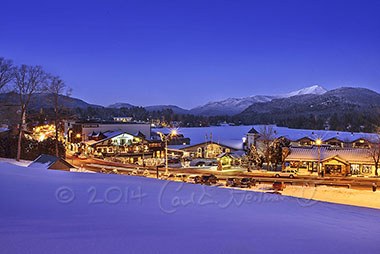 As the sun sets in the west, the blue hour settles in. Lights come on in the towns and cities, and the first stars show up in the darkening sky.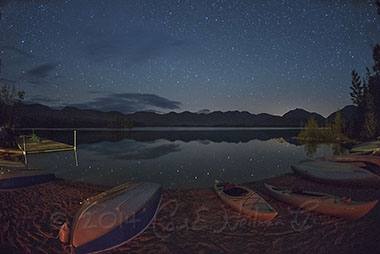 Most of the Adirondacks has excellent dark sky conditions. If you're in some of the larger towns, you just need to get a few miles away to find completely dark skies, tons of stars, the Milky Way, and perhaps even a nebula or comet.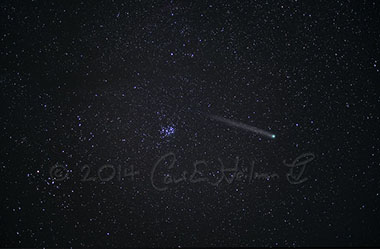 Comet Lovejoy C/2014 Q2 has been moving slowly across northern skies for the past month. While it's barely visible to the naked eye, binoculars have helped it's green fuzzy nucleus stand out better. A camera can help record the soft brightness of the tail. I used a special stacking process to help eliminate background noise in each photo I combined to help bring through the more subtle details of Comet Lovejoy.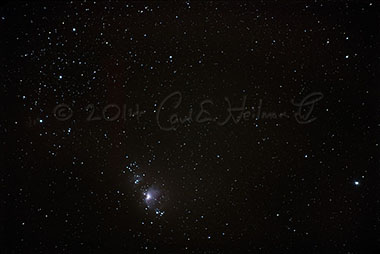 There is also a nebula in the sword of Orion that records easily on camera, and can also be seen with binoculars.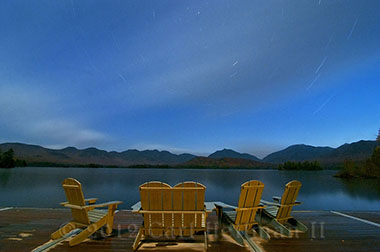 This coming year, a number of my one day photo tours are scheduled to include both evening and night photography – and we always take time out during my multi-day workshops to take advantage of 'night light' to photograph stars, or the night landscape in the soft glow of moonlight. I do these all across the Adirondacks – from our home office in Brant Lake, to the Adirondack Folk School in Lake Luzerne, View in Old Forge, the Elk Lake Lodge, and The Wild Center in Tupper Lake.