As winter settles in around the Adirondacks, cold Canadian air slips south and gives a good chill to the region. Ice forms on puddles, ponds, streams, and finally the larger lakes in the region. Both Lake Champlain and Lake George are the last to freeze over, with the main body of Lake Champlain, and sometimes Lake George, often remaining open throughout the winter months.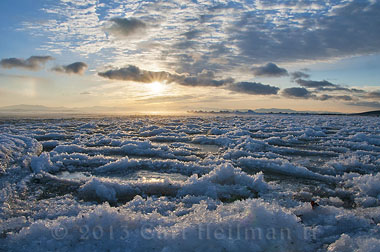 Open water and zero (F) or below air temperatures create unique photo opportunities with a combination of ice, mist, snow, and light. The extremes in air temperature cause mist to form, and sometimes freeze on all the branches along the shore. Wind blown lakes in these temperatures creates icicles and a buildup of ice all along the shoreline. Once the lake water temperature is cold enough, ice crystals form, as well as ice pans that blow into bays and gently bob up and down on the waves rolling in. As the surrounding air becomes saturated with enough moisture, fog and clouds may form along the length of the open water in the lake.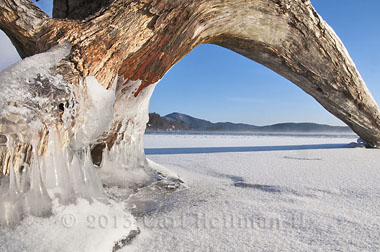 The general rules for exposure apply. When working in Aperture or Shutter Priority, if the scene is mostly white, add some overexposure compensation to brighten up the snow in the photos. Most important, bracket the exposure (shooting additional over and under exposures) to be sure you get a good enough exposure of the composition you have set up, and have enough highlight and shadow details in the exposures to do any needed HDR (high dynamic range) compositing work. I shoot in RAW with the white balance on Auto so I have the greatest amount of image information to work with – and can easily make any slight white balance adjustments needed in post processing. If shooting jpeg, it's best to get white balance right while you're shooting.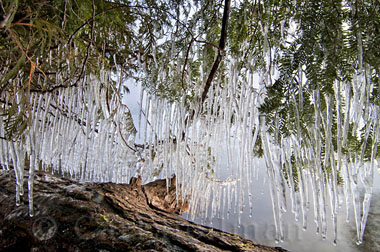 Dress warm! In sub-zero temperatures I wear synthetic long johns and a Primaloft insulated jacket and pants under my wind / waterproof parka and pants, as well as extra layers of fleece if needed. Nice warm Outdoor Research Primaloft mitts keep my hands toasty once the camera is set up, and I use windstopper fleece gloves as needed when making detailed camera adjustments. If you're interested in learning more about how to take these types of shots, sign up for one of the many one day to several day photography workshops I do each year (full list on my website), or check out my landscape photography techniques books. 'The Landscape Photography Field Guide' is packed full of information and tips in a book that easily fits in most camera packs.