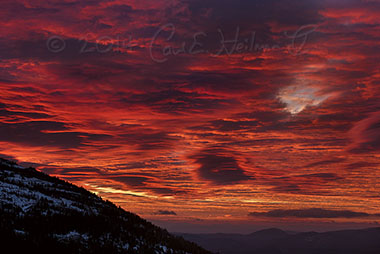 We get to see some amazing sunrises and sunsets over the
Adirondacks. It takes the right combination of clouds, and moisture in the air
to get the really dramatic reds and yellows though. I was climbing Giant
Mountain just before Thanksgiving to photograph some early morning light over
the High Peaks when the first subtle tones of red appeared on the horizon. This
earliest light will glow about a half hour or more before sunrise, and then
fade some, before the sun rises enough to start lighting up the clouds with a
more intense, direct light.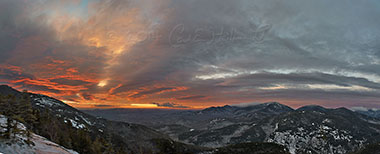 I always shoot raw, so I have best control for enhancing the
images in post processing. For the tighter detail shot of the clouds, I wanted
to accentuate all the layers of clouds I saw that morning, while for the
panorama I wanted to give the feel of seeing the expanse of clouds spread out
across the beautiful High Peaks landscape. The second panorama was taken during
a brief period after the sun rose, before it went back behind the clouds again.