Glade Skiing In The Adirondacks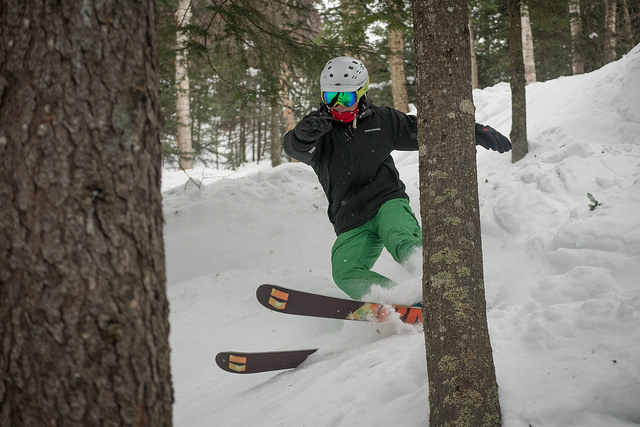 What Is Glade Skiing?
Glade skiing is essentially downhill skiing through forested areas. That said, there's some debate about the difference between glade skiing, tree skiing, and backcountry skiing.
Glade skiing, which we highly recommend for experienced skiers looking for a challenge, usually means skiing wooded trails (or glades) that have been thinned out by professionals at a ski resort expressly for the purpose of creating tree skiing trails.
You will find glade trails at many ski mountains in the northeast and there are plenty of experienced backcountry skiers who love getting out on the peaks of the Adirondacks after a good snowstorm.
Why Go Glade Skiing in the Adirondacks?
Maybe you're looking for more of a challenge or perhaps the downhill slopes are getting a bit crowded and you want some fresh powder. Glade skiing offers additional physical and mental challenges as you navigate the wooded terrain on fresh powder.
If you are interested in tree skiing, we recommend starting with glade skiing trails at a ski resort like Gore Mountain before you venture out onto the backcountry slopes of the Adirondacks. Glade ski slopes at a resort will offer plenty of challenge and you will be able to ski in groups. Out on the steep, tree-studded slopes of mountains like Lyon Mountain in Clinton County, you will have to make your way up the mountain yourself and there often won't be any trails for you to follow.
How Can I Glade Ski Safely?
Proper gear, including helmets, is essential for glade ski safety. Downhill skiing can be dangerous on groomed slopes, but it is even more so in glades with trees and other hazards. Before you head into the glades you should make sure you have mastered the following skills and taken safety precautions:
Wear a helmet and goggles to protect yourself from branches, flying snow, and other hazards
Don't have your pole straps around your wrists
Keep an eye out for sudden changes in terrain or obstacles
Follow the rules and don't start a slope close to sunset
Respect trail boundaries and ski area closures - they are there for a reason
Ski in groups
Make sure you can link hop turn, sideslip, and hockey stop - these skills will help you navigate the often tricky terrain of a gladed slope
Where Can I Go Glade Skiing In The Adirondacks?
We highly recommend going glade skiing at Gore Mountain. Gore has 27 glade trails of varying degrees of difficulty and is an excellent place to challenge yourself to improve tree skiing skills. You can check their website to find out which glades are currently open.
McCauley Mountain Ski Area is a smaller mountin that packs a big punch. With fewer glade trails, McCauley is the perfect place for intermediate glade skiers to practice.
Whiteface Mountain
A popular mountain in Lake Placid, Whiteface also offers glade trails for intermediate and expert skiers.