Adirondack Ice Safety Infographics
Heading out to Lake Champlain, Lake Placid, Lake George, or another frozen location for winter fun? Whether you're walking out on a lake for some ice fishing, pulling up in a snowmobile, or trying your hand at ice skating, you should know the basics of ice safety.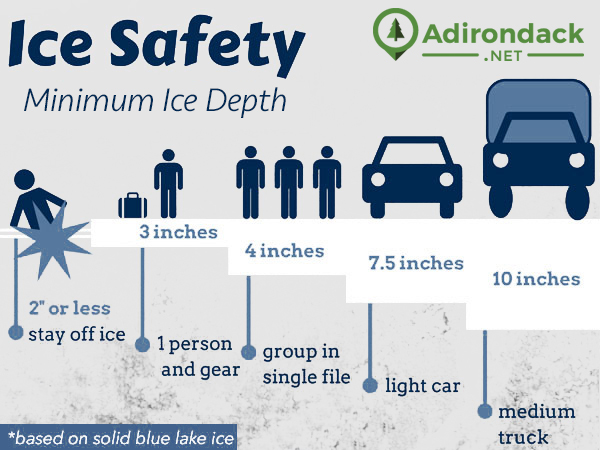 Ice Safety Depends on Ice Thickness
In general, thicker ice is safer because it can hold heavier weight. The following are guidelines for how much weight ice can safely hold depending on how thick it is. Please keep in mind that these are just guidelines and you should personally test ice and make your own evaluation before blindly following this outline. Based on solid blue lake ice, if the ice is:
2 inches thick or less, it is extremely unsafe and you should stay off of it under all circumstances
3 inches thick, it can safely hold one single person and their gear (make sure you're not too close to other people and their gear)
4 inches thick, it can hold a small group of people traveling in a single-file line
7.5 inches thick, it can hold a light car
10 inches thick, it can hold a medium-sized truck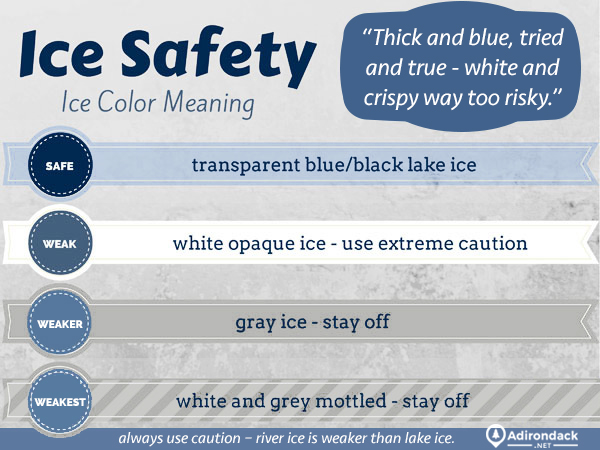 Ice Safety Can Also be Determined by Color
As part of your ice-checking process, you should evaluate the color of the ice since that can give you information about its strength. If the lake ice is:
Transparent blue/black, that means it is strong and safe
White and opaque, that means it is weak and you should use extreme caution. Only travel out onto white opaque ice if it is very thick.
Gray, it is very weak and you should stay off of it
White and gray mottled, it's the weakest type of ice and you should stay off of it
An easy way to remember which color is safe is to think "Thick and blue, tried and true - white and crispy way too risky." It is always better to err on the side of caution when it comes to ice safety. Remember that river ice is weaker than lake ice and ice near streams, spillways, inlets, outlets, dams, and even docks with bubblers is typically weaker than in other areas.
« Back to the Winter Hiking Guide