The Basics of Snowmobile Safety in the Adirondacks
Snowmobiling can be dangerous for the unprepared. Whether you're a beginner snowmobiler or an experienced one, it's always a good idea to re-educate yourself about how you can stay safe while out on the trails. Below, we've highlighted some key safety tips every snowmobiler should remember.
Starting Out: Kids Snowmobiling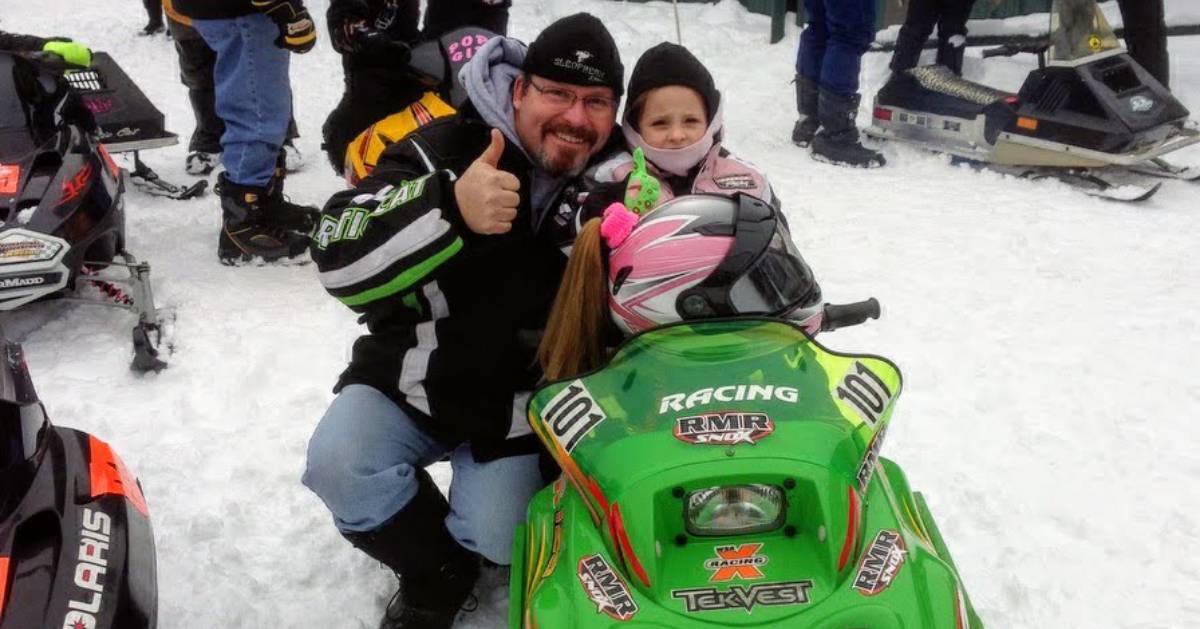 Before you let your child hop on a snowmobile and start riding around, you should be aware of the different legal operator requirements. Unlike some other winter activities, there are age limits and rules in place for snowmobilers to help keep everyone safe. Here are the requirements in New York State:
Ages 18 & Older: Anyone within this age range may operate a registered snowmobile. However, New York State recommends that every snowmobiler should complete a state certified safety course.
Ages 14-17: If a teen in this age range has completed a snowmobile safety course, then no adult supervision is required.
Ages 10-13: Kids ages 10-13 are allowed to operate a snowmobile once they have completed a certified snowmobile safety training course. In addition, they must be accompanied by (within 500 feet of) a person who is at least 18 years old.
Children Under 10, Or Under Age 14 Without A Safety Certificate: Kids in this age range can operate a snowmobile without a safety certificate on lands owned or leased by their parent/guardian.
If you are not a New York State resident but possess a valid snowmobile safety certificate, then you are allowed to snowmobile within the state.
Preparing for Your Snowmobiling Trip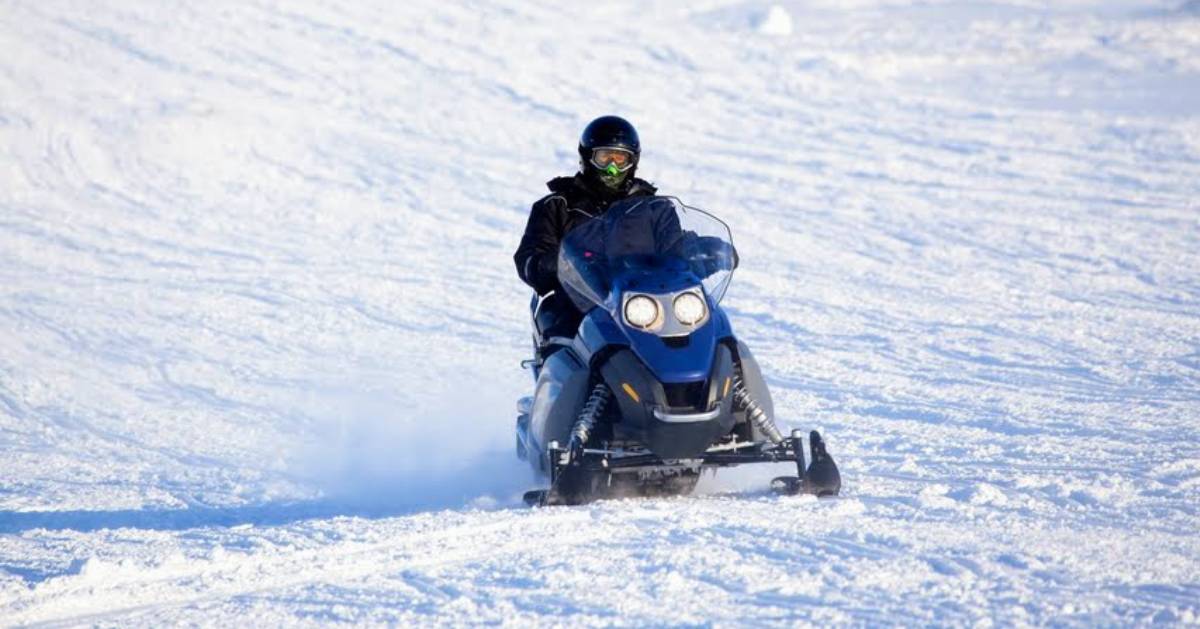 As with any outdoor adventure, planning ahead is one of the main ways you can stay safe. Don't just head out onto the trails whenever you feel the urge to ride. Go through a checklist each time:
Check your snowmobile and determine if it is in working order; fill it with gas before your trip.
See what the weather forecast is near the trails.
Plan out your route from start to finish; let someone know you are going.
Find your registration, insurance card, and safety certificate (if required) and bring them with you.
Pack maps, a compass, other navigational tools, a repair kit, and emergency supplies (flashlight, food, water, space blanket, fire starter, etc.).
Find a friend or group to travel with. It's always safer to go snowmobiling with someone else, which is why many riders are members of a snowmobile club.
Staying Safe on the Trails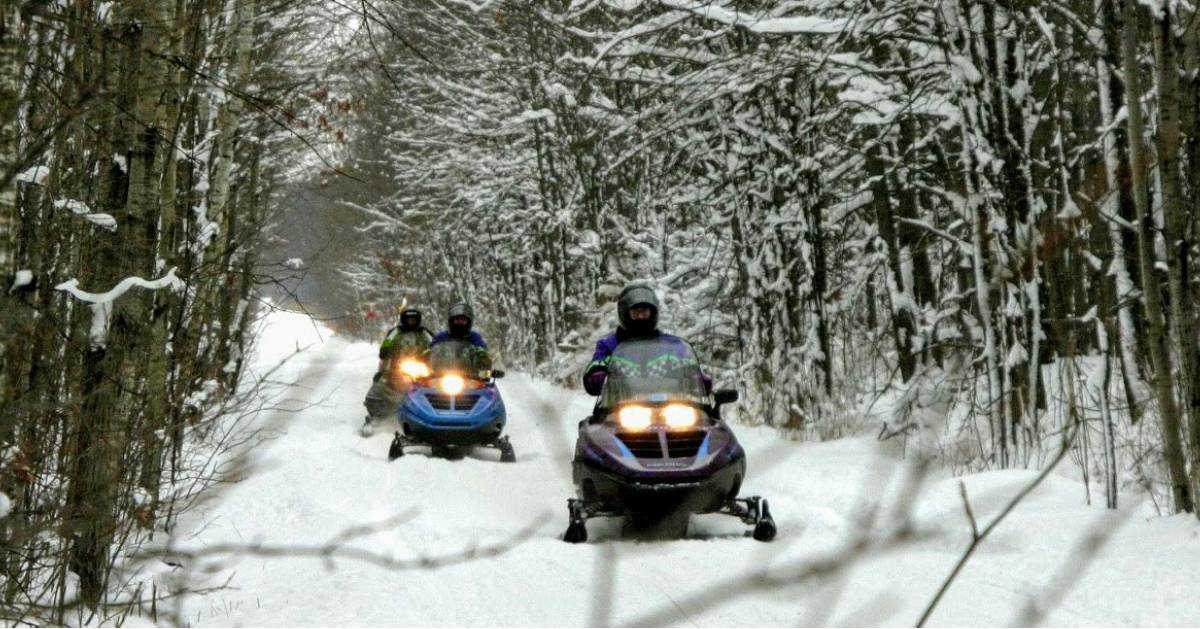 Now that you're prepared for your trip, the next step is knowing how to stay safe while out there in the wilderness. There are a lot of operational restrictions listed in the New York State Office of Parks, Recreation and Historic Preservation Snowmobile Handbook, so we want to highlight 10 of the most important ones you should know.
Never drive while intoxicated or under the influence of drugs. Not only will it put you at risk, but you'll also be endangering the lives of everyone else on the trails.
Ride respectfully in regard to others and private property.
Be aware of trail notices and never ride at a speed greater than 55mph.
Stay to the right of the trail at all times, and keep an eye out for parked vehicles.
Groups should stay in a single file line and use proper hand signals for turning and other warnings.
While crossing a road as a group, one rider should act as a road guard and signal when it is safe to cross.
Always be cautious of ice!
If on a multi-use road, always yield to wheeled vehicles.
Slow down as you pass hikers, yield to dog sledders or horseback riders, and give extra room to ATVs and motorcycles.
Never stop in the middle of a trail, and if a faster snowmobile is coming up behind you, let it pass.
Staying Safe on the Ice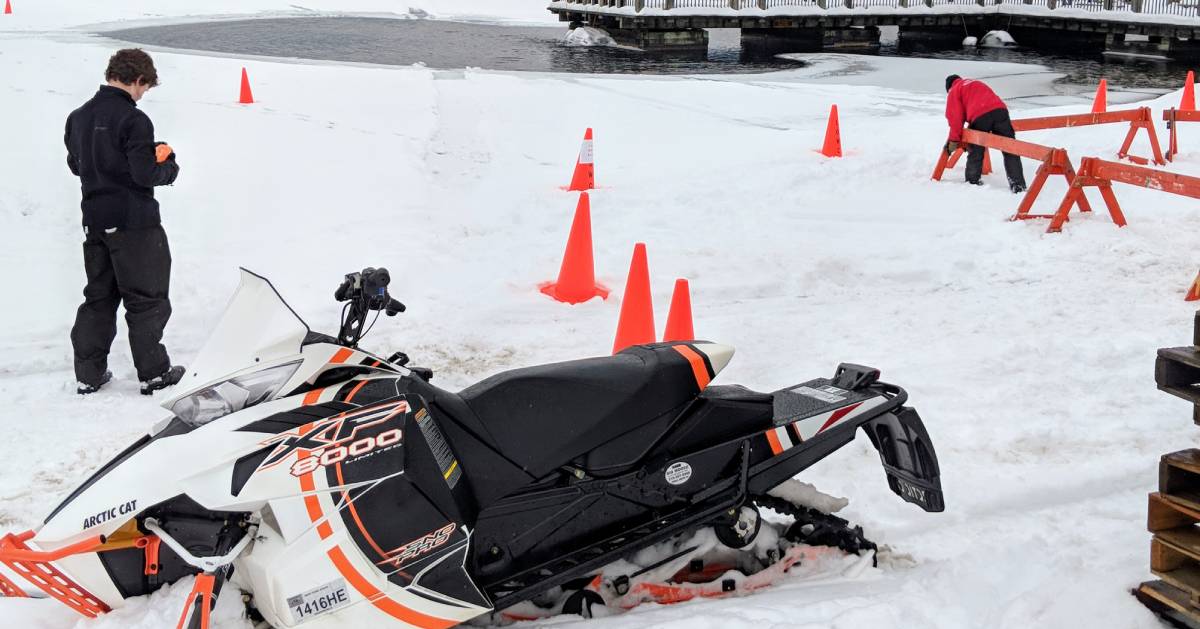 Unfortunately, one of the most common causes of snowmobile deaths is thin ice. When winters are exceptionally warm, some bodies of water in the Adirondacks may only be partially frozen, greatly increasing the risk of an accident on the ice. The best option when you come across a frozen lake or pond is to find a way around it. If you must cross it, or if you want to park and go ice fishing, there are ways to determine if the ice is safe enough to drive on.
The safest ice is blue/clear, and it will be on top of non-running waters. For this type of ice, if the thickness is 2 inches or less, stay off. If the ice is 4 inches thick, then it is good enough to walk on for ice fishing. When the ice is 5 inches or more, you can typically ride a snowmobile or ATV on it. When the ice is white/opaque, it should be twice as thick as blue/clear ice. When the ice is gray or white/mottled gray, do not go on it! In addition, avoid traveling on ice near docks. Bubblers are usually in place to protect docks from the ice, so the area around docks may have very thin ice.
Ice may not be uniform across an entire body of water, so don't assume it's safe to cross if the ice is thick around the shore. For extra protection, wear a snowmobile suit with built-in flotation. Bring ice picks as a precaution.
Take a Guided Snowmobile Tour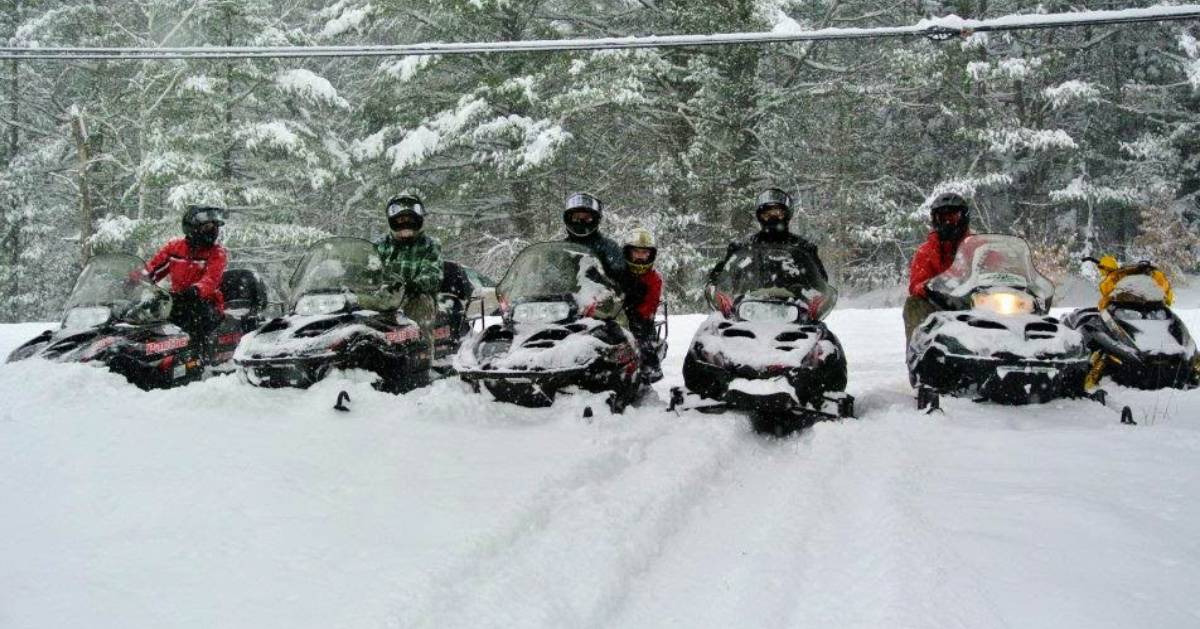 One of the best ways to stay safe while snowmobiling is to go with an expert on a guided tour. Check out C+C Adirondack Snowmobile Tours in Chestertown offer one-hour, two-hour, or dinner tours and can customize the trip to your ability level and preferences.