Learn All About Snowshoeing in the Adirondacks: What It Is, Where To Go & Who Has Rentals
Snowshoeing is one of the most accessible and fun outdoor winter activities in the Adirondacks. Although it is often mentioned in the same sentence as cross-country skiing, snowshoeing is a completely different experience that can be enjoyed off-trail, while hiking, or even in your own backyard.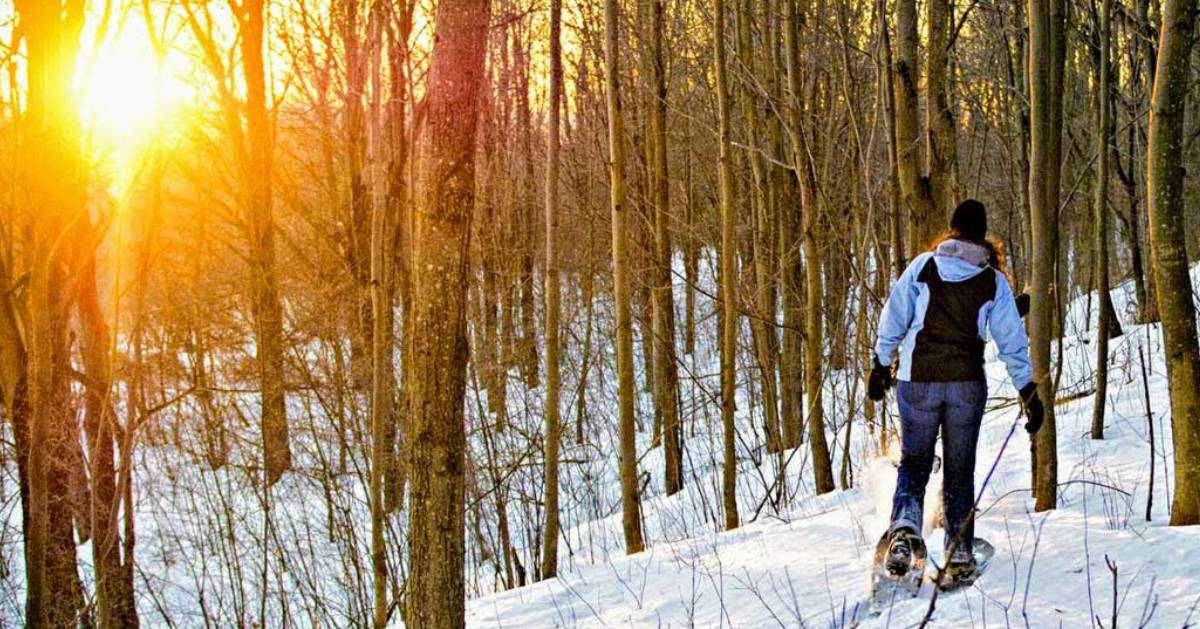 What Is Snowshoeing?
Snowshoeing is very similar to hiking or walking, but the unique structure of snowshoes allows you to stay on top of deep snow instead of sinking in like you would if you were just wearing boots.
Snowshoes are extremely easy to use and can be simply strapped on over regular boots. They come in different sizes for use by adults and children. Snowshoeing is also a great workout and is considered ideal cross-training for runners and athletes.
Where Can I Go Snowshoeing?
Snowshoeing is an easy outdoor activity because it doesn't require a huge amount of space or specialized trails. Ready to get out there and explore the Adirondacks? There are many great places to go, but to help you get started, we have a list of some of the most popular places for snowshoeing in and around the Adirondack Park.
Jump To:
Places That Offer Rentals
Gore Mountain's Nordic Center
793 Peaceful Valley Road
North Creek, NY 12853
(518) 251-0899
High Falls Gorge
4761 NY-86
Wilmington, NY 12997
(518) 946-2278
Adirondack Riverwalking & Forest Bathing
Saranac Lake & Lake Placid Areas
(518) 651-6560
Lapland Lake Nordic Vacation Center
139 Lapland Lake Road
Northville, NY 12134
(518) 863-4974
Garnet Hill Lodge
39 Garnet Hill Road
North River, NY 12856
(518) 251-2150
Natural Stone Bridge And Caves Park
535 Stone Bridge Road
Pottersville, NY 12860
(518) 494-2283
Ausable Chasm
2144 Route 9
Ausable Chasm, NY 12911
(518) 834-7454
Beaver Brook Outfitters *offers rentals only
2349 Route 28
Wevertown, NY 12886
1-888-454-8433
Nordic Ski Center at Friends Lake Inn
963 Friends Lake Road
Chestertown, NY 12817
(518) 494-4751
Cascade Cross Country Ski Center
4833 Cascade Road
Lake Placid, NY 12946
(518) 523-1111
Whiteface Club & Resort
373 Whiteface Inn Lane
Lake Placid, NY 12946
(518) 523-2551
Paul Smith's College VIC
8023 NY-30
Paul Smiths, NY 12970
(518) 327-6241
Mt. Van Hoevenberg
220 Bobsled Run Lane
Lake Placid, NY 12946
(518) 523-4436
Adirondack Interpretive Center
5922 NY-28N
Newcomb, NY 12852
(518) 582-2000
Cunningham's Ski Barn
1 Main Street
North Creek, NY 12853
(518) 251-3215
Places Without Rentals
Camp Santanoni
58 Newcomb Lake Road
Newcomb, NY 12852
(518) 582-5472
Cole's Woods
Upper Glen Street
Queensbury, NY 12804
(518) 793-0710
Amy's Park
887 Padanarum Road
Bolton Landing, NY 12814
(518) 644-9673
Cat and Thomas Mountains
707 Valley Woods Road
Bolton Landing, NY 12814
(518) 644-9673
Dynamite Hill Recreation Center
Dynamite Hill Road
Chestertown, NY 12817
(518) 494-2722
Pack Demonstration Forest
136 Pack Forest Road
Warrensburg, NY 12885
(518) 623-9679
Hackensack Mountain Park
Sunset Avenue/Prospect Street Intersection
Warrensburg, NY 12885
(518) 644-9767
Lake George Wild Forest
Golf Course Road (entrance near Cronin's Golf Resort)
Warrensburg, NY 12885
(518) 623-1200
« Back to the Cross-Country Skiing Guide