The 2016 North Country Holiday Gift Guide
Explore Holiday Gift Ideas Available Here in the North Country!
The holiday season has arrived in the Adirondacks, and it's time to starting thinking about which gifts you would like to give to your friends and family.
To help make this season easier for you, we've compiled a list of the top holiday gifts available not just in the Adirondacks, but across the North Country. Take a look at these regional favorites and see if you can find something for everyone in our North Country Holiday Gift Guide!
Don't spend the holiday season feeling overwhelmed in a large mall! Plan a trip to Forest Hill Trading Company's new store in Bolton Landing - your one-stop shop for everything from delicious maple syrup to Adirondack décor, Lake George glassware, and much more!
Browse a collection of unique rustic items and find gifts for all the people on your shopping list! The new Forest Hill Trading Company store is located at 4941 Lake Shore Drive in Bolton Landing, and it is open Friday - Sunday, or by appointment (518) 848-0601.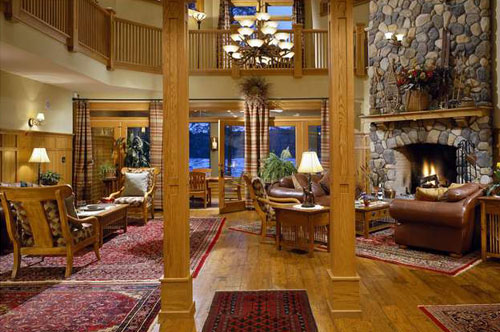 A private getaway to The Fern Lodge in Chestertown is perfect for couples interested in a vacation to the beautiful Adirondacks during the holidays. The Fern Lodge offers five luxurious guest rooms and an unmatched rustic atmosphere. Not only are there lakeside views, but you get to enjoy the state-of-the-art movie theatre, sauna, full bar area, and more.
Purchase a gift certificate today to share with that special someone in your life, or help someone close to you plan a trip!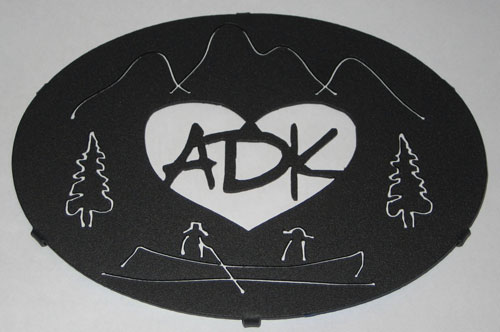 Have you been looking for a truly unique holiday gift this season? If so, then you'll want to check out Love is in the Adirondacks' beautiful Adirondack-themed painted trivet. This wonderful centerpiece is decorated with charming Adirondack imagery: two figures in a guide boat, trees, and of course, majestic peaks.
Made of a high temperature powder coat finish, American-made trivet is available for just $18. A stainless steel version is only $10 more. Shipping is free through December 31st, 2016!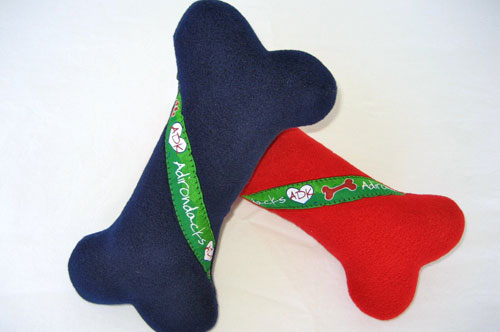 Spread the holiday cheer and have your dog celebrate the season with the rest of the family. Surprise your best friend with a super soft, cuddly, and durable dog bone toy from Love is in the Adirondacks! Featuring two fun squeakers, three colors, and a wonderful Love is in the Adirondacks ribbon design, this is one toy your dog is sure to enjoy!
Order one of these American-made dog toys today for just $12.98. Shipping is free through December 31st, 2016!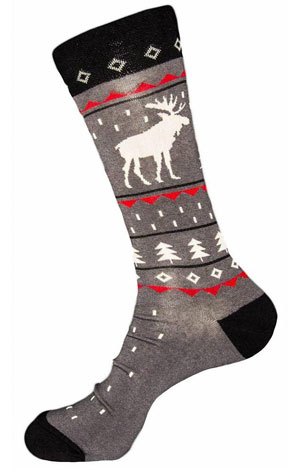 As we get older, there is one item that ends up on everyone's list during the holiday season - socks! Rather than give another pair of plain white socks, head to The Sox Market in Lake George for their special Rustic Moose Socks for men!
With an image of the iconic Adirondack moose and a band of evergreen trees, these comfy men's socks will remind their wearer of the great outdoors. The socks fit men's shoe sizes 8-12, and they are available for only $7.99 a pair!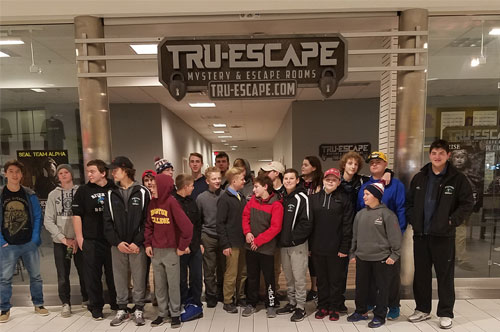 Do you know someone who loves a good adventure? Give that person the gift of a live-action, interactive experience at Tru-Escape Mystery & Escape Rooms at Aviation Mall in Queensbury. Featuring seven unique rooms at this location, players team up to find clues, solve puzzles, and escape!
Each escape room costs $28.00 per person to play, and Tru-Escape offers gift cards that are good for any location, theme, and time. Use promo code "mgiftcrd" during checkout to get $5 off a gift card!
Why leave the comfort of your home when you can order a beautiful, handcrafted holiday gift online? The Adirondack Experience in Blue Mountain Lake has a fantastic selection of items available in its online shop, including holiday ornaments, decorations, etc., as well as other gifts made right in the Adirondacks by local craftsmen and artists. If you're unsure of which handmade item to give someone, try an Adirondack Experience Store gift card and let them decide.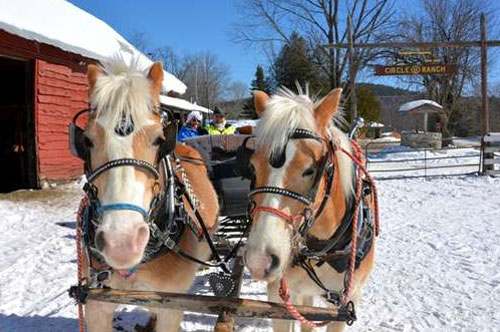 Whether you would like to surprise your significant other or celebrate the holiday season with your family and kids, plan a trip to Circle B Ranch in Chestertown for a winter sleigh ride! Not only does Circle B Ranch offer large group (up to 12 adults) sleigh rides, but there are also evening sleigh rides and romantic sleigh rides for a couple. Enjoy hot cocoa and mulled cider after the ride!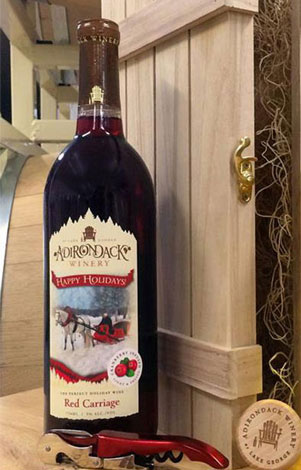 Do you know the perfect complement to a holiday meal? It's wine! If you're looking to purchase a holiday gift for the wine lover among your friends and family, then head on over to The Adirondack Winery in Lake George and purchase a seasonal favorite - Red Carriage! This cranberry infused red wine is best described as semi-sweet and light-bodied. Get a bottle soon, because it is only available during the holiday season.
For The Fisherman In The Family
For a lot of avid outdoorsmen, one of the best parts of the winter season is ice fishing. However, in order to attract the fish lurking under the ice, you need a high quality lure that works perfectly for jigging. If you're shopping for an ice fisherman this holiday season, consider purchasing a few year-round lures from Fish307.com in Lake George and help them prepare for their next ice fishing trip!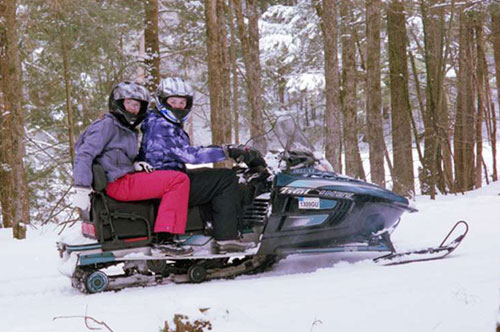 Although fall foliage in the Adirondacks is undeniably beautiful, the region turns into a winter wonderland and playground once the snow arrives. If you're interested in getting a gift for someone who loves exploring the outdoors during the winter season, then sign up for a Lake Vanare Snowmobile Tour. Reserve a 1-hour, 2-hour, or longer guided tour for a thrilling snowmobile ride along groomed trails in Lake Luzerne and the surrounding area.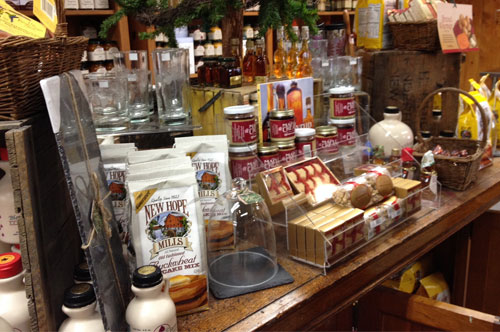 While The Silo in Queensbury is known for its restaurant, it also features a fantastic country store full of old tyme candy, Adirondack treasures, old-fashioned toys, and of course, classic country goods - including maple syrup and maple sugar candy. Rather than give a gift someone will expect, go classic with one of The Silo's locally made and crafted gifts that you know they'll appreciate!
Here in the North Country, when winter arrives, so does snow and colder weather. Keep the kids warm and looking stylish with the latest winter clothing this holiday season, such as coats, hats, snow pants, and more, all available now at The Sports Page Ski & Patio in Queensbury! Have the kids pick out what they like, or surprise them with a piece of outdoor clothing you know they would love to have.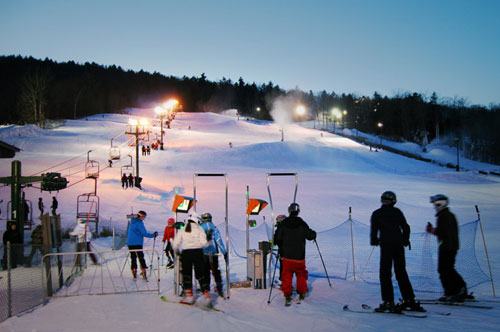 Give the gift of winter fun this holiday season with a trip to West Mountain in Queensbury! Not only do you have the option to purchase lift tickets for the skier or snowboarder among your family and friends, but you can transform this gift into an exhilarating group adventure with downhill snow tubing. If you're prepared to go all out on this holiday gift, a wide variety of season passes are available as well.