Wilmington, NY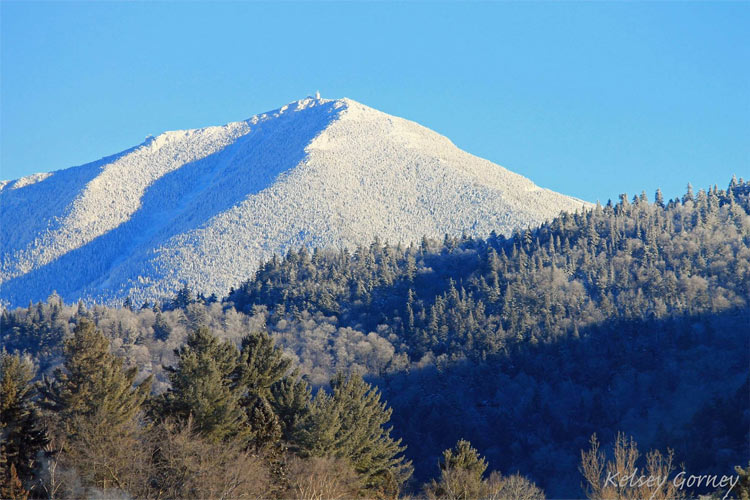 Photo: Kelsey Gorney
Wilmington, a few miles north of Lake Placid, offers everything that an outdoor-adventure lover could desire. This ranges from challenging ski slopes and hiking trails to family-fun parks and scenic highways.
Wilmington is home to Whiteface Mountain, the only Olympic ski area east of Colorado. When the snow melts, Whiteface's gondola can whisk you to its summit, where you can enjoy a panoramic view of mountains, streams, and lakes. Or you can drive there on the Veterans' Memorial Highway.
Santa's Workshop, with its elves, music, live performances, and even reindeer, brings out the child in all of us. High Falls Gorge allows people of all ages to explore a wonderland of rushing water, steep cascades, and high cliffs.
"The Flume" is a completely natural waterfall-and-swimming-hole popular with both visitors and residents.
Wilmington's natural beauty is unsurpassed. The village sits above a wide, striking segment of the Ausable River's West Branch. Mountains are everywhere. The area is a fisherman's paradise: all of the roads either follow streams, or cross them. Wilmington is unforgettable.
More:
| | |
| --- | --- |
| | High Falls Gorge in Wilmington provides easy access to incredible views of four major falls in the AuSable River. |
| | |
| --- | --- |
| | Esther Mountain is the 28th-highest of the 46 Adirondack High Peaks, with an elevation of 4,240 ft. |
| | |
| --- | --- |
| | Flume Falls is a series of drops in a narrow section of the Ausable River's West Branch that total roughly 60 feet. |
| | |
| --- | --- |
| | This privately-owned park features well-maintained trails and bridges that provide excellent views of Climax (50 ft), Rainbow, Mini, and Main Falls. |
| | |
| --- | --- |
| | Suddenly you are worlds way... Enjoy spectacular views across sturdy bridges and manicured pathways that provide safe access into an other wise inaccessible place. One of the Adirondack's most breathtaking 30 minute walks. |
| | |
| --- | --- |
| | The Owaissa Club is a cozy vacation rental town-home community at the base of Whiteface Mountain, the edge of the West Branch of the AuSable River and in the heart of beautiful Wilmington, New York. |
| | |
| --- | --- |
| | Whiteface Mountain is the 5th highest mountain in New York State with an Elevation of 4,867 ft. |
| | |
| --- | --- |
| | Wilmington Flume features four drops in the West Branch of the Ausable River, near High Falls Gorge. |
| | |
| --- | --- |
| | Wilmington Notch Falls is a thin, but powerful 50-foot cascade in the West Branch of the Ausable River. |
| | |
| --- | --- |
| | Wilmington Notch Campground is located in the Adirondacks, next to the Ausable River, at the base of Whiteface Mountain. |
| | |
| --- | --- |
| | Wilmington Notch Campground is perfect for those looking to fish in the Ausable River and those desiring to hike the Adirondack High Peak Wilderness trails. Many sightseeing options are available, including Santa's Workshop and High Falls Gorge. |
| | |
| --- | --- |
| | The Alpine Country Inn & Suites is located at the foot of Whiteface Mountain in Wilmington, NY. We're just 3 short miles from the Ski Center and 12 scenic miles from the Olympic Village of Lake Placid. |
| | |
| --- | --- |
| | The Alpine Country Inn & Suites is located at the foot of Whiteface Mountain in Wilmington, NY. We're just 3 short miles from the Ski Center and 12 scenic miles from the Olympic Village of Lake Placid. |
| | |
| --- | --- |
| | This friendly, family owned and operated camping resort and inn is the only property in the area that can offer your family so many amenities for your total vacation enjoyment. |
| | |
| --- | --- |
| | Experience traditional Adirondack lodging close to Whiteface Mountain, the Ausable River, Lake Placid and the high peaks region. We offer eleven renovated rooms and plenty of space to make you and your family feel at home. |
| | |
| --- | --- |
| | Located in the Adirondack High Peaks, stunning Whiteface Mountain was ranked #1 in the Eastern US for three years running by SKI Magazine, and boasting the largest vertical drop in the East at 3,430 feet. There are 73 trails, 10 lifts and over 215 sk |
| | |
| --- | --- |
| | Wilmington Farmers' Market is held at Swain Green in Wilmington Town Common on Sundays from 10am until 1pm from June until October. |