Lake Placid / Saranac Lake Region
The Heart of the Adirondacks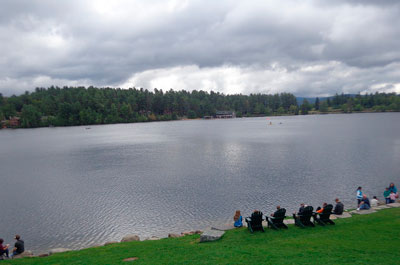 Explore the Lake Placid / Saranac Region! The Heart of the Adirondacks lies, for the most part, between Lake Placid and Saranac Lake. The High Peaks Wilderness Area is located in this region, and is the most frequented by tourists of all 17 Adirondack wilderness areas. With countless recreational opportunities, there is something for everyone to enjoy. There are rivers to fish, lakes and ponds to paddle, and enough mountains and forests to explore for a lifetime!
Lake Placid is best known for winter sports, as it was host to both the 1932 and 1980 Winter Olympics. Skiing, both nordic and alpine, can be done at nearby Whiteface Mountain, along with hiking, mountain biking, and gondola rides. Lake Placid is rich with history and offers upscale lodging and dining as well as family oriented vacation opportunities.
Saranac Lake, first settled in 1819, has a rich history and is home to 186 buildings that are listed on the National Register of Historic Places. The region became a vacation destination in the late 19th century, and notable figures from Mark Twain to Albert Einstein had summer homes in the area.
Lake Placid / Saranac Lake Regional Towns & Villages:
Bloomingdale | Elizabethtown | Jay | Keene | Keene Valley | Lake Clear | Lake Placid | North Pole | Onchiota | Paradox | Saranac Lake | Tupper Lake | Vermontville | Wilmington
Curious to know more about Lake Placid and North Elba? Check out
this article
for all the facts!