About Adirondack Mountain Summer Camps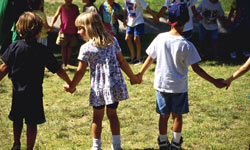 There is much to learn about Adirondack Mountain summer camps, including cost, the various options and much more. As a parent, you'll find it may be more affordable than you think for your child to take advantage of the many benefits of an Adirondack summer camp.
Use this information as a guide, and feel free to contact different summer camps in the Adirondacks to gain more detailed information from the camp director and ask important questions that may be specific to each individual summer camp.
Cost
Afraid you can't afford any Adirondack Mountain summer camps? Many parents find consolation in knowing that prices vary considerably between different summer camps. Don't just call one camp and rule them all out before checking around! The American Camping Association (ACA) says fees can range from $20 a day to $120 a day for summer camp. And many camps (even private camps) offer scholarships and discounts for families that qualify. Also, nonprofit organizations sometimes offer summer camp at little or no charge. Explore summer camps in the Adirondack Mountain area to find one that fits your needs and budget.
Options
Not all Adirondack Mountain summer camps are created equal! There are many different options, ranging from day camps to sleepaway camps in the Adirondacks. Sleepaway camps (also known as overnight or resident camps) are great for children to get the full summer camp experience. Sports camps are a wonderful way for your child to get some great exercise and sharpen their skills over the summer. Day camp is a great alternative to sleepaway camp and a great option for children in their early years into their teens (some accept children under five). Day camps also offer the same caliber outdoor and arts and crafts experiences.
Special Needs
If your child has a physical or learning disability, don't rule out summer camp! Many Adirondack Mountain summer camps take steps to accommodate special campers, with a well-trained and caring staff, so your child can enjoy the same summer full of fun as any other young girl or boy. Special needs facilities and accommodations would be a good thing to add to your list of questions for the camp directors.
Homesickness
Many children go through some separation anxiety at varying levels when they go to sleepaway camp, no matter how much fun they are having. Bear in mind that most of the time, homesickness is not a cause for concern and children often overcome their fears in a matter of days. Learn more about homesickness if you are sending your child to a sleepaway camp this summer.
ACA Accreditation
Many Adirondack Mountain summer camps are ACA accredited. These camps must meet nearly 300 health, safety, and program quality standards, and there are quite a few to choose from. Learn more by visiting the ACA website or calling (800) 428-CAMP.
Early Registration
It is smart to begin researching and exploring summer camps as early as possible. Many parents spend their winter touring facilities and meeting with camp officials to find Adirondack Mountain summer camps that might be right for their child. It's a good idea to get an early start and secure a place for your child while there is still availability. Begin exploring your options today!
Ready to start your search? Browse summer camps in the Adirondacks »