Discover The Eastern Adirondacks & High Peaks Region By Car
While some may argue the only way to enjoy the High Peaks is to hike them, we respectfully disagree. Throughout the High Peaks Region and the eastern Adirondacks are incredible sights you can see from the road or after a short walk. From ghost towns to waterfalls, the region is packed with both natural and man-made wonders. Check out these scenic drives with great stops along the way:
High Peaks Scenic Byway (Route 73) Underwood to Lake Placid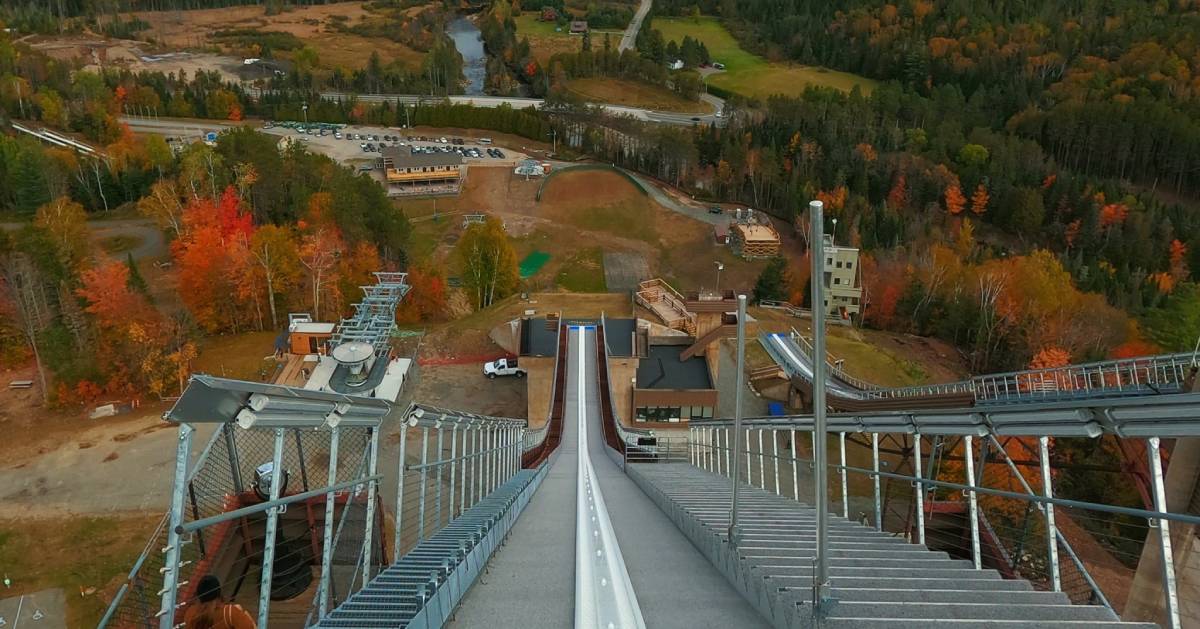 Chapel Pond
As you approach Chapel Pond, you may spot rock climbers tackling the Chapel Hill Slab, one of the most popular rock walls in the Adirondack Park. There is a parking lot for the trailhead on the left side of Route 73. Walk up to the treeline for stunning views of the pond as Noonmark Mountain rises up behind it. There is a pretty steep drop below the parking area, so be mindful as you approach the trees.
From Route 73 you can see this stunning waterfall that is somewhere around 300 feet tall. There is a pull off roughly 1500 feet before the Roaring Brook Falls/Giant Mountain Trailhead as you head toward Keene Valley. If you're up for it, the trail to the base of Roaring Brook Falls is roughly .3 miles from the trailhead, making this a short 30-minute walk for a closer view.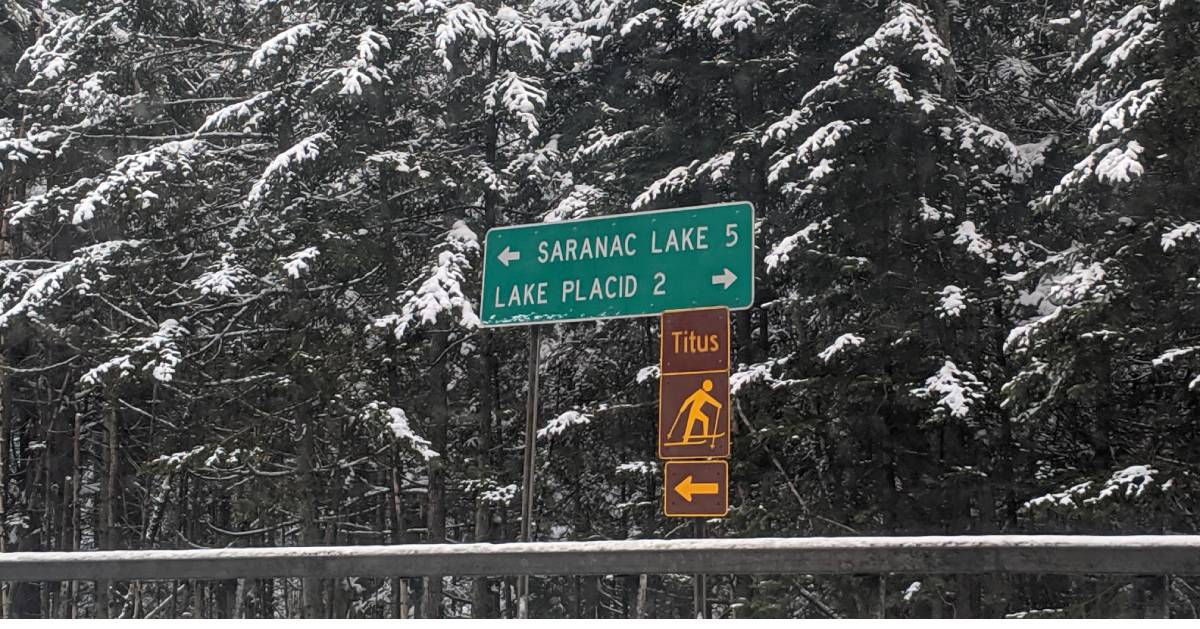 Ausable River Overlooks
Along Route 73, there are plenty of spots you'll be following along the Ausable River. Just past Keene Valley, there are some nice places to stretch out overlooking the river. Grab lunch along the way and have a riverside picnic, some of these pull-offs have tables available.
Arguably one of the best scenes in the Adirondacks, the Cascade Lakes are a must-visit. Route 73 will take you right along their northern shorelines. Pop in to one of many pulls-offs and enjoy some quiet contemplation. You can also wade in the waters, go for a swim, or if you're paddlers, launch a kayak or canoe.
On your left between Elba and Lake Placid, you'll see the looming Olympic ski jumps rise up from the trees. Built for the 1980 Winter Games, the jumps that stand today are 90 and 120 meters tall (295 and 393 feet). The hillside itself has been used for ski jumping since the 1920s, including the 1932 Winter Olympics.
As you continue on Route 73, you'll find yourself in Lake Placid. From Lake Placid you'll have numerous options to extend your ride for even more scenic views.
Route 28 & 28N Loop
Starting in North Creek, you'll follow Route 28 up and around through Indian Lake, Long Lake, Newcomb and more before returning to North Creek via Route 28N. Along the way you'll pass by countless bodies of water and great views of the Adirondacks.
Hudson River
Just beyond North Creek, before you enter North River, there is a great scenic pull-off that overlooks the Hudson River. You may be able to catch a glimpse of whitewater rafters making their way downstream.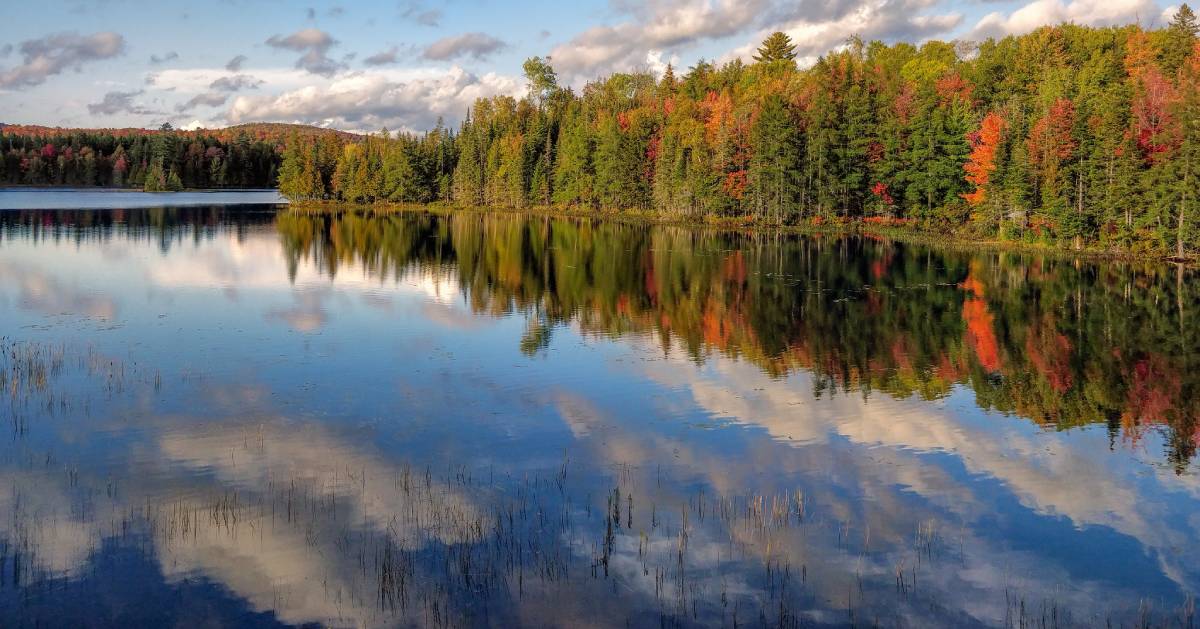 Photo credit: Derek Finch , licensed by CC BY 2.0
Lake Abanakee
This stop will be on your left just before entering Indian Lake. Break out the binoculars as the islands of Lake Abanakee attract nesting osprey and bald eagles.
State Overlook
A quick detour down Route 30/Sabael Road leads you to the State Overlook. Drive one mile south on Route 30 from the intersection of Routes 28 and 30 in Indian Lake and you'll see the State Overlook on your left. Here you'll enjoy sweeping views of the Adirondacks with signage identifying what mountains are visible.
From the State Overlook, return to Route 28 and continue west for just over 12 miles (take the fork right onto 28N) and you'll reach Adirondack Experience. Here, you'll learn all about the wildlife, culture, art, and history of the region. This museum and educational center has more than twenty exhibits spread out over 121 acres. The Lake View Cafe offers amazing views of Blue Mountain Lake.
Newcomb Overlook Park
Continue on Route 28N just under 30 miles to reach Santanoni Drive and Newcomb Overlook Park. You'll find yourself in awe of the incredible views of the Adirondacks around you. A monument at the site identifies the High Peaks seen in profile.
To complete your loop, continue 23 miles on Route 28N through Minerva and back to North Creek.
« Back to Exploring the Adirondacks by Car