Driving The Southern Adirondacks: Sights & Attractions Accessible By Car
One of the best things about the Adirondacks is how accessible they are for all walks of life. Experience the unparalleled beauty of the mountains right from your car or with a short walk. Follow one of these driving tours to some of the best sights and attractions in the southern Adirondacks:
Lake George to Chestertown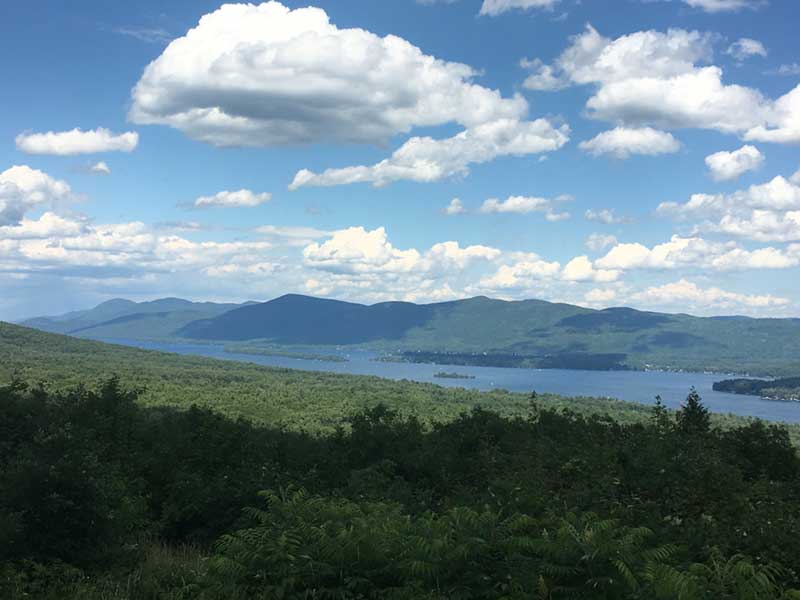 Starting in Lake George Village, the route follows Route 9N (Lake Shore Drive) up through Hague and over to Chestertown on Route 8 before returning to Lake George via Route 9.
Roger's Memorial Park Beach
Park and walk down to the gazebo on the water for great views of The Sagamore, a famous Adirondack resort. You'll also have a front row view of Lake George and the surrounding mountains.
Elephant Rock
In Hague, you'll make a left onto Route 8 to head towards Chestertown. Just a few miles up Route 8 you'll pass by Elephant Rock. This natural rock formation looks suspiciously like an elephant and so a kind soul painted eyes and tusks to really drive it home.
North Pond
There are two pull-offs overlooking North Pond. This serene pond is surrounded by evergreens. Be on the lookout for wildlife including birds and fish.
Scenic Overlook
Not far down the road from North Pond is another scenic overlook on the left side of the road. From here you can view the rolling hills and mountains of the southern Adirondacks.
Brant Lake Public Boat Launch
After driving along the lake's edge, pull in to the Brant Lake Public Boat Launch to stretch your legs. The view from the boat launch is lovely, especially on calm days when the water is still.
Chestertown Chicken
Just past the Route 8 & Route 9 intersection is an unofficial mascot of Chestertown. This big chicken proudly dons a chef hat. While the restaurant behind the chicken has changed hands a few times over the years, no one has dared to remove this charming treasure.
Filled with charming shops, Warrensburg is a nice little pit stop for some shopping. You'll find plenty of Adirondack furniture, handmade goods, and even a local smokehouse rumored to be a favorite of Rachael Ray. If you're hungry, stop in to New Way Lunch for a 'dirt dog'. This Upstate specialty goes by many names, but the recipe is the same: a hot dog topped with savory meat sauce, yellow mustard, and diced onion.
Prospect Mountain offers 100-mile views of Lake George and the Adirondacks. It's $10 per car to drive up the mountain, but the payoff is worth it. You'll reach a parking lot where you can take a shuttle to the summit. Along the way are some great scenic overlooks. Prospect Mountain is open from Memorial Day until early November.
After your driving tour, stop for dinner in Lake George. There are plenty of restaurants ranging from lakefront fine dining to casual spots for a quick bite.
Broadalbin to Hadley-Luzerne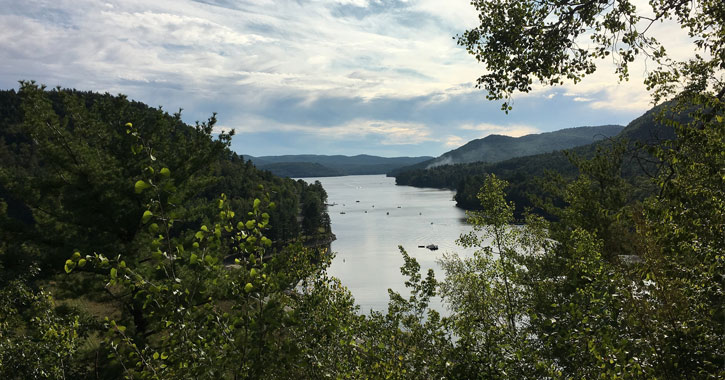 Drive along the shoreline of the Great Sacandaga Lake from Broadalbin to Lake Luzerne for incredible views around every corner. There are two routes available that follow the north or south shore. Here are some of our favorite stops along the way:
North Shore
From Route 29, turn onto Route 30 toward Mayfield. After passing through Mayfield, turn right onto Bridge Street and cross over to the village of Northville. Turn right onto Seven Hills Road to follow the shoreline. Seven Hills Road turns into White Birch Road. At the end of that road, take a left onto Sinclair Road. Sinclair Road turns into North Shore Road, just north of the Batchellerville Bridge.
Copeland Covered Bridge
This bridge in Edinburg is the last covered bridge in Saratoga County. Built in 1879, the bridge has received some updates over the years including a new roof and new flooring. Follow the walking path down to see the bridge up close. Cross over the bridge to the platform behind it and you'll see Beecher Creek Falls.
Conklingville Dam/Hadley Overlook
The Conklingville Dam was completed in 1930, creating what was then known as the Sacanadaga Resevoir. Today, the dam not only prevents flooding, but also produces hydroelectric power. An overlook on North Shore Road provides a great view of the dam itself and the Great Sacandaga Lake.
Stewart's Pond
Not far from the Conklingville Dam is the Stewart's Pond day use area. Drive in on the gravel road to find a parking spot before taking a short walk. The water is brilliantly blue and very clear in the shallower spots.
After a break at Stewart's Pond, continue on North Shore Road, keeping left at the fork to head towards Hadley.
South Shore
From Route 29, turn onto Route 30 and continue onto Route 155 (West Main Street). Follow along as Main Street turns into North Street and meets with the lake in North Broadalbin. South Shore Road offers plentiful views for drivers and passengers.
Broadalbin Public Boat Launch
This boat launch is a nice stop to take in the size of the lake. Located in North Broadalbin, there is parking for 70 vehicles and trailers. Follow the road from the parking lot down to a small beach to stick your feet in the sand.
Edinburg Town Park
After South Shore Road curves around a small cove is Edinburg Town Park. Sitting at the foot of the Batchellerville Bridge, this park offers great views of the lake. The bridge itself is impressive too. While the present structure is less than 10 years old, a bridge has stretched this span since the early 19th-century, predating the Great Sacandaga Lake.
Stewarts Dam
After traversing throung winding curves along the lake shore, you'll come to a Y-intersection where Route 7 splits left. Take this left and you'll pass by a large turbine behind a gate. Continue on and you'll pass the hydroelectric Stewart Dam. It holds back the Stewart's Bridge Resevoir, which is used to control water levels of the Hudson River.
You'll come to another Y-intersection that connects South Shore to North Shore Road. Follow along the Sacandaga River until you reach Hadley.
Hadley-Luzerne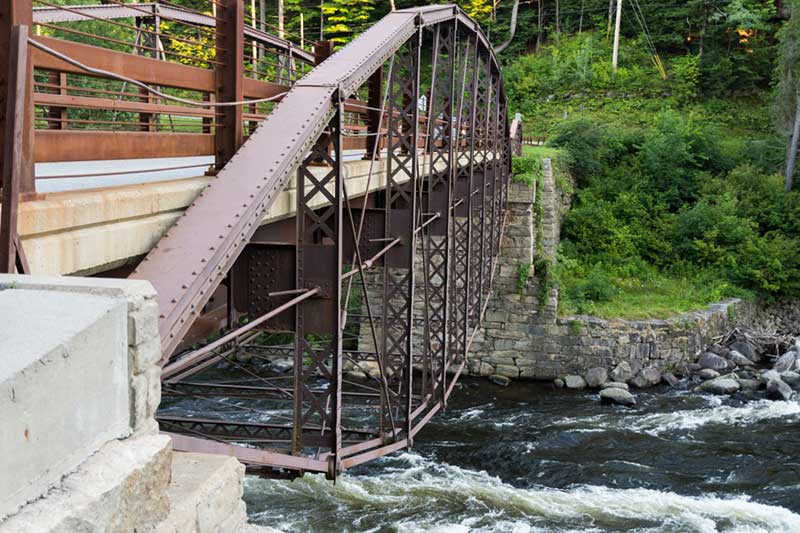 Photo by Dennis Heller, CC BY 2.0
North Shore Road becomes Rockwell Street when you enter Hadley. From here, there are a few more great sights and stops in town to check out:
Hadley Parabolic Bridge
Also known as the Hadley Bow Bridge, this is the only surviving bow-string bridge in the United States and one of only two left in the world.. The bridge was constructed in the late 1800s and restored in 2006 after being closed for a number of years. The bridge is located down Corinth Road off of Rockwell Street.
Cross the Route 9N bridge after lunch to head to Rockwell Falls. Make a left back onto School Street. Make a right, then a left onto Bridge Street. Find a spot to park and walk over to the bridge to get a look at this horseshoe shaped waterfall.
From Hadley, there are a variety of routes to your next destination or to return home. It sits about 25 minutes from Queensbury, 20 minutes from Lake George, and 30 minutes from Saratoga.
« Back to Exploring the Adirondacks By Car