The Holidays May be Over But Festive & Fun Events are Not!
Find Info for 2021 Winter Carnivals & Festivals in the Adirondacks
Sponsored by:
Enjoy A Relaxing & Adventurous Winter Getaway
Garnet Hill Lodge offers options for both activity and relaxation. Spend the day exploring the cross-country ski and snowshoe trail network, then retreat to the cozy Log House to warm up by the fire. Ski passes are included with overnight stays! Learn More »
Winter is a magical time in the Adirondacks when communities come together to celebrate all that the region has to offer! Below, you'll find a list of the many winter carnivals and festivals that take place each winter. Most include competitions, games, food, fireworks, and family-friendly fun!
Please note: Be sure to double-check with each event's organizers before attending, as some of the happenings are weather-dependent or could change because of COVID guidelines. The highlights featured for each event are for a typical year - click through to the event listing for this year's info.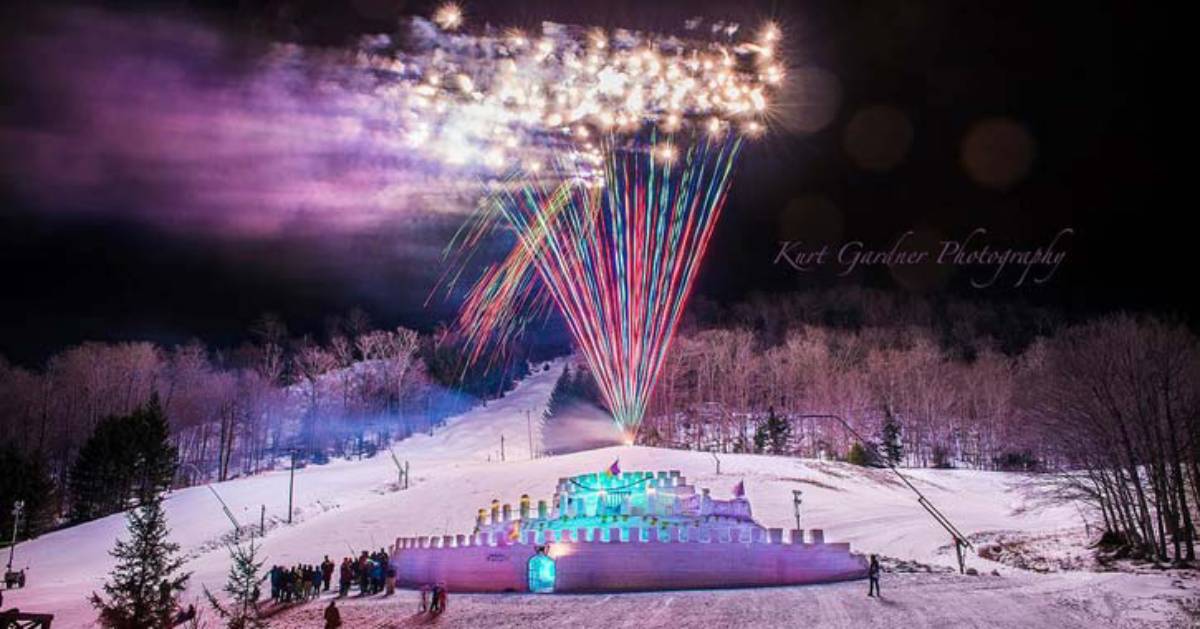 When: January 16, 2021
Where: Mt. Sabattis, Geiger Arena, Long Lake
Highlights: Cardboard box sled racing, snowmobile parade, ice sculptures
When: February 5 - 14, 2021
Where: Saranac Lake
Highlights: Ice Palace, traditional winter sports, gala parade, non-traditional activities
When: Please note, the 2021 Old Forge Winter Carnival has been cancelled
Where: McCauley Mountain, Old Forge
Highlights: Daredevil jumpers, torchlight skiing, parade, coronation of King & Queen, fireworks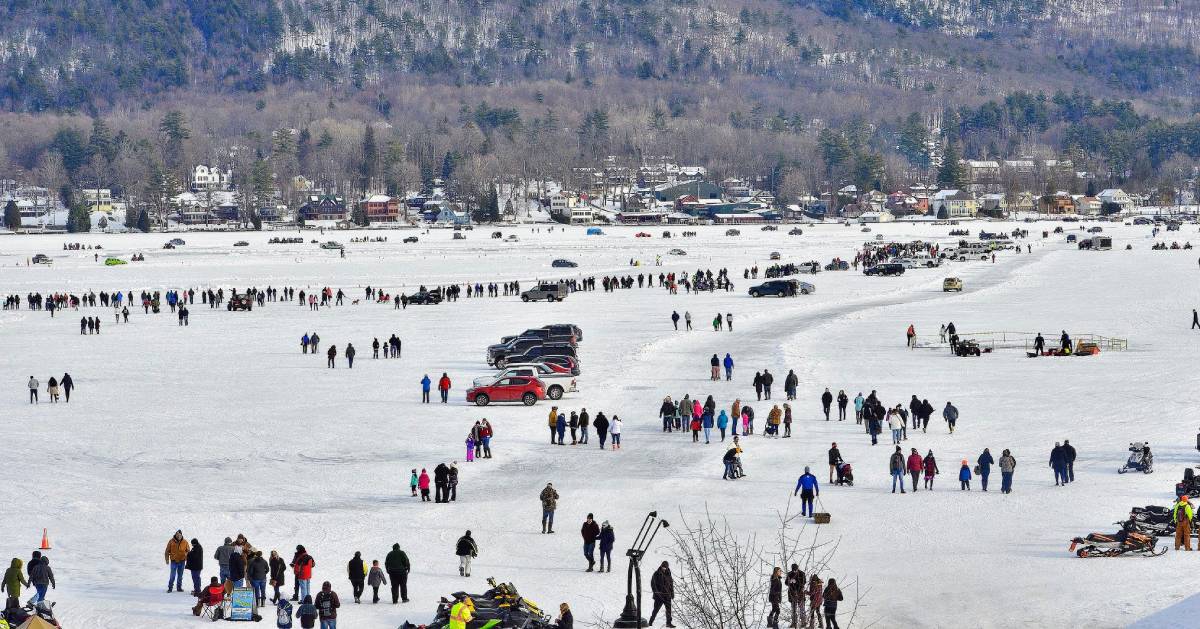 Photo credit: Charles Henry Eldridge
When: Please note, the 2021 Lake George Winter Carnival has been cancelled
Where: Lake George Village
Highlights: Parade, outhouse races, ATV races, fireworks
When: Please note, this event has been cancelled for 2021
Where: Indian Lake
Highlights: Snowmobile tours and races, torch run, activities, fireworks
When: Please note, this event has been cancelled for 2021
Where: Dynamite Hill, Chestertown
Highlights: Prizes awarded for the fastest, most creative, and funniest sleds
When: February 13, 2021
Where: Raquette Lake
Highlights: Please note, this is a "Lite" version of the Winter Carnival and will include only fireworks at 7pm over Raquette Lake, with a possibility of ice golf.
When:Please note, this event has been cancelled for 2021
Where: Clifton-Fine Region
Highlights: Winter sports, live music, snow croquet, snow labyrinth, and snowshoeing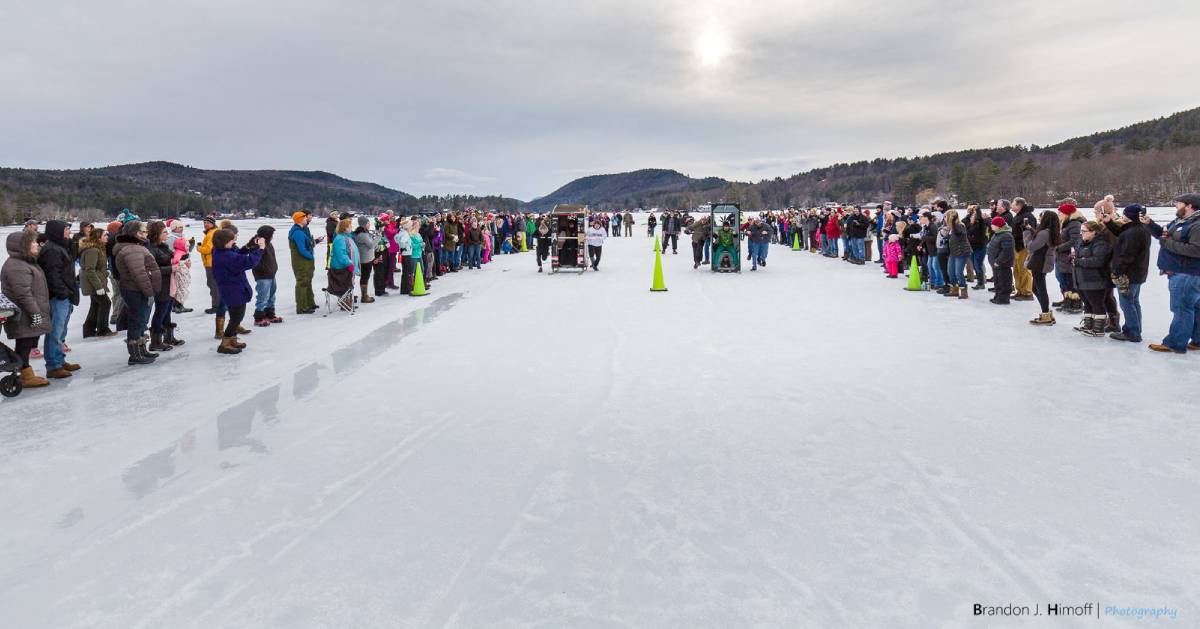 When: Please note, this event is cancelled for 2021
Where: Ice in front of Jimbo's Club at the Point, NY-8, Brant Lake
Highlights: Hockey shootout, human foosball, curling, sledding, and more
When: February 27, 2021
Where: Inlet, NY
Highlights: Cardboard sled race, snowmobile races for kids, activities, fireworks display
When: March 5, 2021
Where: Ticonderoga Armory, Ticonderoga, NY
Highlights: Snowmobile rides, mini-golf, broom ball, snow painting
When: Please note, this event has been cancelled for 2021
Where: Lake Placid
Highlights: Skiing and racing, celebration BBQ, awards
« Back to Annual Winter Events