North Pole, NY - Where Santa Lives!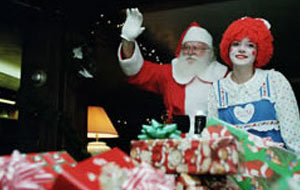 At the foothills of Whiteface Mountain, deep in the heart of the Adirondacks, lies the charming hamlet of North Pole, NY. This is where Santa lives!
This holiday season, why not treat your kids to a North Pole adventure where they can enjoy the magic of a Christmas village and visit Santa in his home. Santa's Workshop in North Pole, NY offers special Yuletide Family Weekends through December 2016. The weekends include 2 nights lodging, 2 dinners, 2 breakfasts, 2 days at Santa's Workshop, and 2 nights of special entertainment.
Children of all ages will enjoy:
Holiday Rides
Live Reindeer
The Candy Shop
Puppet Shows
Carolers
Magic Shows
Nativity Pageant
Holiday Skits
Rowdy the Rascal Reindeer
Frosty the Snowman
Santa Claus
& Much More!
2016 Yuletide Family Weekends
November 18th - November 20th
November 25th - November 27th
December 2nd - December 4th
December 9th - December 11th
December 16th - December 18th
Yuletide Family Weekends
Yuletide Weekend visitors will receive special keepsakes to remember this magical North Pole weekend in the Adirondacks, including a colored photograph of the family with Santa. Additionally, each child will receive a present selected for him/her by Santa Claus.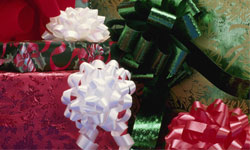 Lodging venues for these special weekends include hotels, motels, and inns in nearby Wilmington, just three miles from Santa's Workshop. This year, lodging options include Alpine Country Inn & Suites, Hungry Trout, KOA Whiteface Campground, North Pole Inn, and Wilderness Inn II. Each room comes with a holiday gift basket complete with treats and gifts. Not only that, but Santa will visit all of the host lodges over the course of the weekend.
Before October 1st, a $250 deposit is required to complete your reservation. After October 1st, reservations must be paid in full at the time of reservation. To reserve a family weekend at the North Pole, call 1-800-806-0215 (518-946-2205) weekdays from 9:00am-4:00pm.
Can't do a weekend? Take a day trip!
Yes, that's right, you can take the kids up to the North Pole just for the day to enjoy the festivities!
The park is open for day trips this year on weekends from November 19th - December 18th, 2016 (10am - 3:30pm). You can also visit on Black Friday, November 25th, 2016.
2016 Winter Village of Lights - Visit from 4:30pm-8pm on December 4th, 11th, 18th, 19th, 20th, 21st, and 22nd (entrance closes at 7:30pm).
Daily Admission: 'Children' (2-64) $22.99 / Seniors (65+) $20.99 / Children under 2 are FREE
Village of Lights Admission: $11.99 per person / Children under 2 are FREE
Season Pass: $54.99 / Children under 2 are FREE