Jay, NY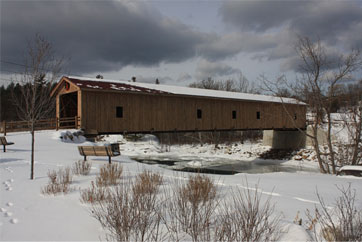 The Town of Jay is located east of Wilmington and north of Keene. The Ausable River flows through town along the main road - State Route 9N.
While visiting Jay, you'll want to stop by what is known as 'The Covered Bridge' over the Ausable River. Created in 1857, the historic bridge is just over 160' long. Out of all the historic bridges in New York State, the bridge in Jay is the last one in the Adirondacks. Although damaged over the years, it was restored in 2006.
To reach the bridge, all you have to do is follow Mill Hill Road from the center of the Town of Jay. Mill Hill Road will intersect with John Fountain Road, and then you'll be at the covered bridge. After checking out this historic landmark, you can relax at Douglas Memorial Park, which is at the southern end of the bridge. The town's Children's Park and Playground is a short distance away.
If you're more adventurous, then you should go for a hike up Jay Mountain, which is in the southeastern section of town. The mountain is a part of the Jay Mountain Wilderness Area - the smallest wilderness area in the Adirondack Park. The area has just one designated trail, and most people visit to go hiking or hunting/trapping.
Right in town, the Jay Village Green is a popular community area that includes a bandstand, a water fountain, and a beautiful picnic area. The Amos & Julia Ward Theatre is adjacent to the Village Green.
While there are few available lodging options directly in Jay, you'll find more in the surrounding area, such as in the Town of Wilmington (located 5 miles east on State Route 86).
Jay isn't the ideal location if you're looking to sit down for a bite to eat, so you'll want to travel to Wilmington, Keene, or even Lake Placid for more dining options.
Back To:
Adirondack Property
Jay, NY
Scenic and peaceful spot to build your dream home on the Au Sable River in Jay, NY. Pristine views of river and mountains protected by the Adirondack Park Association - only 20 minute drive to Lake Placid!