New to Cross-Country Skiing? No Problem! Check Out Trails for Beginners
Cross-country skiing is an age-old winter activity in the Adirondacks, but what if you've never tried it before? We got some help from our Facebook fans in putting together a list of nine easy trails that can be found in or near the Adirondack Park.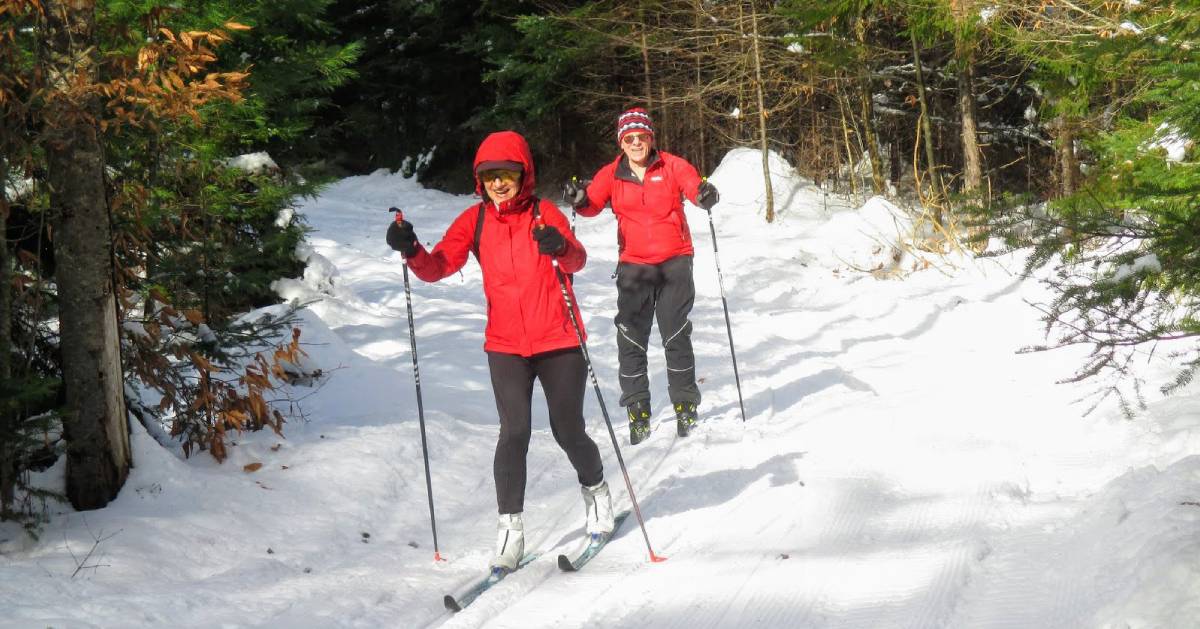 9 Easy XC Ski Trails In & Around The Adirondacks
Note that some are privately owned, and therefore require admission or passes.
1. Camp Santanoni Historic Area
58 Newcomb Lake Rd, Newcomb, NY 12852
The Camp Santanoni Historic Area is one of the most popular cross-country ski destinations in the Adirondacks. From the Gatehouse, it is about 5 miles to the Main Complex, making it 10 miles round trip. If you're not ready for that distance, you can instead take a 1 mile trip from the Gatehouse to the historic Farm Complex.
2. Lapland Lake Nordic Vacation Center
139 Lapland Lake Road, Northville, NY 12134
The private trails at Lapland Lake Nordic Vacation Center are available to the public with the purchase of a day pass or season pass (or if you are a lodging guest). It's a great choice for beginners who don't have their own equipment because rentals and lessons are available.
3. Garnet Hill Lodge
39 Garnet Hill Road, North River, NY 12856
The miles of private trails at Garnet Hill Lodge are renowned for their quality and breathtaking views. Like at Lapland Lake, the public can purchase a variety of day passes and season passes. Ski lessons and gear rentals are also available, so if you feel you need the extra help, stop by.
4. McCauley Mountain Ski Area
300 McCauley Mountain Road, Old Forge, NY 13420
Any beginner, big or small, will have an easy time learning on McCauley Mountain Ski Area's cross-country trails. Although the ski center is known for its downhill trails, you can have just as much fun cross-country skiing. You can also rent equipment if you're just trying it out for the first time.
5. Paul Smith's College VIC
8023 NY-30, Paul Smiths, NY 12970
Paul Smith's Visitor Interpretive Center has over 25 miles of trails for cross-country skiing. Trails are usually groomed 4 feet wide, and the classic cross-country ski trails are open to snowshoers too. You can rent skis, but there is a small fee to access the trail system.
6. Tupper Lake Groomed XC Ski Center
141 Country Club Road, Tupper Lake, NY 12986
When snow arrives in Tupper Lake, the Tupper Lake Golf Course transforms into a local ski center. This is a free and dog-friendly trail system that is maintained by volunteers. The trail system connects the Tupper Lake Golf Course to the Big Tupper Ski Area.
7. Cross-Country Ski Trails at Cole's Woods
Upper Glen Street, Queensbury, NY 12804
Many of the trails in Cole's Woods are groomed for cross-country skiing, and half of them are lighted at night. These trails are free and open to the public.
8. Moose River Plains Wild Forest
Inlet, NY 13360
The Moose River Plains Wild Forest is part of the Moose River Plains Complex, which allows for cross-country skiing on all of its hiking trails. Within the whole Moose River Plains Complex, about 16 miles of trails are designated for skiing only.
9. BREIA - Black River Environmental Improvement Association
9329 Egypt Road, Boonville, NY 13309
This not-for-profit corporation maintains gorgeous trails and facilities in the Adirondack foothills. The group's groomed cross-country ski trails are free and open to the public. There are several trail systems to choose from, including the Canal Trail, the Egypt Road Trails, and the Jackson Hill Trails.
« Back to the Cross-Country Ski Guide