11 Adirondack Hikes Perfect for Beginners
Doable Hikes, Captivating Views!
You don't have to be an expert hiker to enjoy panoramic views in the Adirondack region! We've rounded up 11 hikes in and close to the Adirondack Park that are excellent for beginners - and that still offer scenic sights at the summit.
Keep in mind a hike's difficulty will still vary from trail to trail and mountain to mountain, and personal experiences may vary. The time of year you embark on your hike also plays a factor. Trails can be more muddy and harder to traverse in the spring, for instance.
Even if you're a veteran hiker, it's nice to switch it up once in awhile! You don't always have to scale Mount Marcy. Check out our recommendations for beginner hikers below.
1) Stewart's Ledge
At just 1.4 miles and 20 to 30 minutes of hiking, Stewart's Ledge near Lake George is a great beginner hike to start out with. There is a few minutes of uphill climbing with a gentle incline, so this hike is great for a beginner hiker to condition their body for steepter trails. The trail begins at the Buck Mountain trailhead. This one is also considered kid-friendly, so bring the whole family!
2) Roaring Brook Falls
While this hike has rock walls for more adventurous climbers, Roaring Brook Falls also offers a short, wide, and flat path for a quick hike near Keene Valley. It only takes 5 to 10 minutes from the parking area! When you're feeling more adventerous, you can continue on another trail that takes you farther up Giant Mountain.
3) Shelving Rock Falls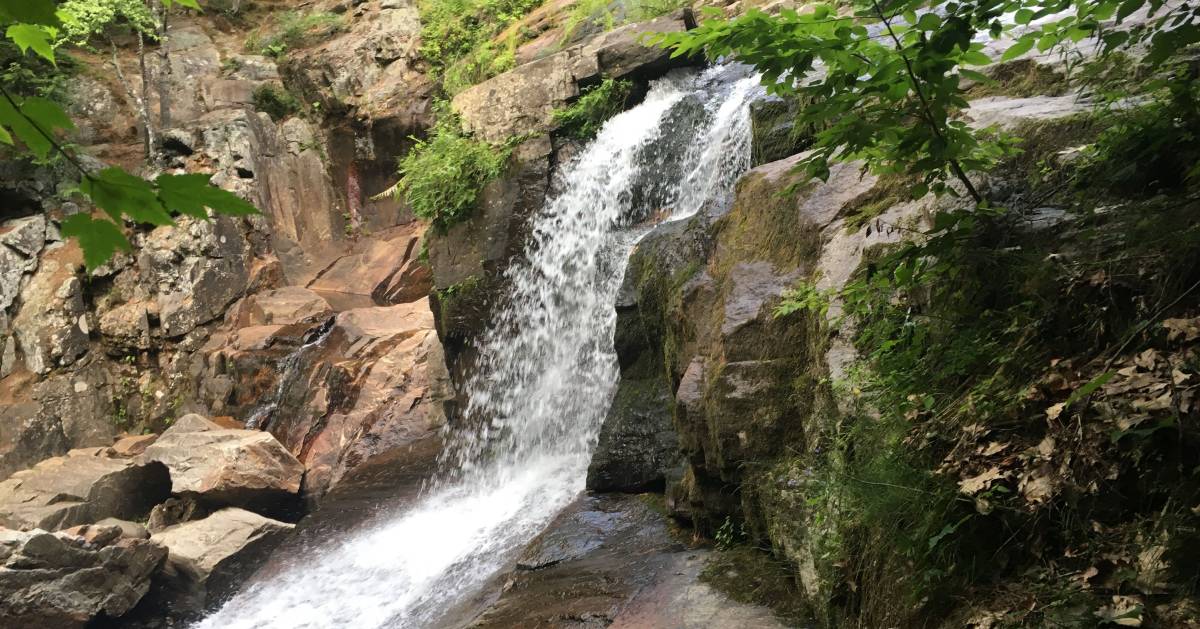 Shelving Rock Falls on the eastern side of Lake George is a 3.4-mile roundtrip hike that includes a waterfall - it doesn't get better than that when it comes to beginner hikes! The zig-zagging trail prevents hikers from needing to go straight up, so it's not too steep. The trail is on old carriage road, so it's wide.
When you get to the top, the trail markers end, so keep aware of your surroundings and make sure to descened back down the mountain safely.
4) Goodnow Mountain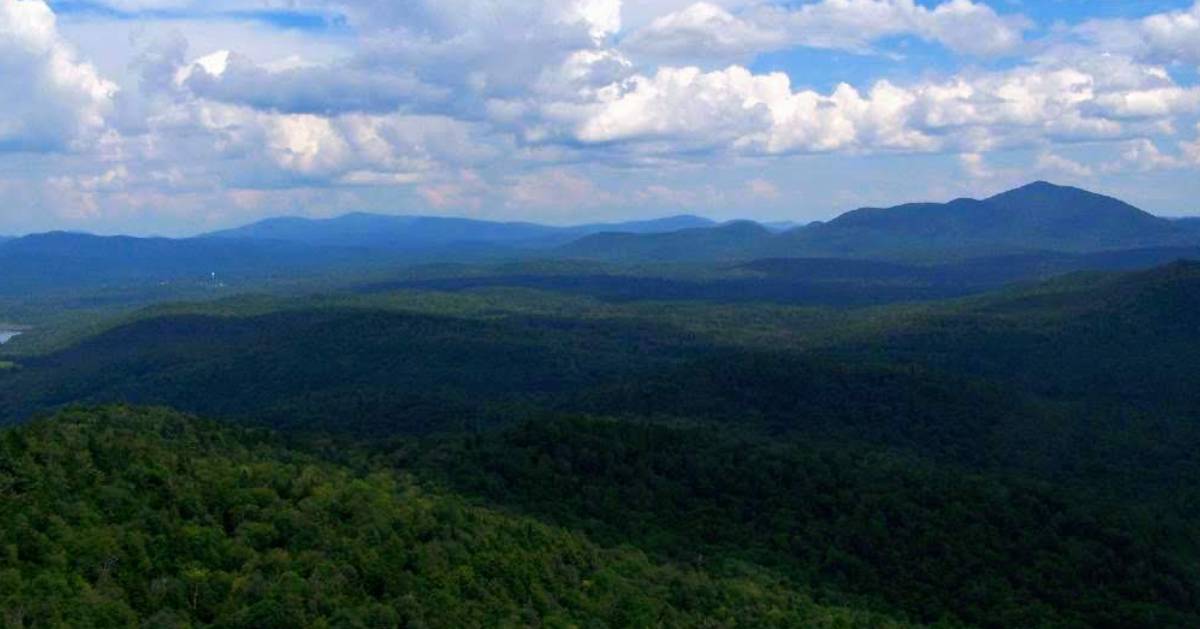 The summit of Goodnow Mountain can be reached in just under two miles, you can see 23 of the High Peaks from the top, and there's a restored fire tower. Score! The trail is considered great for beginners and and you'll find this mountain near Newcomb. This one is best used from March through November.
Hadley Mountain in Hadley is a 3.4-mile hike that can get steep in some parts, but is still excellent for beginners. When you reach the top you'll find a restored fire tower which you can climb for even more great views.
The area around the mountain has been affected by forest fires in the past, hence the fire tower, and you'll notice patches of bare rock and thin soils. However, the mountain is slowly recovering and is maintained.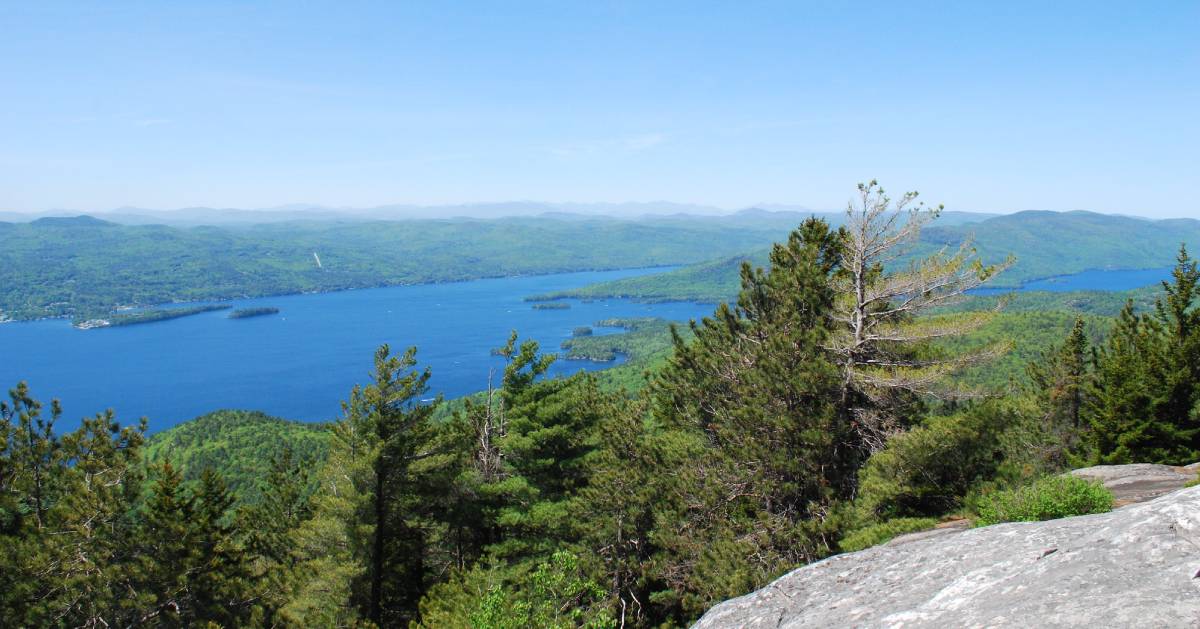 Buck Mountain on the eastern side of Lake George features unparalled views of the lake and mountains. The climb is about three miles one way with some rocky sections. Although it's good for a beginners hike it's not recommended for children.
7) Cobble Lookout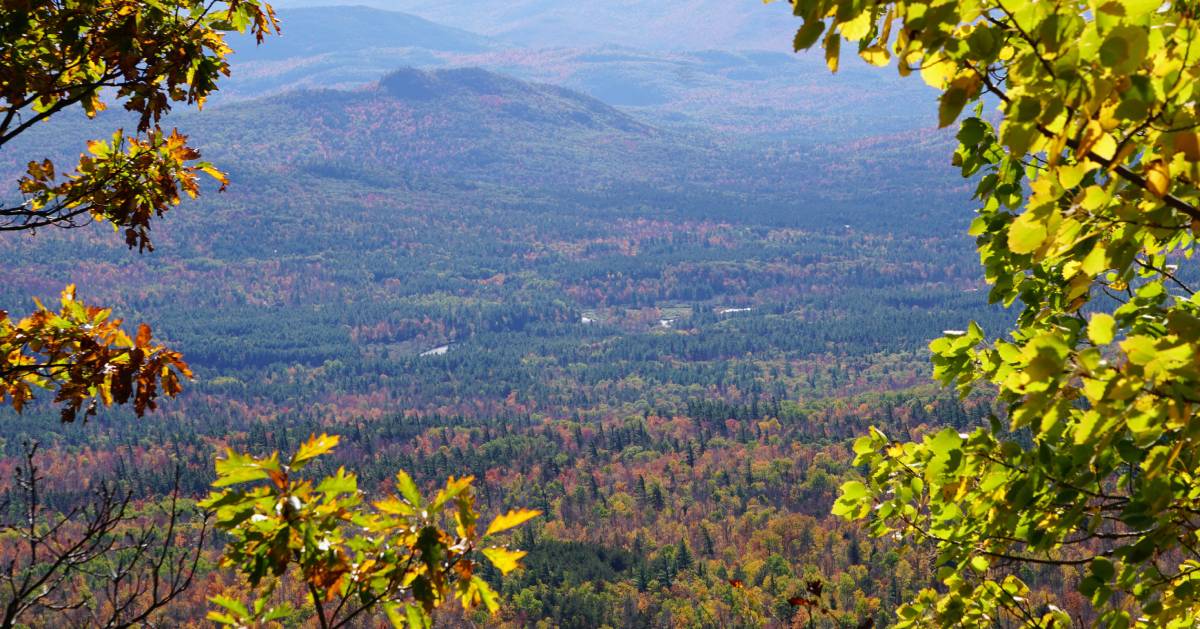 Cobble Lookout in Wilmington features a large summit with sweeping views on all sides, including of Whiteface Mountain, Giant Mountain, and the Lake Champlain Valley. As evidenced in the above photo, it's great for fall foliage.
The 1.3-mile trail to the summit is smooth going with no steep incline, and this hike is considered great for kids and dogs (on a leash). The trail is also used for trail running.
8) Owl's Head Mountain Trail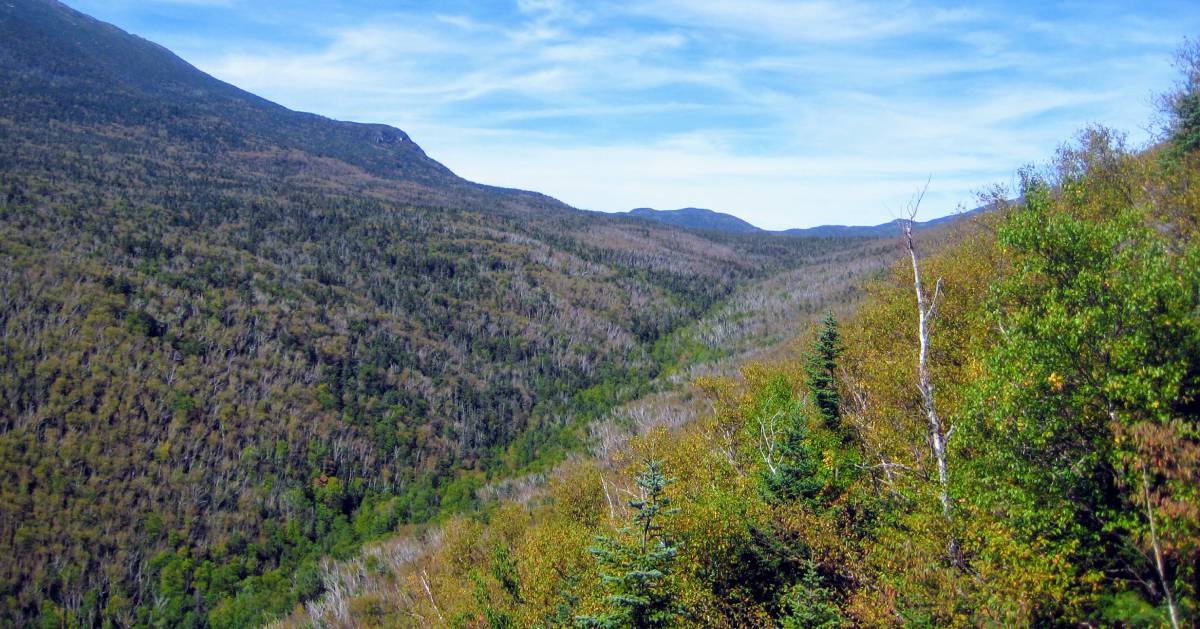 Owl's Head near Lake Placid is not only good for a beginner hike, but it's one of the lesser hiked mountains in the Adirondacks; the DEC often recommends hikers to check out less crowded trails, and this is one of them. The hike is only 1.2 miles roundtrip and is level the majority of the way, getting steep towards the end.
One thing to keep in mind is that much of the trail goes through private property, so it's more important than ever to stay on the trail.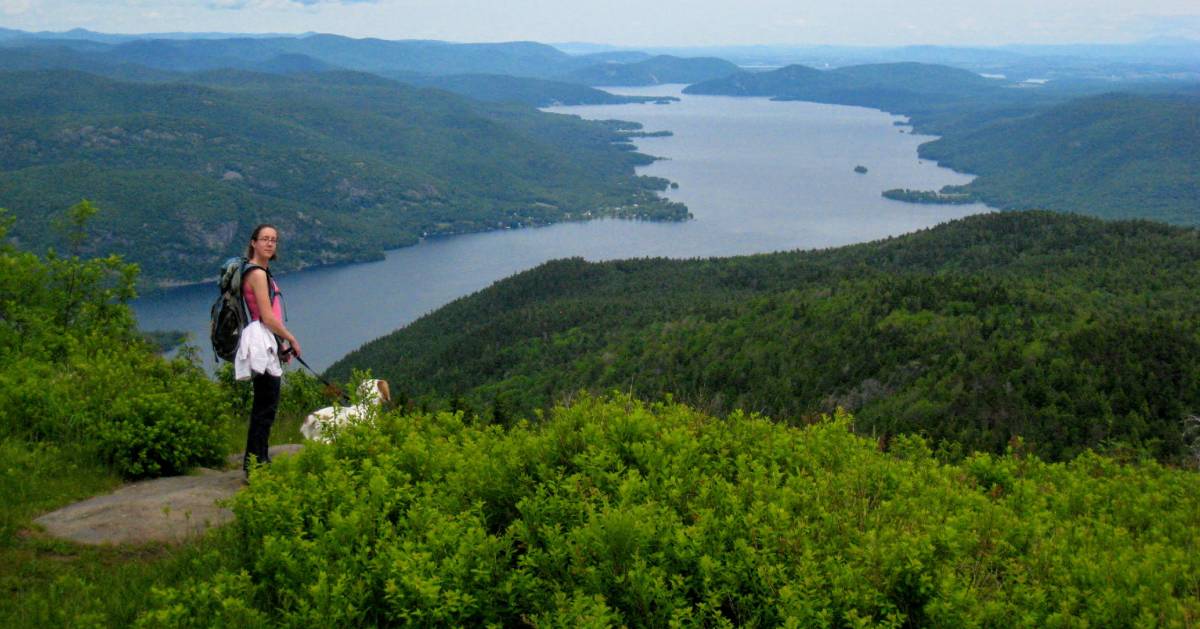 Black Mountain is located close to Huletts Landing and has a few challenging spots. The summit offers a fire tower and a view of three ponds: Black Mountain, Lapland, and Millman. This mountain is connected through the trail system to Buck Mountain and Sleeping Beauty Mountain, each of which are also decent beginner hikes.
This trail is best for beginners who are ready to move up a bit in difficulty. The Cat Mountain hike near Bolton Landing has many different kinds of terrain and a few tough spots, so when you're ready, try it out! At the top you'll find a 270-degree view of Lake George and the Adirondacks. The trail is about six miles roundtrip.
11) Cascade Mountain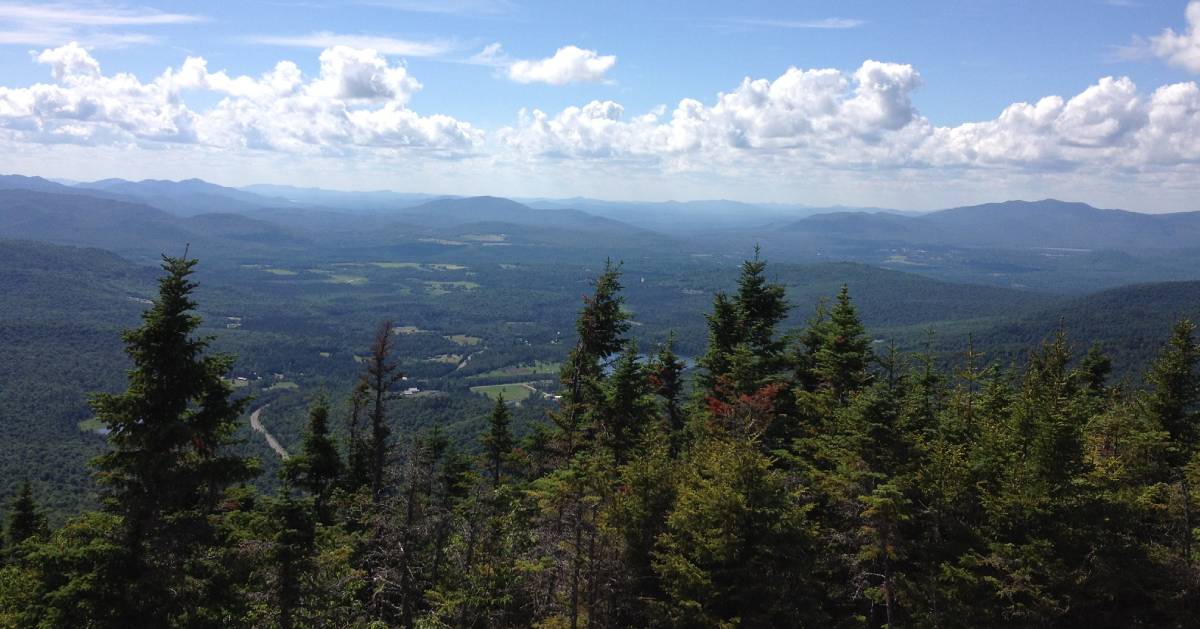 Once you've had some hiking experience, challenge yourself and try Cascade Mountain near Lake Placid. This hike is heavily trafficked because of its awesome view of the surrounding High Peaks region; it's also generally considered to be the easiest High Peak to scale. The trail is 5.6 miles roundtrip.
Please note: Because of its popularity, the parking lot for the trailhead is often full. Come early in the day, during the week instead of a weekend, and always have a plan B hike in mind just in case.