Explore More Adirondack History at Historic Sites, Research Libraries, and Online
Want to learn more about the Adirondack Park and its rich history? We've compiled some of the top places to visit to experience the region's history for yourself, as well as some online resources to help kick start your research.
Places to Experience History in the Adirondacks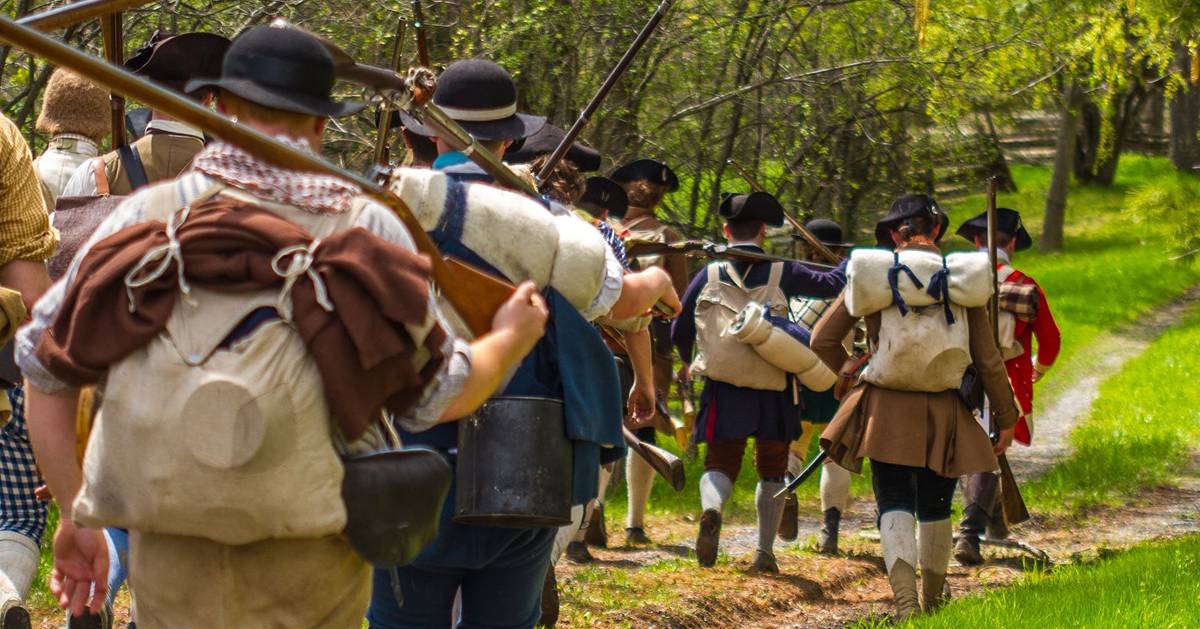 While the Adirondack Park and surrounding area are scattered with small historic house museums and historical societies, they're too numerous to include here. These are some of the best and most well-known historic sites, museums, and attractions that you can visit to begin learning about or researching Adirondack history.
To learn more about the French and Indian War and the American Revolution, visit Fort Ticonderoga. You'll get to wander through living quarters, traverse the ramparts, study artifacts in the galleries, and see reenactors portraying daily life and military exercises.
Brush up on French and Indian War history at Fort William Henry, a living history museum with artifact galleries, cannon firings, musket demonstrations, and costumed interpreters depicting fort life.
To explore the artifacts and ruins of one of the largest forts in colonial America, visit Crown Point State Historic Site. The peninsula was originally occupied by the French as Fort St. Frederic before it was captured by the British, who built Crown Point. The fort was then captured by the American army for two years during the Revolution, until it fell back into the hands of the British.
Learn more about the Adirodacks' connection to the abolitionist movement at John Brown State Historic Site. While you might associate John Brown more with Harpers Ferry, West Virginia than Upstate New York, the famous abolitionist called the Lake Placid area his home. You can step inside John Brown's house and visit his grave, where he was laid to rest along with some of his followers.
For an overview of Adirondack culture, history, and art, visit Adirondack Experience in Blue Mountain Lake. They have many galleries dedicated to a wide variety of subjects, such as everyday life, recreation, the logging industry, and Adirondack hotels, camps, and clubs. Doing research on a specific topic? The Adirondack Experience Library possesses the largest collection on the Adirondacks, which you can peruse by appointment during weekdays.
Learn all about the region at the Adirondack History Museum in Elizabethtown. Whether you're interested in local historical figures, the impact of cultural movements on the region, or the history of Crown Point, hiking, transportation, or firetowers, you're sure to find this museum fascinating. They also have a research library that you can gain access to by appointment.
Raquette Lake Navigation Company
Want to learn more about the Gilded Age in the Adirondacks? Take a cruise on the lake where Great Camp architecture began. In addition to being picturesque excursions, Raquette Lake Navigation Company's cruises are also informational, and you'll learn all about Great Camps Sagamore, Uncas, and Pine Knot.
Websites and More Researching Resources
Whether you can't make it to the Adirondacks and want to experience its history online, or you're researching a specific topic more in-depth, we've got you covered. Here are just some of the resources available:
In addition to their comprehensive exhibits on regional history and culture, Adirondack Experience has an online database of more than 60,000 items. Search for records, photographs, and images of artifacts.
The Kelly Adirondack Center is located in the former Niskayuna, NY home of Paul Schaefer, an Adirondack conservationist. This research center might not be in the Adirondack Park, but it still offers a large collection of historic maps, photographs, books, and manuscripts that are available for free to the public onsite, as well as a searchable online catalogue and a variety of online resources.
New York Heritage's online archive contains searchable Adirondack artifacts such as old maps, photographs, and stereoviews dating back to the nineteenth and early twentieth centuries. The collections are curated from local organizations, libraries, and historical societies.
For detailed information on how the Adirondack Park was established, the Adirondack Park Agency (APA) offers a nice, brief history of the major events.
These resources are only a starting point for all the different facets there are to explore about the Adirondacks' rich history, such as the War of 1812, Teddy Roosevelt's midnight ride, and local mysteries and legends.