Enjoy the Beauty of Autumn in Lake Placid With This One-Week Itinerary
Autumn is the perfect time to visit Upstate New York, and there's no better spot than iconic Lake Placid to choose as your next vacation destination. With small-town charm and a rich Olympic history, this incredible village has something for everyone, and will surprise you with its variety and culture. Check out this week-long itinerary to help you enjoy your autumn visit to Lake Placid.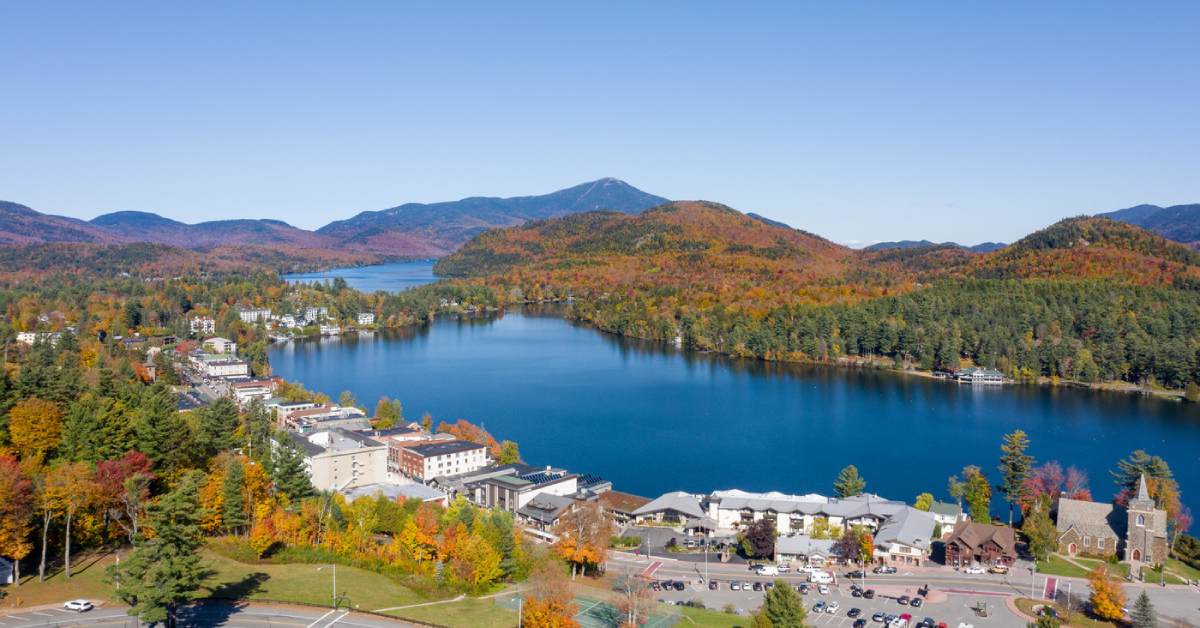 Sunday: Leaf Peep your Way to the Lake
No matter which direction you're driving in from, the road to Lake Placid is one of the best drives for prime leaf peeping! The region is lush with a variety of different types of foliage, from the brilliant scarlet of maple trees to the golden bronze of beeches, and it's worth taking the drive at a leisurely pace to enjoy the view.
There are plenty of places to get out and stretch along the way, so be sure to bring your camera and capture the vibrant colors.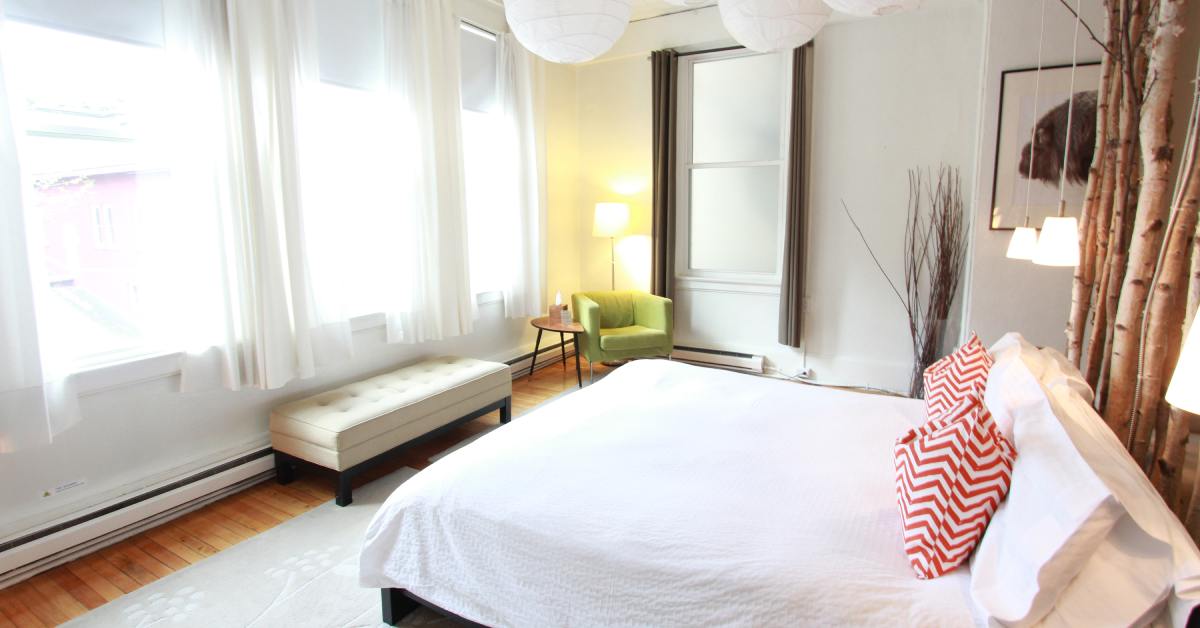 Once you've made your way up to the beautiful village of Lake Placid, you'll want a comfortable and homey place to stay—that's why we'd recommend The Haus on Mirror Lake. This boutique hotel is both luxurious and cozy, with touches of Adirondack design to bring the beauty of the outdoors inside in a tasteful way. Some of the rooms even have balconies that overlook Mirror Lake, so you can watch the mist rise from the water as you enjoy your morning coffee.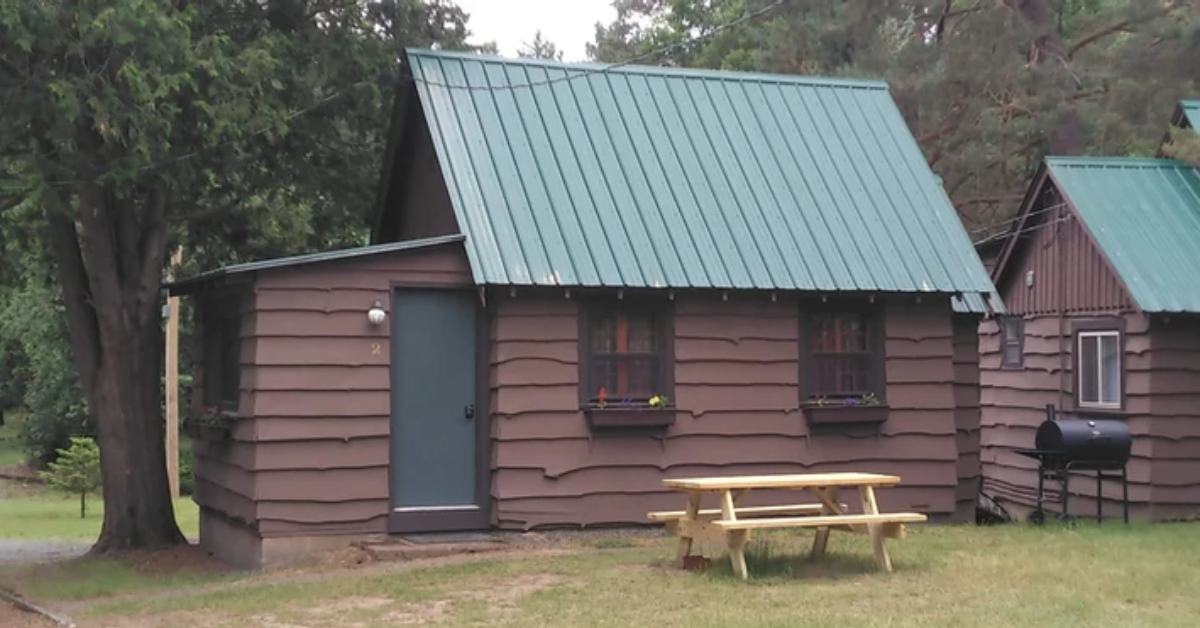 Would you be interested in staying in an Adirondack-style cabin for your getaway instead? If so, then check out Moreno's Cottages in Ray Brook, located just 5 miles west of Lake Placid. Moreno's offers a variety of private cabins that are tucked away from the road under the pine trees and surrounded on three sides by state forest land. There are one- and two-bedroom cabins available to rent, and the spacious grounds feature BBQ grills, picnic tables, bonfire pits, and more.
Monday: Relax on the Shores of Mirror Lake & Enjoy the Town
Decompress after your day of travel with a slow start and relaxing day on the town.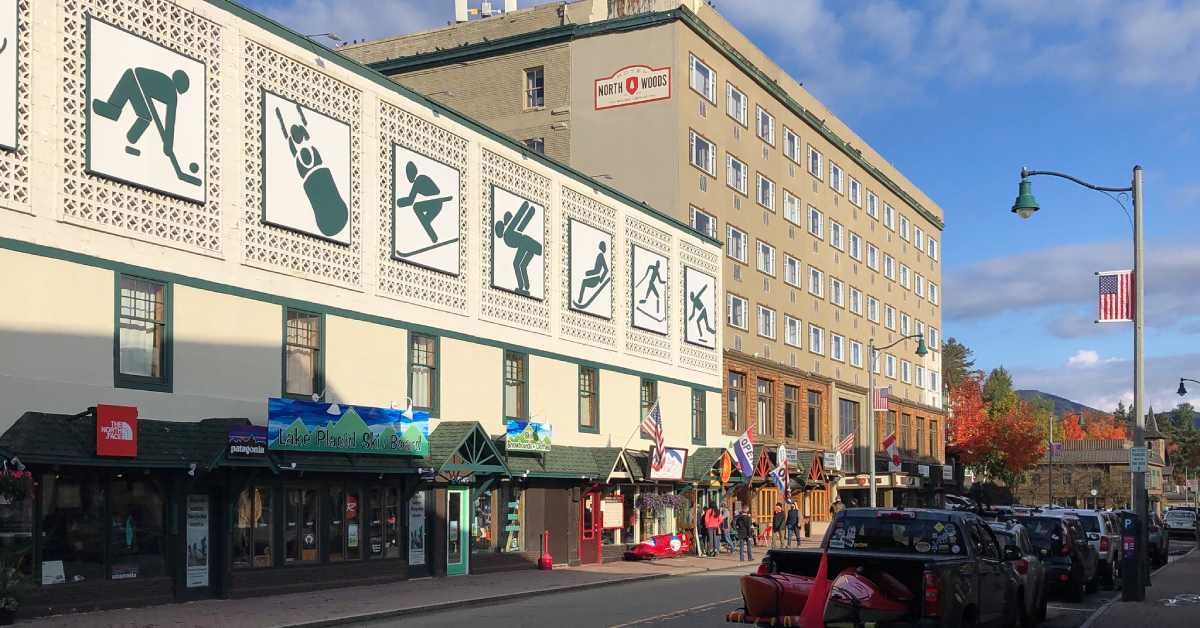 Join The Breakfast Club
Take the morning to sleep in a bit after your trip, and then head over to The Breakfast Club, Etc. for a delicious brunch. This restaurant has views of Mirror Lake and serves breakfast all day, so take your time strolling there. Their mimosas are not to be missed!
Head to Mid's Park
After you've eaten your fill, head just around the corner to Mid's Park, a lovely little spot right on the lake shore. It's the perfect place to sit and enjoy the view while you digest, and you may even be lucky enough to see a few ducks, if you stop by early enough in the season. They're known to frequent the area.
Walk Around Town & Shop 'til You Drop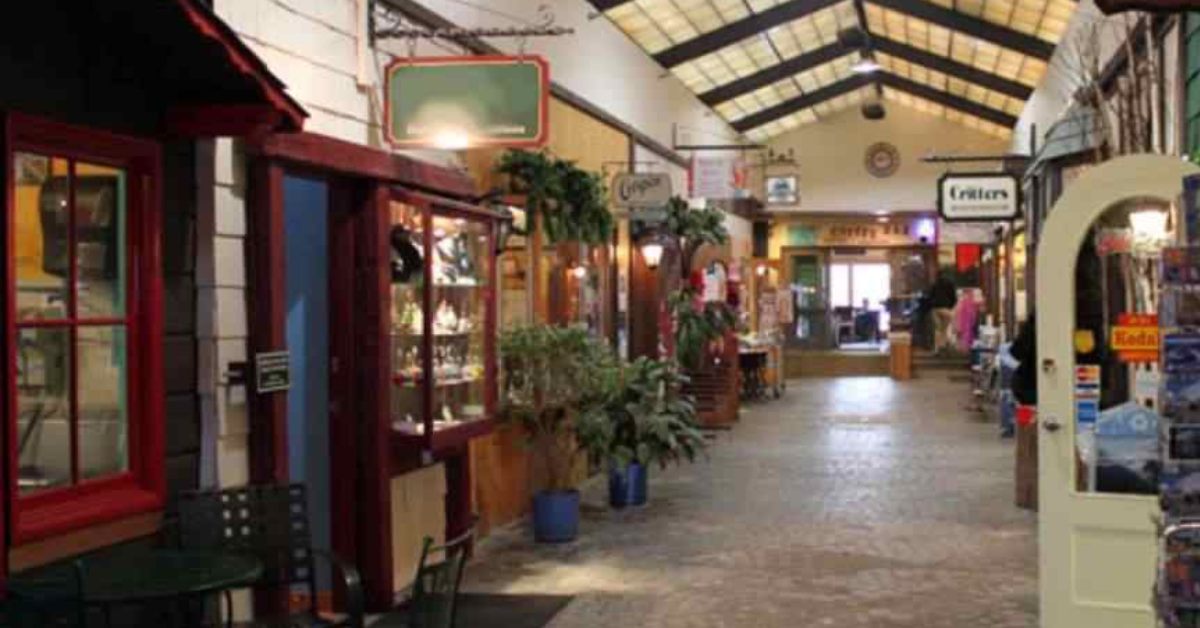 After you've sufficiently recovered from that delectable brunch, you'll definitely want to explore downtown. There are tons of cute shops—from the Alpine Mall, which has several little gems, including an animal-themed gift shop, to a variety of outlets and apparel stores. Of course, there are also tons of ski and snowboard shops to help you prep for snow season.
End the Day with a Sizzling Dinner
The Great Adirondack Brewing Company (formerly the Great Adirondack Steak & Seafood Company) is a "great" spot to rest your feet at the end of the day. They have tons of options, including, of course, steak and seafood, and their handcrafted, award-winning ales are spectacular. The Brewing Company is absolutely perfect for comfort food and a warm environment to end the day.
Rest up for your second full day in Lake Placid, because you can't enjoy Lake Placid without a venture into the gorgeous fall landscape.
Tuesday: Go on an Adirondack Hike
Spend the day experiencing one of the best parts of the Adirondacks: the great outdoors. Feel free to enjoy your lunch on the trail during your day, but be sure to brush up on the 7 Principles of Leave No Trace before you go, and bring all your trash with you when you leave.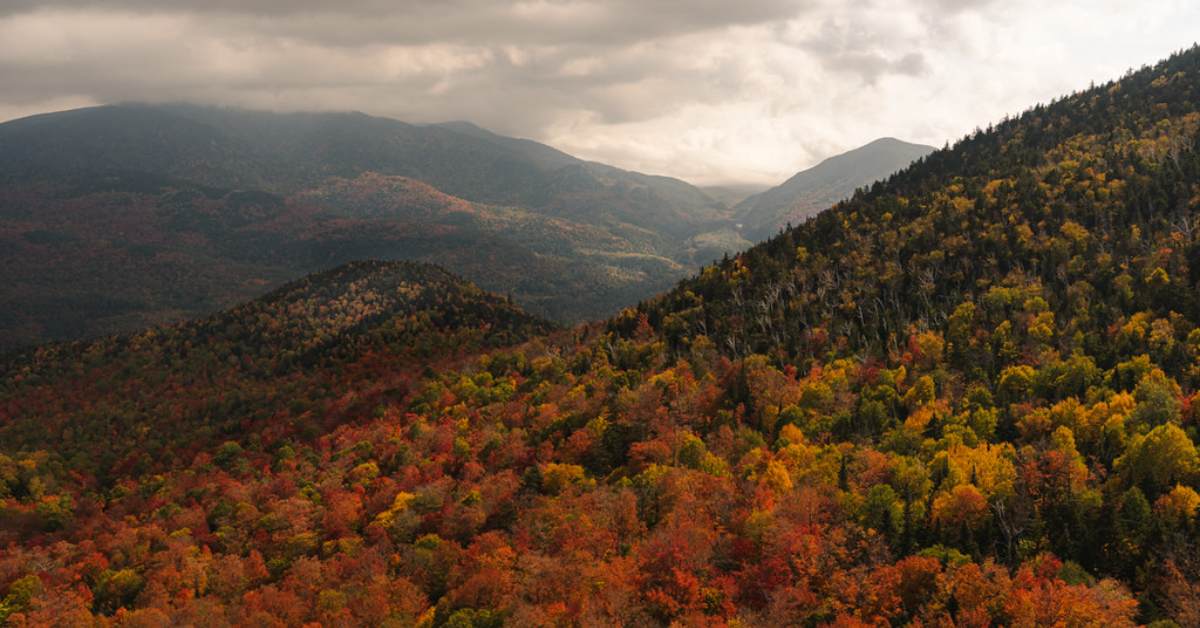 Eat Breakfast and Snag Lunch at Big Mountain Deli & Creperie
Snag your breakfast and lunch from Big Mountain Deli & Creperie. Their gourmet sandwiches are the perfect companion for the trail, and after you've had their crepes, you'll feel as though you've been transported to the heart of France.
Experience the Great Outdoors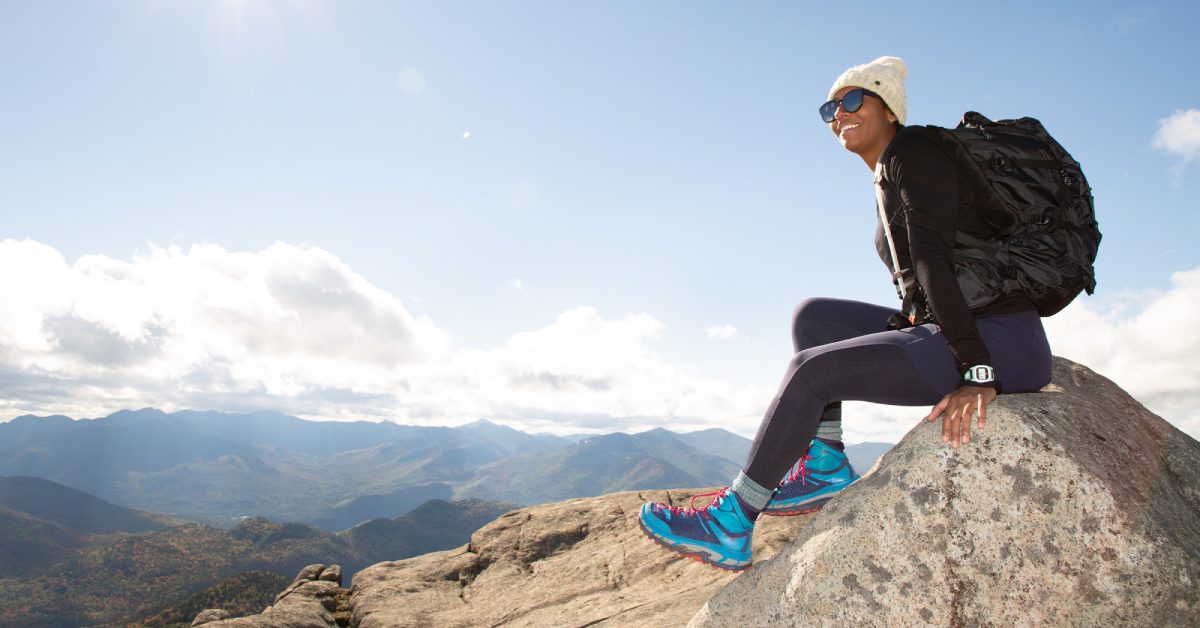 There are quite a few hiking options around Lake Placid. If you're looking for something a bit easier, the Peninsula Trails are a great option. You can choose how long of a route you'd like to take, there's a beautiful little bridge overlooking a brook, and you'll find signs with information about the area along the way. These trails are a top family- and dog-friendly option to see autumn views of the lake.
If you're looking for something a bit more challenging, Haystack Mountain is part of the Saranac Lake 6er Hiking Challenge and has a really stunning view over the area. You could also opt to climb (or drive!) Whiteface Mountain, if you'd like to experience one of the 46 High Peaks. Be sure to keep your eye out for the slopes where the 1980 Winter Olympic Alpine skiing events took place.
Refuel at Smoke Signals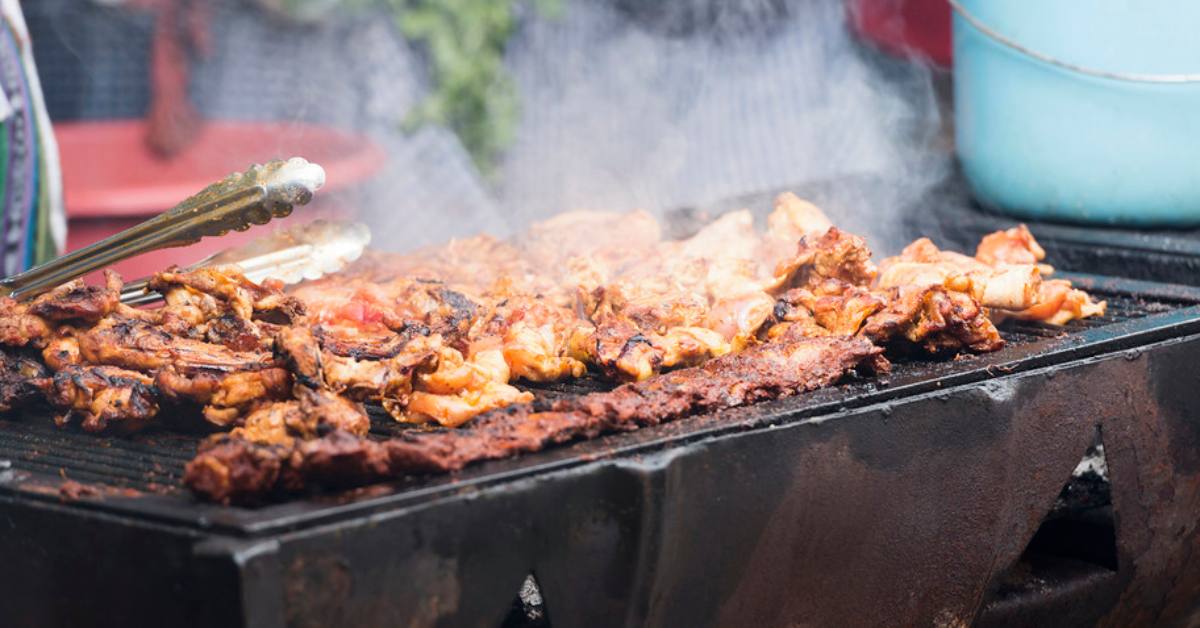 Smoke Signals is a hearty option for dinner after your long day. This restaurant is known for its fantastic barbecue dishes—including house-smoked pork, brisket, and ribs—and the cozy atmosphere is sure to help you wind down after a day on the trails.
Wednesday: A Day Trip to Saranac Lake
Saranac Lake is a mecca of art, music, and delicious cuisine—and this Adirondack gem is just a short drive from Lake Placid.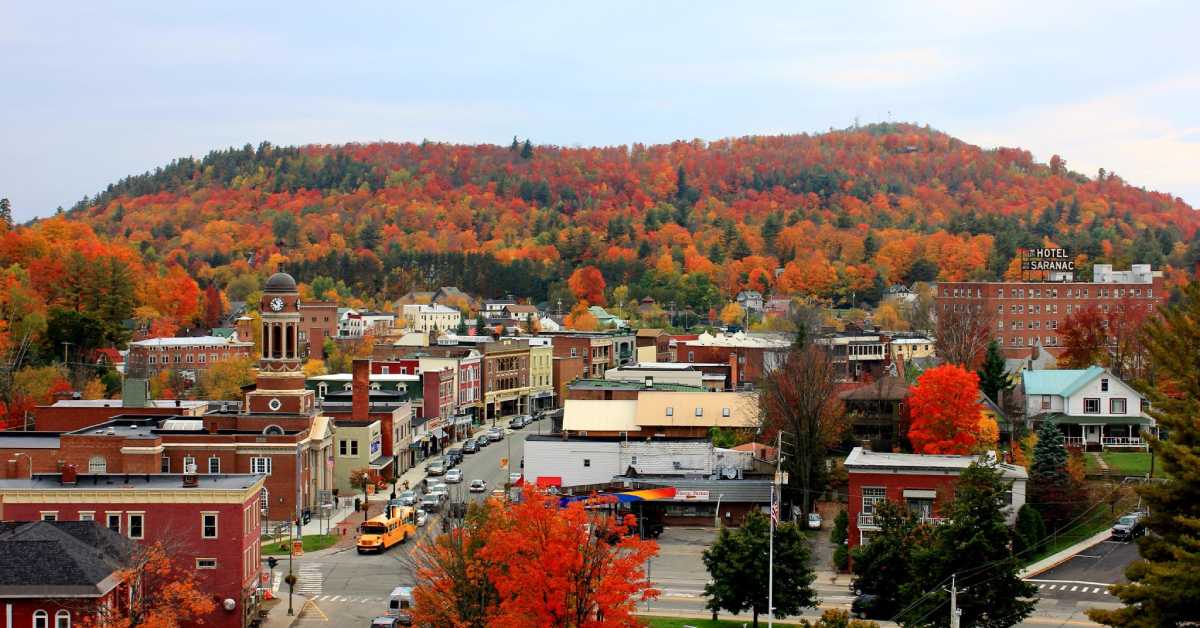 Out of This World Breakfast
Whether you're a stickler for the classics or a lover of unique breakfast items, the Blue Moon Café in Saranac Lake is the best way to start your day. With huge portions, homemade pastries from their in-house bakery, a coffee bar, and a massive selection of specialty teas, this café is sure to become a favorite.
Interesting and Unique Local Attractions
Downtown Saranac Lake is adorable, with shops, restaurants, and more. After you stroll through the shops and galleries—the Adirondack Artists Guild is a must-see—check out the more unique things the village has to offer.
You'll definitely want to stop by the Adirondack Carousel, a historic, fully-functional carousel with a gift shop and outdoor area for the kids to play. The Saranac Laboratory is another iconic locale—it was the first US lab built for tuberculosis research, and is an incredible place to visit. The Pendragon Theatre hosts performances and programs all-year long. These are just a few of the options! The area is rich in history, culture, and the arts.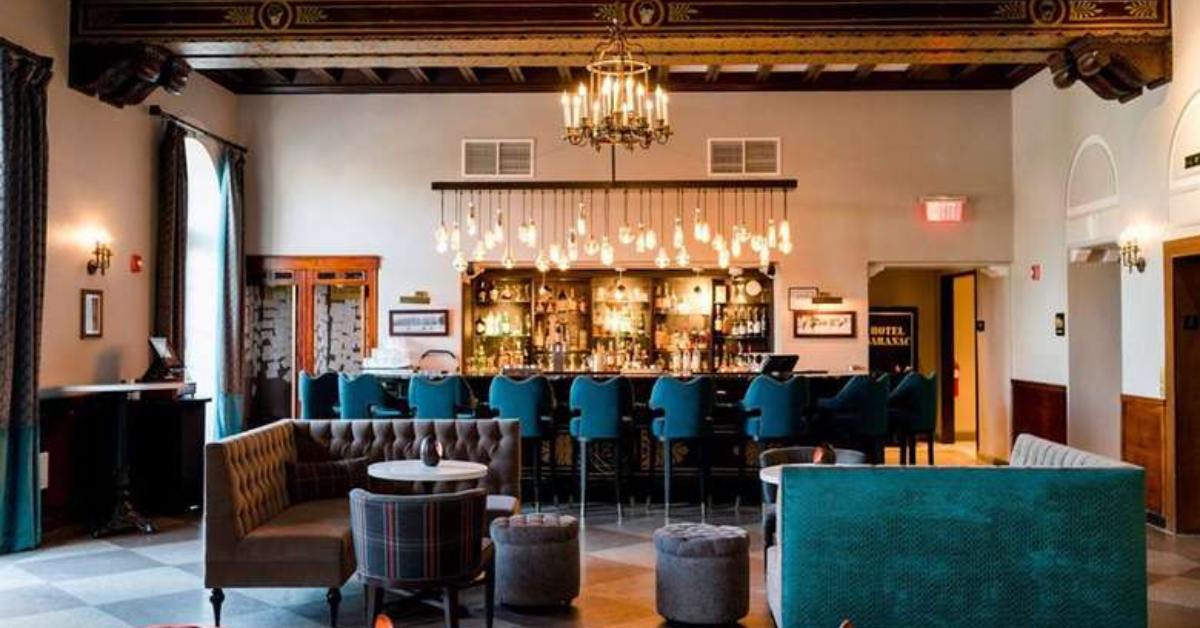 The Hotel Saranac is a hub of culture and activity in Saranac Lake, and is a must-experience spot when you come to the area.
Start your visit by getting pampered at the in-house Ampersand Salon and Spa, where you can choose from a variety of treatments, including massages, facials, and body treatments. The salon also offers hair and nail services, so you can walk out feeling totally refreshed.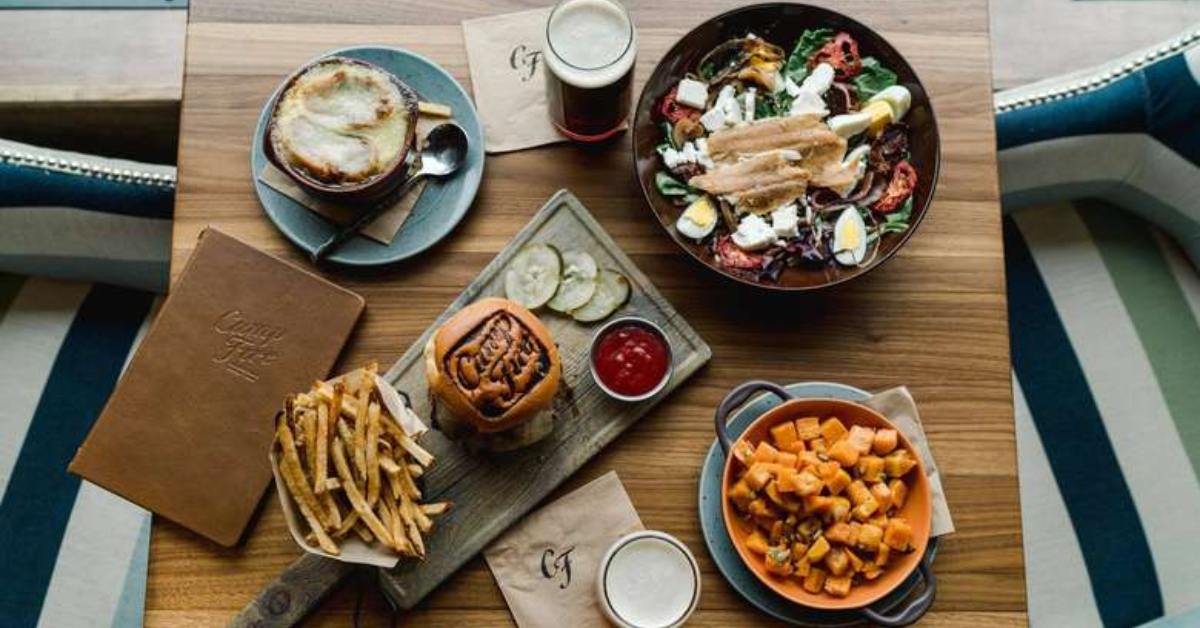 After your (well-deserved) pampering, enjoy dinner at the Campfire Adirondack Grill + Bar, the Hotel's restaurant, which masterfully combines a sophisticated environment with the warmth of Adirondack great camps. The food is locally sourced and simply divine.
If you're feeling up for drinks after dinner, the Great Hall Bar offers a variety of expertly-crafted cocktails, many of which were inspired by the Hotel 's rich history. The vibe is up to you: the Great Hall Bar is a great option for those looking to hang out with friends, meet some locals, or take a moment to relax alone and enjoy the atmosphere.
Thursday: The Arts & Local History
The Lake Placid Region is rich in arts, culture, and history. Check out these interesting local places to experience some of what the North Country has to offer.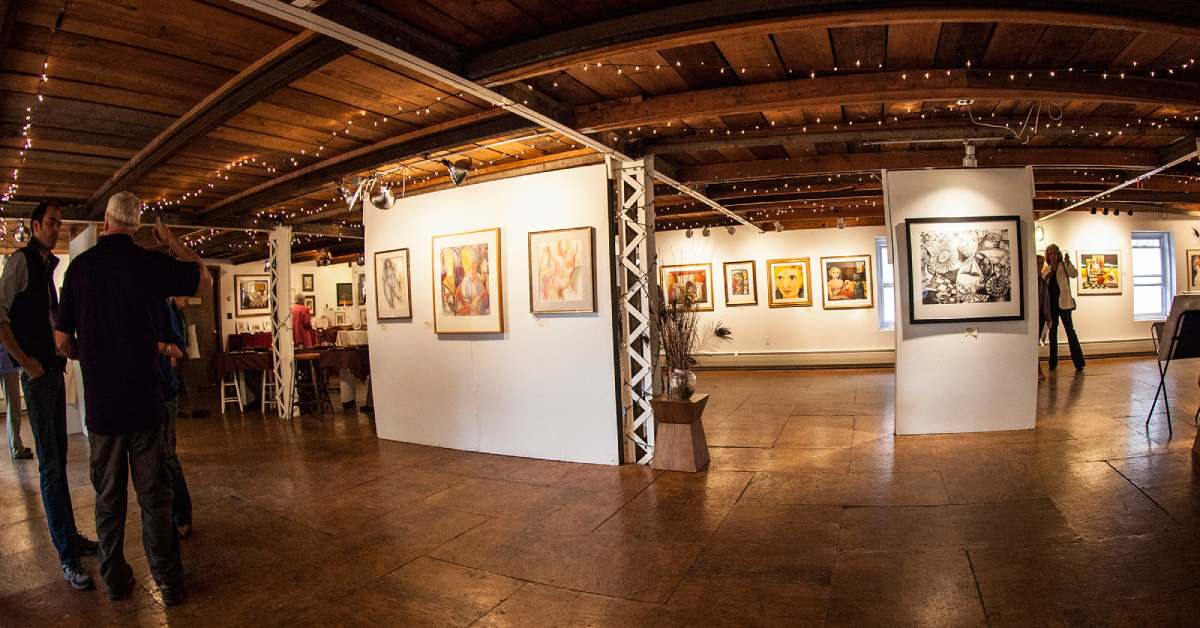 Breakfast: Soulshine Bagel
Soulshine is the spot for bagels and pastries in Lake Placid. They have over a dozen different types of bagels available every day, not counting their rotating selection of gluten-free options. All bagels are hand rolled, steamed, and baked daily. Their breakfast sandwiches are next level, and you can choose whatever type of bagel you'd like, so your sandwich will be perfectly you. They also serve lunch!
John Brown Farm State Historic Site
This 270-acre farm state historic site includes the home and final resting place of abolitionist John Brown. Through October, you can experience guided tours of the property and home—which still features period-appropriate furnishings—and informational videos about the Underground Railroad. Plus, there are free trails open year-round on the property, so you can explore this breathtaking historic landmark and enjoy the season's colors too.
Snag Lunch at Big Slide Brewery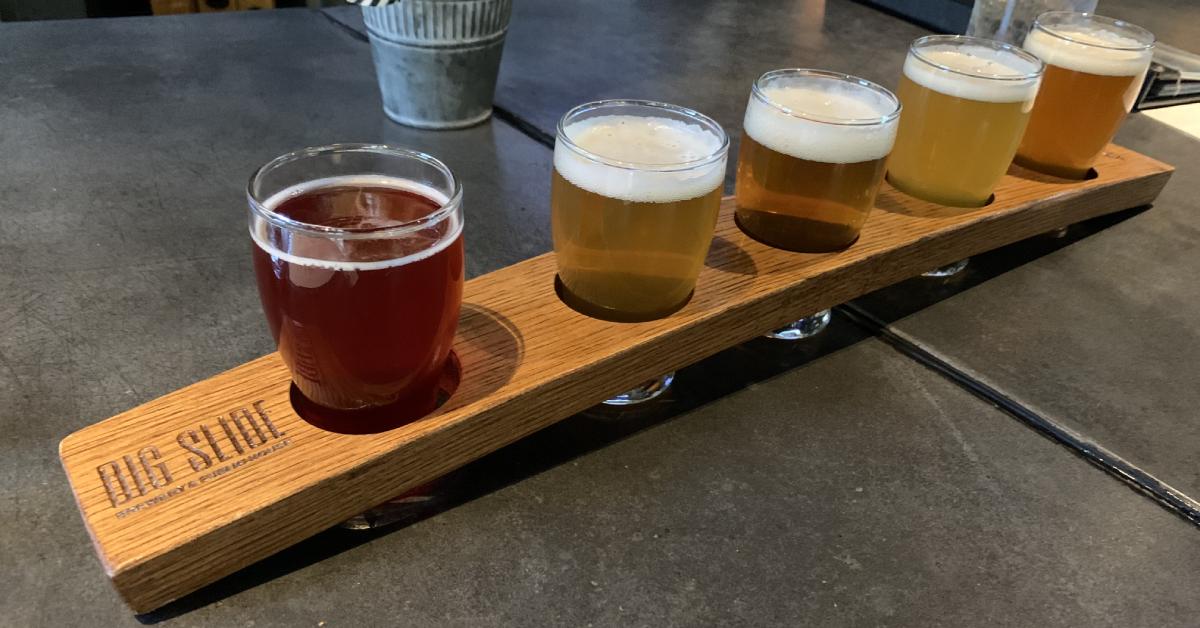 This innovative brewery is a must-try in Lake Placid. Not only is their farm-to-table menu both delicious and full of new takes on classic comfort foods, but their selection of beers is super unique and always pushes the bounds of traditional beer styles. Don't worry, though—they've always got a pale ale and golden ale on tap if you're not feeling particularly adventurous.
Experience the Richness of Adirondack Culture
If you're looking for galleries and performances, the Lake Placid Center for the Arts has a gallery open year round, and they regularly put on unique performances, with everything from comedy to music to films. Gallery 46 and The Curious Otter are both located on Main Street downtown, so you can enjoy art by local creators, many of which correlate to the current season, so you can take a piece of autumn in the Adirondacks home with you.
Depending on when you visit, you can also catch the Lake Placid Film Festival, a four-day film fest that takes place annually in late October. The festival features internationally acclaimed films, parties, seminars, and more. It's an amazing event, and in the past, notable guests such as Paul Schrader and Martin Scorsese have been in attendance.
Try Seasonally-Inspired Cuisine at the Interlaken Inn & Restaurant
Interlaken Inn's chefs consistently impress, with a focus on enjoying the season's produce and flavors, sourced from local farms and their own kitchen garden. The vibe is casual yet elegant, so if you're looking to unwind with a relaxing environment and decadent food, check out Interlaken Inn & Restaurant. Reservations are suggested, so be sure to give them a call before you stop in.
Friday: Dig Into Olympic History
One of the most iconic aspects of Lake Placid is its rich Olympic history. The 1932 and 1980 Olympics brought the world's attention to this small village, and even today you can see the impact the games had on the area, so you'll most certainly want to check out the various Olympic venues.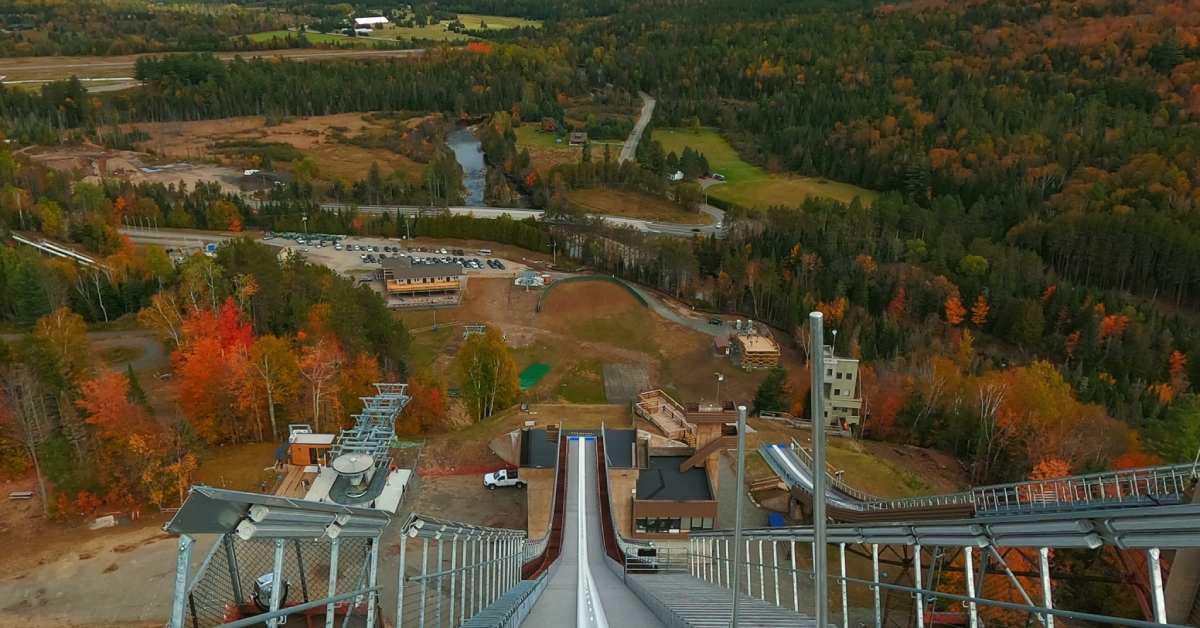 Mt Van Hoevenberg
At the Mt Van Hoevenberg Olympic Sports Complex, you'll find a state-of-the-art combined skeleton and bobsled track and North America's largest mountain coaster. You can ride the coaster, have a bobsled experience with a professional driver, try their indoor climbing wall, hike, bike, and much more.
Olympic Ski Jumping Complex
The Olympic Jumping Complex consists of two ski jumps, one 90-meter and one 120-meter, meaning they tower over everything around them. You can make your away to the top in a glass elevator and enjoy the foliage, and maybe even see some jumpers as they take off—the hills are the only ones in the United States approved for winter and summer jumping.
Eat Like a Local at Lisa G's
Located less than half a mile from the Jumping Complex, Lisa G's has delicious American fare with a global twist. This spot is a favorite of locals, with good reason—the price is right, the food is hearty, and the atmosphere is casual and welcoming.
Olympic Center & Museum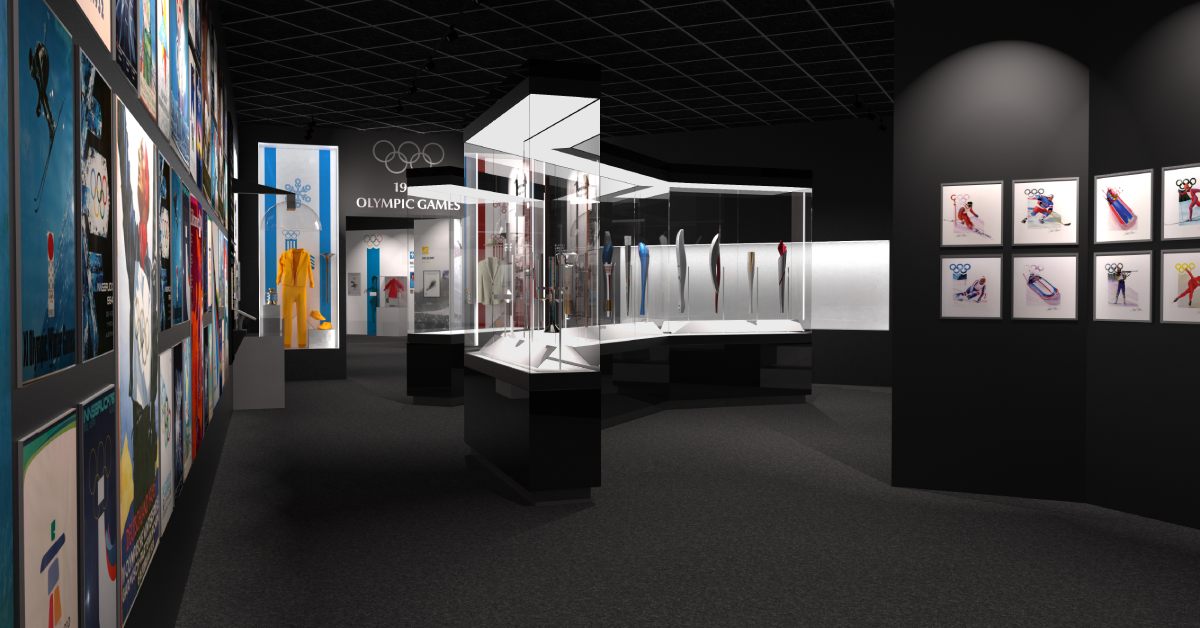 The Olympic Center & Museum might be the gem of Lake Placid's Olympic crown. Located downtown, this facility is where the famous "Miracle on Ice" game was won by the US men's hockey team against the Soviet Union. The museum itself opened in 1994 and was the first Olympic museum in the US; in 2022, it underwent extensive renovation and expansion in order to better showcase the incredible history of the Lake Placid Olympics.
The museum features a variety of rotating exhibits, videos, and memorabilia. Stop by and check it all out—you may even catch some skaters practicing on the indoor Herb Brooks Arena.
Dine at Lake Placid's Only AAA Four Diamond Restaurant
If you're a food connoisseur, The View Restaurant is a place you simply have to experience. Reservations are required for this exceptional restaurant, which serves carefully-curated dishes and a perfectly paired wine list. The View welcomes guests with dietary needs and food allergies, so no matter your needs, you'll be served with unmatched service. The View also overlooks Mirror Lake and the Adirondack Mountains, so you'll enjoy the inviting atmosphere inside with a stunning view of the foliage.
Saturday: Visit Keene Valley and Head Home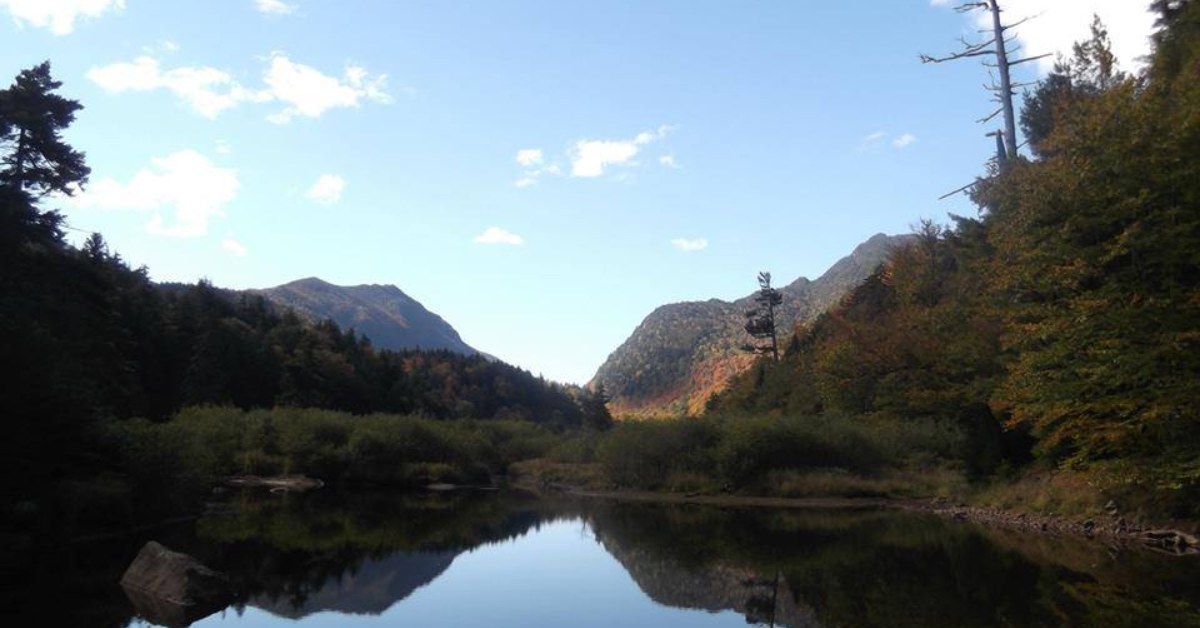 As your time in Lake Placid draws to a close, there's still one more thing to look forward to—take a detour to Keene Valley on your way home. This cute little town is known as "The Home of the High Peaks" and has the greatest number of High Peaks in its vicinity. Stop at Marcy Field for some stunning shots of foliage and get a meal at the Noon Mark Diner. If you're feeling up to an easy, 0.3-mile hike, Roaring Brook Falls is the perfect way to close out your vacation.
Until next time, enjoy those foliage photos, and start planning your next trip to the Adirondacks!