Discover The Allure Of Blue Mountain Lake, NY
Blue Mountain Lake, whose sheer beauty is overwhelming, is one of the crown jewels of the Adirondacks. Drink in the stunning landscapes as you drive into the hamlet for a day trip or vacation filled with culture, arts, and outdoor recreation.
Blue Mountain Lake draws outdoor enthusiasts of all kinds. Hikers flock to the easy-access hiking trails with spectacular views, ranging in difficulty from the demanding Blue Mountain to the relatively easy, but spectacular, Castle Rock. Make it a multi-day trip and camp at one of the Blue Mountain Wild Forest lean-tos. Paddlers and fisherman will enjoy exploring coves and deeper parts of the lake.
The hamlet is also home to Adirondack Experience, a museum (called "the best of its kind in the world" by the New York Times) that takes you back in time with exhibits that explore every aspect of Adirondack life, from mining and logging to railroads and recreation. The nearby Adirondack Lakes Center for the Arts hosts gallery exhibitions, live entertainment, and workshops throughout the year.
Lodging options in Blue Mountain Lake ranges from island camping to historic cottages filled with rustic charm. It's a wonderful place to tune out the world and turn off electronics for a relaxing getaway.
Blue Mountain Lake, NY Listings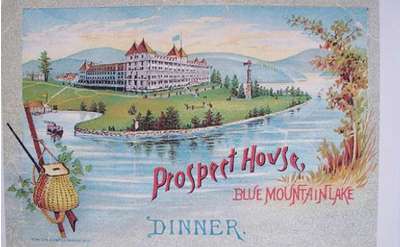 Prospect Point Cottages
Charming housekeeping cottages nestled on the shores of Blue Mt. Lake. Breathtaking waterfront views, private 150' sandy beach. Cozy cottages with knotty pine walls, and free use of canoes, rowboats and paddle boats.
Adirondack Experience
Adirondack Experience, The Museum on Blue Mountain Lake features exhibitions about the Adirondacks in 24 modern galleries and historic buildings. You can explore topics ranging from logging to boating as well as enjoy hands-on activities.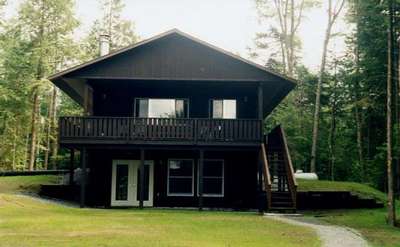 Potter Camp - Lakeside Cottages
2 seasonal lakeside cabins and one four season chalet on Blue Mountain Lake. Stay close to the gorgeous cross country ski trails, snowmobiling, and ice fishing.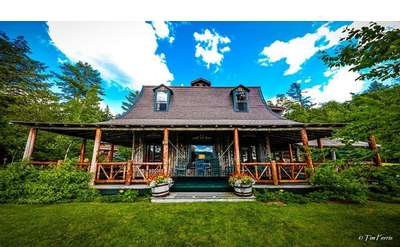 The Hedges on Blue Mountain Lake
The Hedges on Blue Mountain Lake has been providing priceless Adirondack escapes for families, couples, and individuals for almost 100 years.
Blue Mountain Lake Boat Livery Inc.
The Blue Mountain Lake Boat Livery was established in 1908 and offers sailboat rentals, water skiing and wakeboarding, boat tours, and marina services.
The Adirondack Lakes Center For The Arts
The Adirondack Lakes Center For The Arts, located in Blue Mountain Lake, offers classes, workshops, and special events in addition to live concerts, theater, and dance performances.