For the second time within a month, a solar wind passed by Earth when it was clear enough here in the Adirondacks to see the northern lights glowing on the horizon in Brant Lake. They were bright enough of a glow that it's quite obvious there's an aurora, but not quite bright enough so the soft shimmering shafts are visible to the eye. The camera picks up more than the eye can see, both in color as well as detail.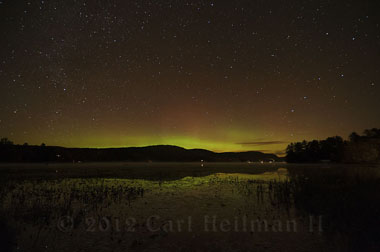 This first photo was taken on 10/13/12 at about 3:30 AM – looking north over the western end of Brant Lake.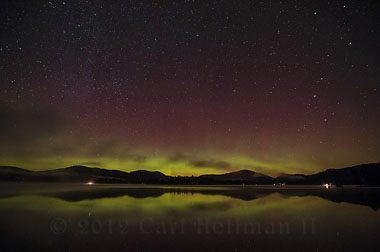 This second one was taken last night (11/14/12) at about 2:30 AM. You need to be someplace out of city lights, with dark skies to the north to see them. Hopefully before too long, we'll even have some overhead here again! These were both 30 second exposures at f /2.8, 800 ISO – shot with a Nikon D300S camera.