Stay Warm & Safe! Winter Ware in the Adirondacks
Planning to enjoy some outdoor activities in the Adirondacks this winter season? Learn how to dress to make the most of winter while staying warm, safe, and comfortable.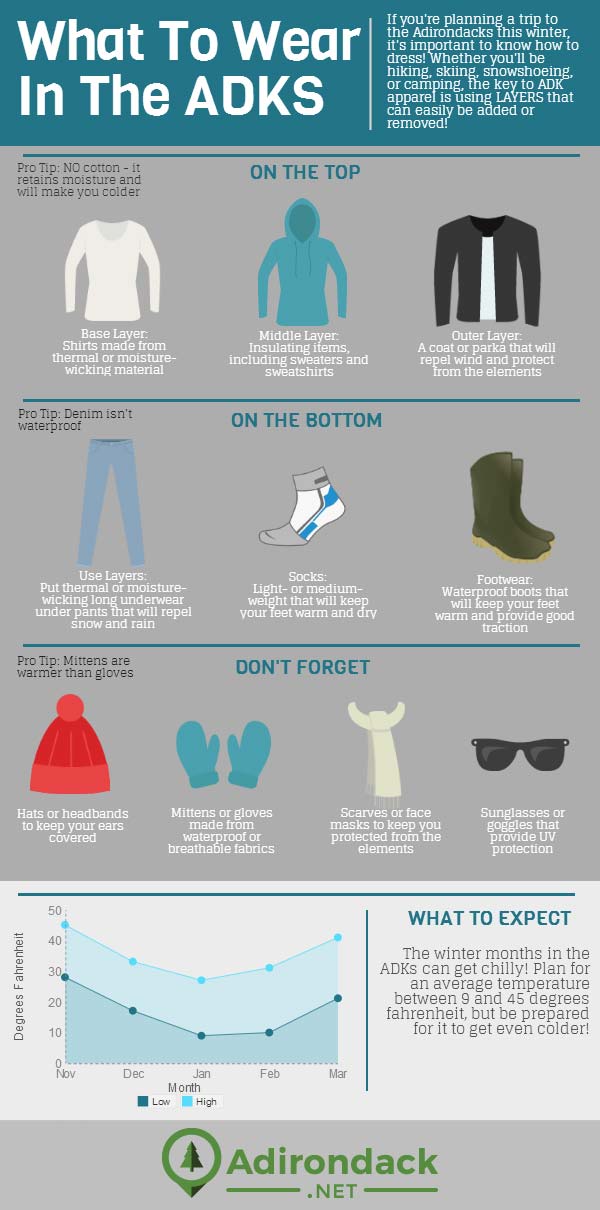 Whether you plan to hike, snowshoe, or even go winter camping, the key to wearing apparel appropriate for Adirondack winters is using layers that can easily be added or removed. The image above shows how to layer appropriately.
For shirts and tops, avoid cotton; it retains moisture and will make you colder. Instead, choose a base layer made from thermal or moisture-wicking material. For your middle layer, choose insulating items, including sweaters and sweatshirts. For your outer layer, select a coat or parka that will repel wind and protect you from the elements.
For pants, avoid denim; it isn't waterproof and will stay damp for a long time, increasing your risk of hypothermia. Instead, use layers again, placing thermal or moisture-wicking long underwear under pants that will repel snow and rain. For socks, choose light or medium-weight ones that will keep your feet warm and dry. For footwear, choose waterproof boots that will keep your feet warm and provide good traction.
Hats are a must because they help you retain your body heat. Headbands will help you keep your ears covered. Mittens or gloves should be made from waterproof or breathable fabrics (note: mittens will be warmer). Scarves or face masks will help keep you protected from the elements. In addition, sunglasses or goggles will provide UV protection.
« Back to the Adirondack Winter Hiking Guide