How to Survive an Adirondack Outdoor Winter Fun When You'd Rather Be Inside
We've all been there. Your kid or significant other or parent or friend or even YOU get the brilliant idea to go to an outdoor event in the middle of prime stay-inside-with-a-blanket-and-hot-cocoa season.
It's true - sometimes we even do this to ourselves. We see the Facebook posts about Winter Carnival or the Ice Palace or Chowderfest and we think about how fun they sound and how happy all the people in the pictures look. But then the day comes and we realize that we've made a horrible mistake. It's winter in the Adirondacks! And those people in those photographs are outside. They can't possibly be having fun!
Still, plans have been made and people are counting on you to show up, so show up you will! And you will do it with grace, dignity, and (if we can help it) warmth.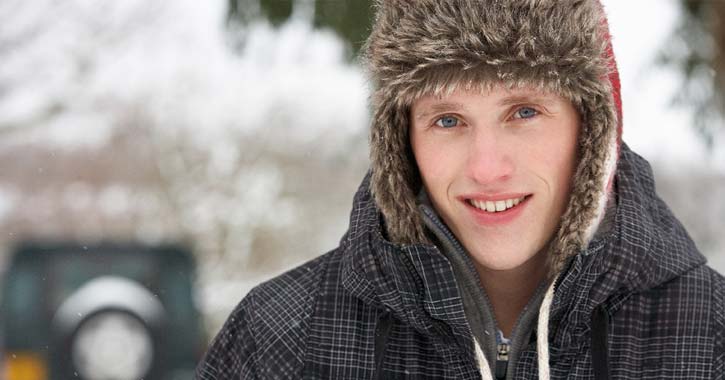 Layer up
It almost goes without saying, but only almost - we inevitably see at least one person who's dressed more for style than comfort at every winter event in the region. You know what's fashionable? Not getting frostbite. Make sure you are wearing appropriate layers for the weather. Layers include, but are not restricted to, long underwear (silk makes a great underlayer), serious consideration of two pairs of socks, heavy sweaters, and a down or down-alternative coat meant for chilly weather. Warm layers are key because even the best winter coat won't keep you warm and cozy without a little help from its friends base layer and sweater.
Get mittens
Did you know that mittens actually keep your hands warmer than gloves? If you need the extra dexterity of gloves, consider layering a thin pair of driving gloves under your mittens for extra warmth.
Don't just wear a scarf, get a balaclava
You might look like a bank robber, but you'll be warm.
Invest in hand and feet warmers
Hand and Feet Warmers are the hot bricks of the twenty-first century. These little packs will be your new favorite invention when even your layers and three pairs of socks just aren't standing up to the cold Adirondack winter weather. You might find some at FISH307 among their ice fishing supplies.
Prepare a warming beverage
We suggest having a bottle of water AND a thermos filled with the warming beverage of your choice. While hot cocoa is the traditional warming beverage for many, you might consider subbing tea, coffee, or even soup!
Scout out cozy spots and places to warm up before you go
Maybe you're on the look out for cozy bars or a gift shop you "can't miss." Whatever your excuse is, plan ahead and figure out where and when to strategically get out of the cold, warm up, and maybe convince your party to stay a while.
Be sure to take a camera
Winter events are fun, and a camera is a great distraction from the cold. If you're busy making and capturing memories, you might not even notice you're miserable!