10 Family-Friendly Winter Staycation Ideas for the Adirondacks
How old do kids have to be to ski or snowshoe? What about snowmobile? What if we want to stay out of the cold and duck into a museum? If you're looking to get the whole family in on an Adirondack adventure close to home this season but aren't sure where to start, simply browse the below suggestions for kid-friendly activities and fun to enjoy this winter.
1) Visit an Area Attraction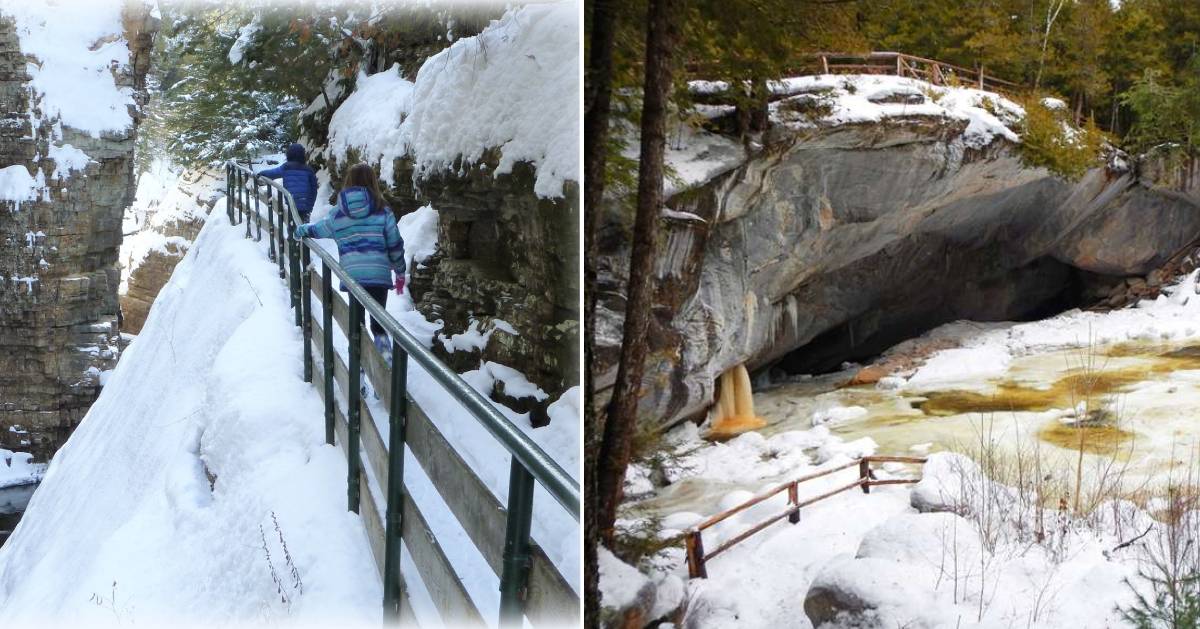 You don't need to save a bucket list item for the summer. (Although, you can certainly return in the warmer months!) Avoid the busy-season crowds and explore parts of the Adirondack Park you never thought you'd see in the winter. We suggest:
Ausable Chasm
Walking trails are open at Ausable Chasm, so come see what this Adirondack wonder looks like covered in snow and ice. Walking tours on scenic trails include a minimum of a one-mile walk; a full tour spans five miles total.
High Falls Gorge
High Falls Gorge's winter season runs from from December, 2021 to March, 2022 and you can purchase tickets now. Come explore this 22-acre, privately owned nature park, and see some of the most spectacular winter scenes of the Adirondacks.
Natural Stone Bridge & Caves
Natural Stone Bridge and Caves in Pottersville is open year-round with self-guided snowshoe tours in the winter. See ice formations beneath the Stone Bridge, travel through the woods, and return to toasted marshmallows by a bonfire.
2) Check Out Museums, Olympic Venues or Art Galleries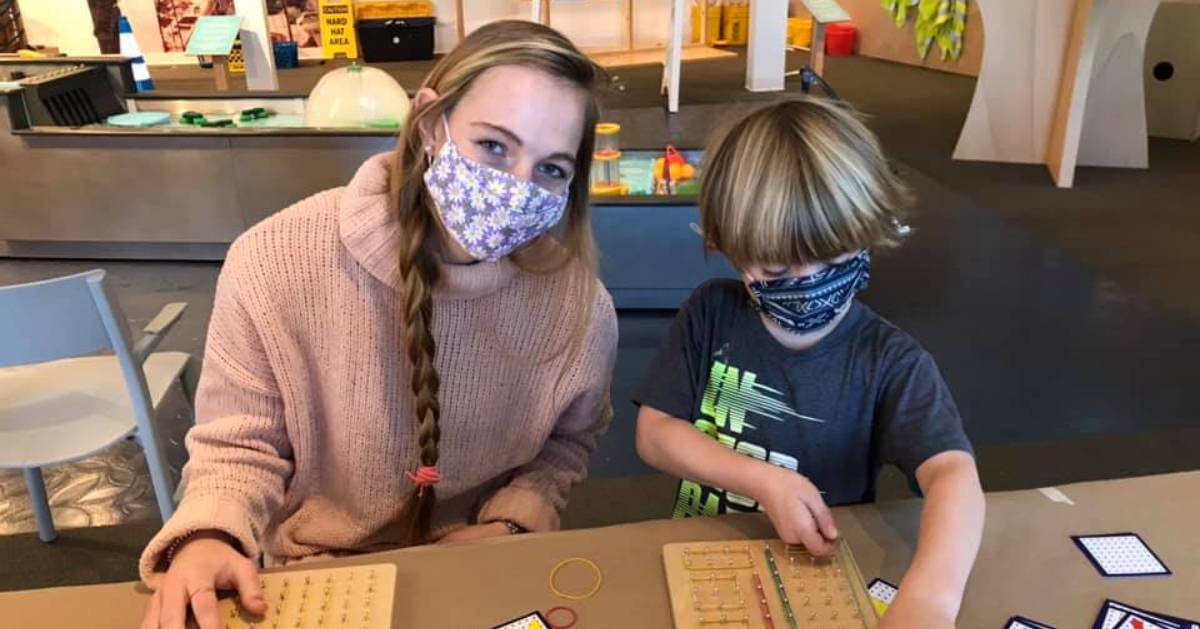 The North Country Children's Museum in Potsdam has interactive exhibits for kids of all ages, including STEAM power, a construction zone, and "Adirondack waterplay," where you learn about the North Country's river-based ecosystems and hydropower dams.
Another option would be the Olympic Winter Museum and area Olympic venues in Lake Placid, for athletic enthusiasts of all generations. And, there are art galleries to check out like the Lake Placid Center for the Arts.
Bonus suggestions: Whiteface Mountain, considered part of the Olympic venues, offers their Cloudsplitter Gondola rides during the winter and summer for 15 minutes of sensational sights.
Also, while you're in the Lake Placid area, the Lake Placid Toboggan Chute typically opens for the season in January.
3) Go Ice Skating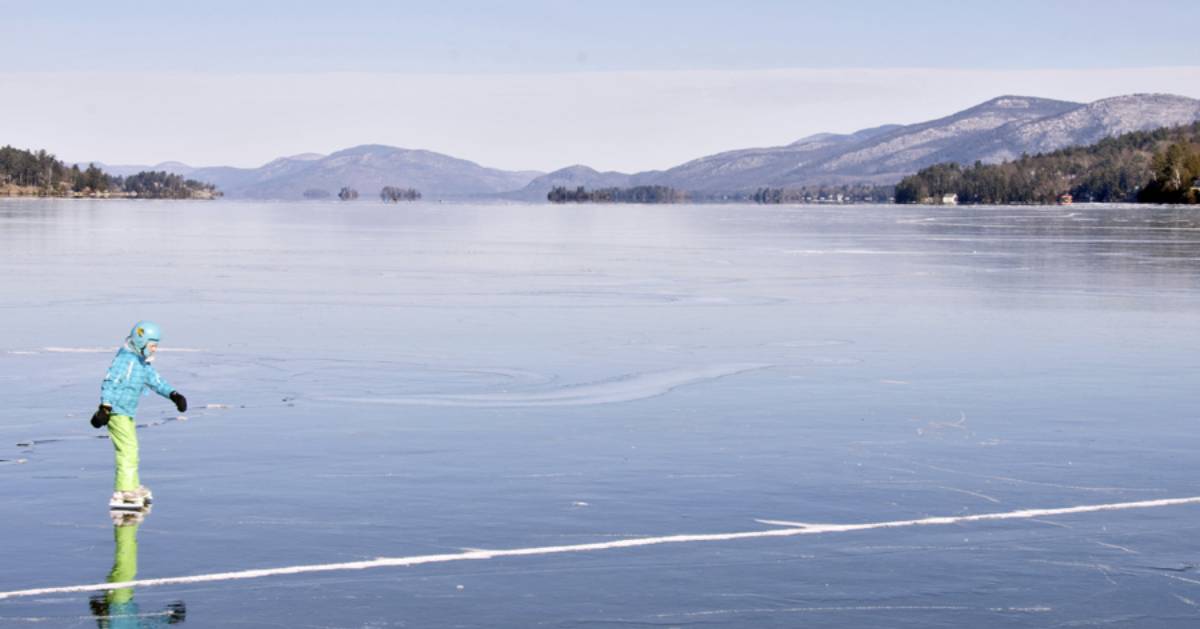 Photo credit: Luke Dow Photography
Ice skating is a classic Adirondack winter pastime enjoyed by all ages. Here are a few places where you can go:
Dynamite Hill Recreation Center in Chestertown (no rentals)
Long Lake Geiger Arena in Long Lake (rentals)
Olympic Speed Skating Oval in Lake Placid (rentals)
Saranac Lake Civic Center in Saranac Lake (no rentals)
Note, it's important to check ahead for hours and details with ice skating rinks (and other businesses). If you're skating outdoors on a lake or pond, make sure you're aware of ice thickness and safety.
4) Take Them Snow Tubing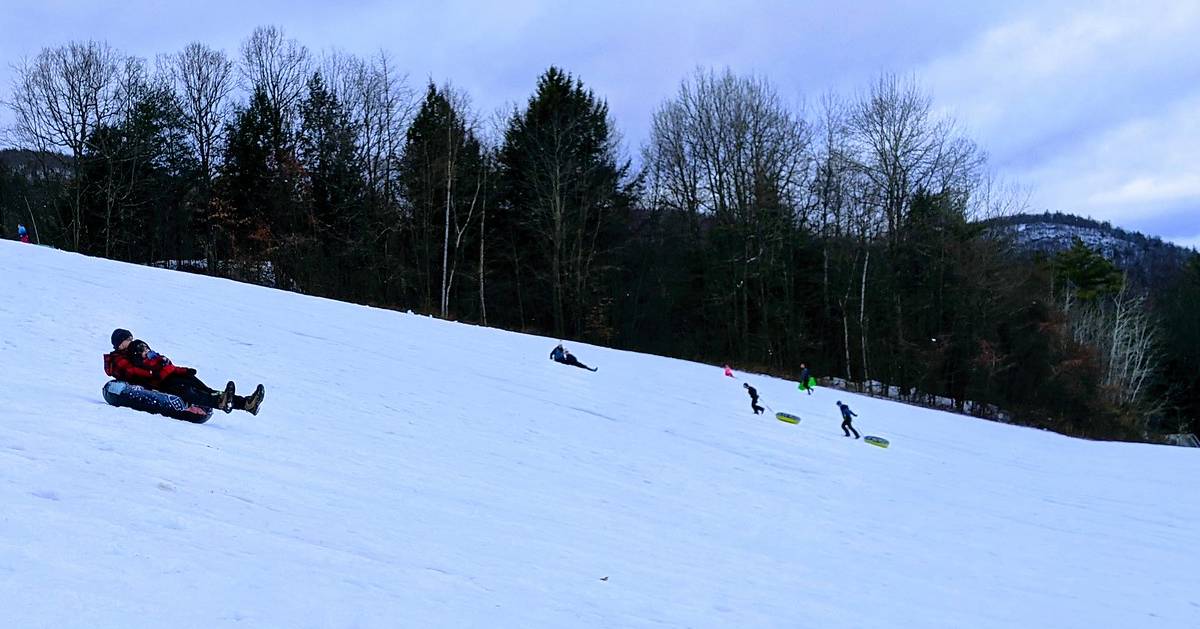 Snow tubing and sledding are another great way to enjoy the wintry outdoors while getting some exercise - especially if you're lugging your gear up a huge hill, like the Lake George Recreation Center hill shown above. You can snow tube at the Mt. Pisgah Recreation Center along with a few other ski hills like Oak Mountain; and, some of the ice skating places offer snow tubing as well.
5) Try Snowmobiling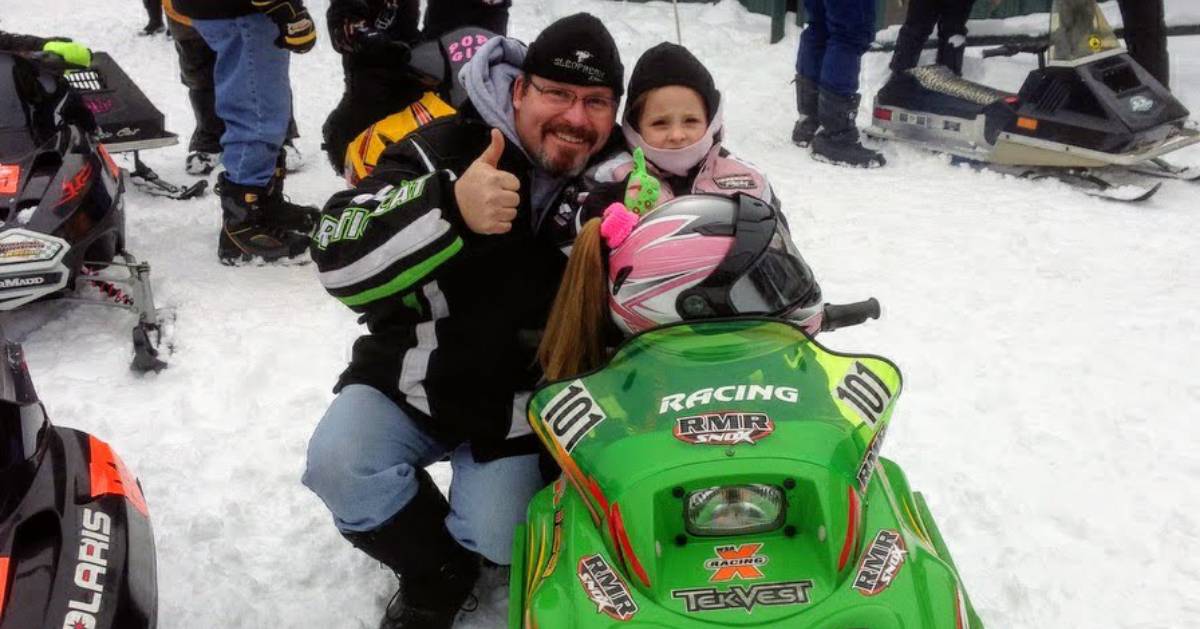 How old do you have to be to snowmobile? For children under 10, it's up to the parent's discretion to allow them to ride on their own land, under their own guidance. Kids 10 to 13 who have completed a certified snowmobile safety training course can ride on designated snowmobile trails with a parent or guardian close by (within 500 feet). And teens 14 to 17 who have completed the safety course can ride with no adult supervision required.
Adults 18 and older can ride without a safety course, although it's of course highly recommended! All beginners should check out guided snowmobile tours to get their bearings under the instruction of a professional. Check out C+C Adirondack Snowmobile Tours in Chestertown for a highly rated and reputable option.
If you're already familiar with this wonderful sport and just need to know where to go, check out our page on snowmobiling to get connected with local snowmobile clubs, who can advise you on trail conditions and more.
6) Find a Kid-Friendly Hike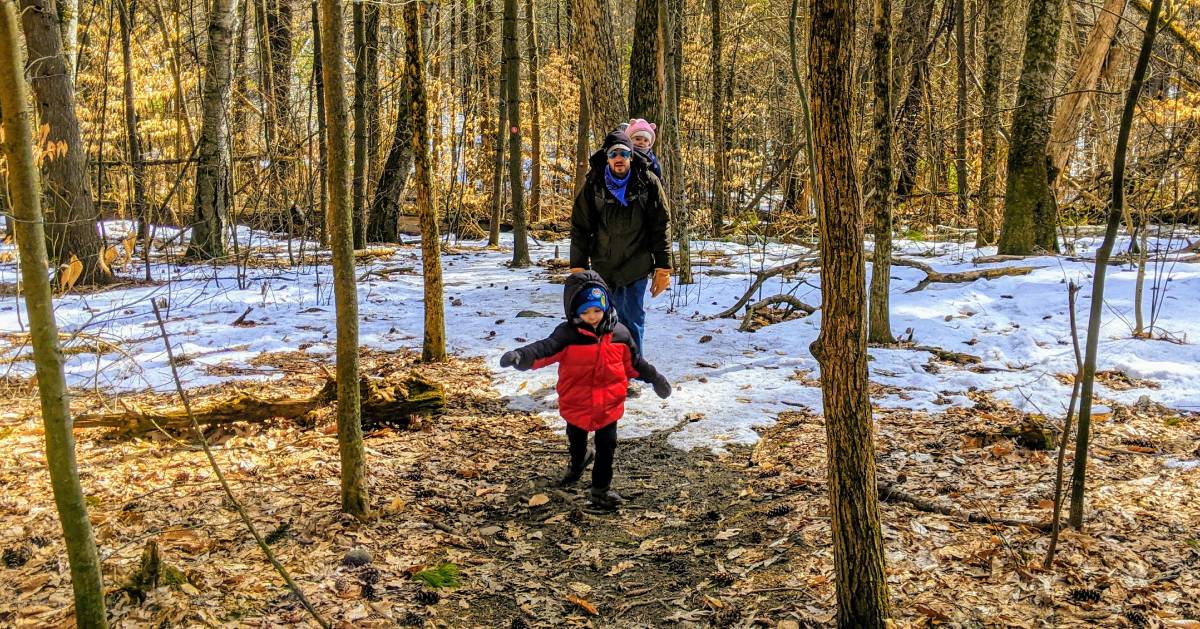 It's always important to research a hike beforehand, especially during the winter when trails will take longer to navigate. But if you've got little ones, you definitely need to know what to expect before you arrive. Consider if you'll need to bring a child backpack carrier, snowshoes (more on that in a moment!), and other key items to stay comfortable and safe.
Here are a few kid-friendly winter hikes:
Sawyer Mountain
Sawyer Mountain in Indian Lake is 2.2 miles round trip, goes through a hardwood forest, and doesn't get too steep.
Silver Lake Mountain
Silver Lake Mountain near Ausable Forks is considered a great winter hike and an easier, often overlooked option. It's 2 miles round trip, and you can see views of Whiteface from the summit.
Blueberry Hill Trails
Blueberry Hill Trails in Elizabethtown is a network of trails open to hikers, horses, bicyclists, cross-country skiers, and snowmobilers. The shortest loop is about 1.5 miles round trip and not steep.
Bonus suggestion: Identifying animal tracks in the snow is an interactive, educational activity you can try out while you're winter hiking. Use this Winter Tracks PDF from the DEC to guide you.
7) Introduce Them to Snowshoeing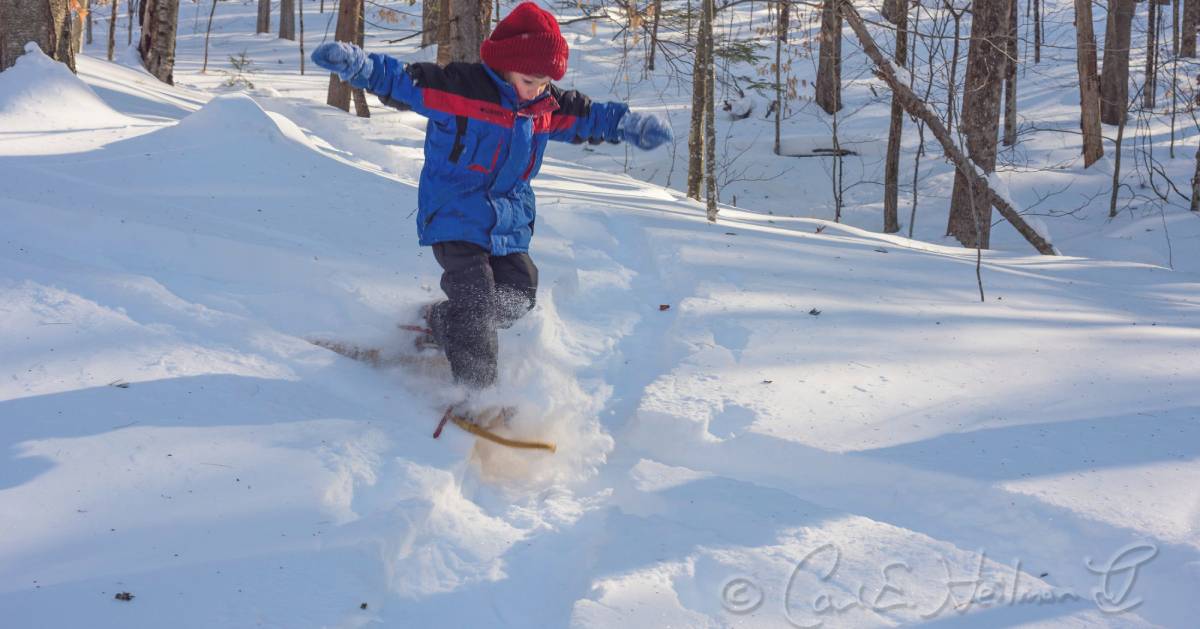 Children as young as three (or even two, if you're brave) can snowshoe. Of course, you know your child, who may refuse to snowshoe or ask to be carried within five minutes, so plan ahead.
Snowshoeing with a kid backpack carrier on is similar to hiking while babywearing, just make sure to practice without the carrier on to get your bearings. Another option is to snowshoe while pulling or pushing your kid on a sleigh or snow tube. There are a slew of places in the Adirondacks to snowshoe, rent snowshoes, and find guided snowshoe tours.
Pro tip: If you are carrying an infant and having your toddler snowshoe, help them get the snowshoes on prior to attaching the baby to your person. You will have a much easier time strapping those snowshoes on your older kid with free range of your hands and body.
8) Embark on an Epic Sleigh Ride
Circle B Ranch, the same dynamic business that offers guided horseback rides, also features sleigh rides in the winter. Dash through the snow with their team of Percheron draft horses as you and your family stay warm underneath a heavy blanket. Although great for a romantic ride for two, this is also a memorable activity for the entire family to enjoy together.
9) Reserve a Dog Sledding Ride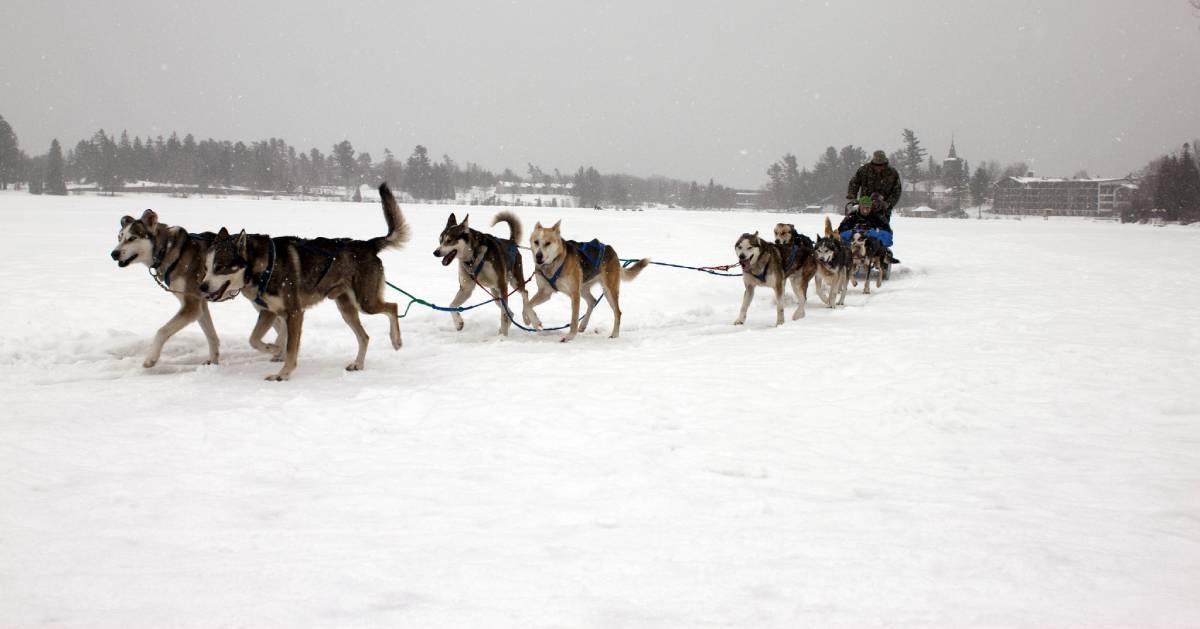 Photo credit: Samantha Kulpinski, licensed by CC BY-ND 2.0
What used to be a reliable form of transportation in these parts is now a scenic trip around the lake. For another family-friendly option that involves gorgeous Adirondack animals, check out dog sled rides on Mirror Lake from Thunder Mountain Dog Sled Tours, located across the street from High Peaks Resort and behind the Players Sports Bar and Top of the Park.
10) Hit the Slopes Downhill Skiing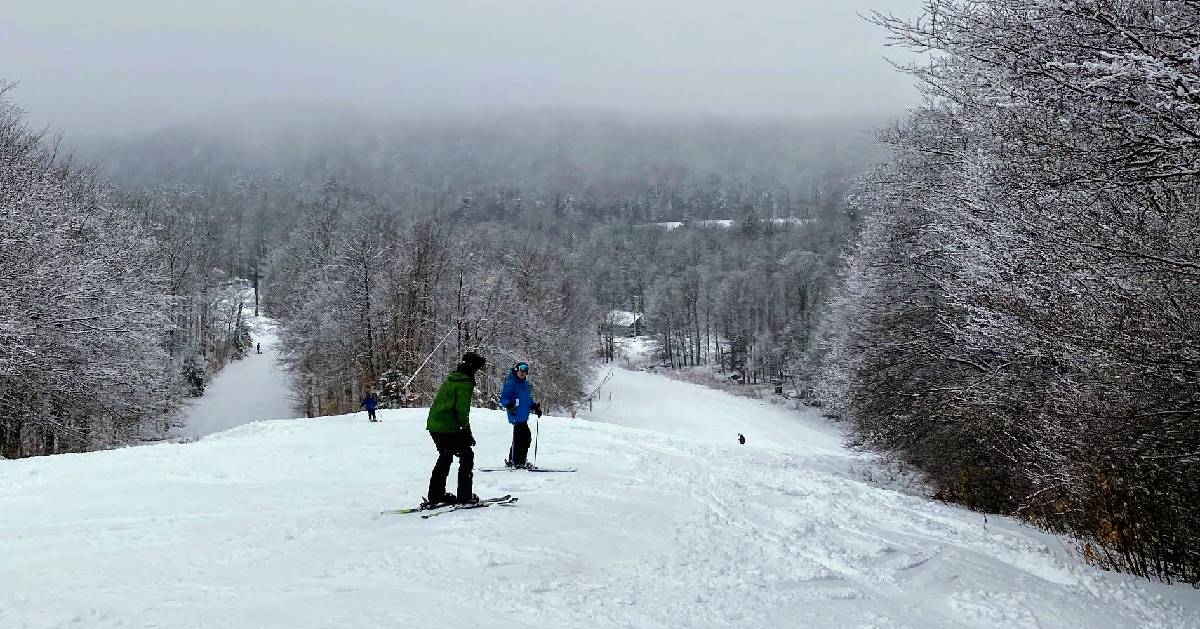 Last but not least, there's always downhill skiing at places like Gore Mountain, McCauley Mountain, Oak Mountain, Mt. Pisgah, Whiteface Mountain, and more. Kids as young as four can learn how to ski, and studies show it helps them become smarter and healthier adults.