Love Fishing? Check Out Info on Adirondack Fish Species & Seasons
The Adirondack Mountains are home to a variety of fish that are targeted by anglers throughout the year. Trout and bass are popular catches in the spring and summer; while pike, perch and salmon look great being pulled up through the ice.
Of course, anglers in New York State must abide by the state fishing regulations, which include obtaining a fishing license (for those over the age of 16), and taking fish during their open season. Bait regulations also apply, and anglers should be aware of when live bait is prohibited.
Trout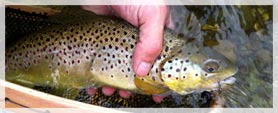 While Brook Trout and Lake Trout are the only trout native to the Adirondacks, Rainbow Trout and Brown Trout were introduced over a century ago and are widely sought throughout the area.
Bass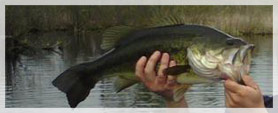 Both Largemouth and Smallmouth Bass are a great catch in Adirondacks. They put up a good fight, tend to prefer warmer water, and taste pretty good too!
Walleye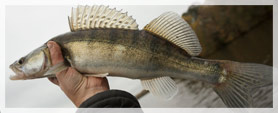 Walleye are one of the favorite fish species for Adirondack fishers as they are quite delicious. Walleye have excellent vision, and tend to feed at dawn and dusk, or in dark, disrupted waters.
Salmon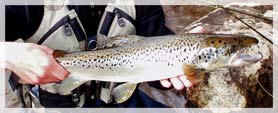 The Adirondacks offer some of the best Salmon fishing on the east coast. Salmon are drawn into rivers and streams in the spring and fall to feed and spawn. Fish the Salmon run!
Pike, Pickerel, Muskellunge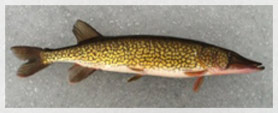 Pike and Pickerel are very aggressive, they attack both live and artificial bait, and fight hard. Northern Pike are known to grow to over 40 pounds, and are relatively easy to catch.
Perch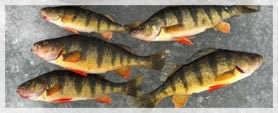 Yellow Perch (shown above) are among the best tasting fish you can catch in the Adirondacks. Yellow Perch feed in the morning and evening, and are quite popular among ice fishermen.
Bullhead, Channel Catfish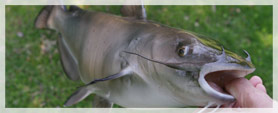 Brown Bullhead are the most common Catfish in New York State. Bullhead are very adaptable and can live in many different environments. Channel Catfish can grow to over 20 pounds.
Crappie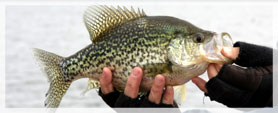 Black Crappie offer good fishing experiences as they commonly swim in large schools. This has the potential to offer lots of action, espcially in early-mid spring when they are known to spawn.
Discover More Information on Fishing in the Adirondacks
« Back to Hunting & Fishing Guide