The satellite view on the internet showed the clouds moving in as expected, so I packed up my camera and outdoor gear, and drove off about 4 AM to Newcomb and the Goodnow Mountain trailhead. The temperatures were hovering around zero or below as I organized my gear and put on the snowshoes and my pack. Heading up the trail, the light from my headlamp illuminated thousands of sparkles on the fluff of crystals from a recent snowfall. Stars shone brightly through the bare treetops, and as I was nearing the top of the mountain, the crescent moon shone brightly in the sky above the summit ridge, diffused slightly through the high clouds that were moving in.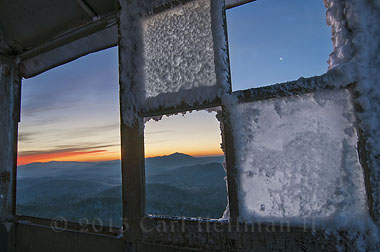 By the time I reached the fire tower, there was already a beautiful warm glow on the horizon, and a deep red glow to the clouds in the northeast. I wasted no time in taking off my snowshoes, and climbed the tower stairs for the broad open view from the cabin above the snow covered spruce and balsam. Stars were disappearing quickly as I set up my tripod and Nikon D300S camera. Since I was going for the broad view of the clouds and landscape, I exchanged my 18-200 for the 11-16 mm zoom, mounted the camera on the offset center head, attached the cable release and started shooting.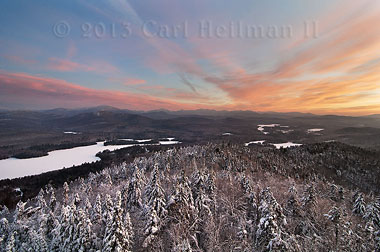 As the light began changing quickly, I also pulled out my Nikon Coolpix P7700 and shot a variety of handheld images of the dawn light, checking as many as needed after I shot them to be sure they were as sharp and detailed as I expected them to be. There wasn't much wind until about the time the sun started to rise above the horizon. It's always a balance in the winter between having a thick enough glove to keep the hands warm, and having enough dexterity with gloves on to work with the camera. My hands are usually pretty chilly by the time I put the cameras away. The glow of a beautiful sunrise generally keeps me thinking more about the photography than how cold the fingers are.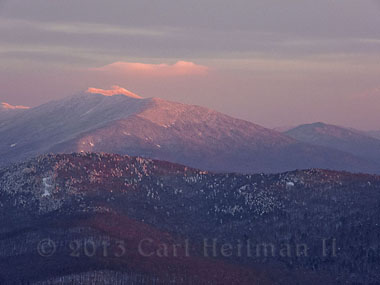 A spectacular sunrise always passes by far too quickly. The warm red and yellow tones of dawn soon brighten to white, blue, green and gray not long after the sun rises fully above the horizon. But there are still plenty of great angles to shoot in the low angle 'magic hour' light, and it was another hour or more before I snowshoed back down to the car and headed home to the office to check through the images from the morning shoot.