Have a Wonderful Winter Weekend With No Snow in the Adirondacks
A 48-Hour Snowless Winter Itinerary
Whisk yourself and your favorite person away to the Adirondacks for a wintry weekend filled with snowsports and stunning landscapes - but wait, what if there's no snow in the forecast? No worries!
Discover the ideal winter weekend vacation in the Adirondacks for when the weather is cold but the ground is bare. You'll still get outside, see scenic sights, and there's plenty of indoor fun as well as you explore a museum, pamper yourself, and fill up on hearty Adirondack fare.
Friday Evening: Check Into the Stylish & Super Accommodating Hotel Saranac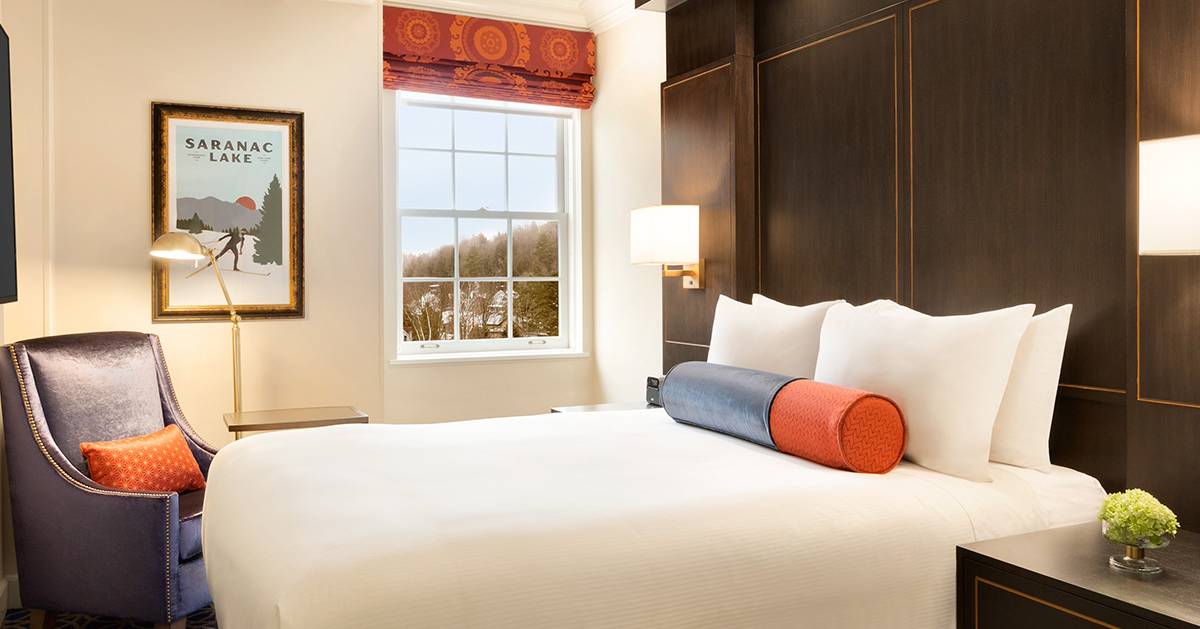 Stay in style in the ADK when you go with the luxurious Hotel Saranac. You can expect top-notch hospitality and professionalism at this exquisite hotel, where nods to the Adirondacks are weaved into the rooms with the warm wood colors and renderings of Saranac Lake.
Although a classic hotel that dates back to its opening on July 1, 1927, Hotel Saranac underwent a complete renovation in 2018, and you'll feel that seamless melding of the past and present. Think Art Deco design with Adirondack touches, and modern conveniences like luxurious linens and custom bolster pillows.
In fact, although there's plenty to explore near the hotel, one could be content to never leave. There's an on-site restaurant and spa/salon (more on these soon!).
Saturday Morning: Fuel Up on a Hearty Breakfast, Then Embark on a Winter Walk or Hike - No Snowshoes Needed!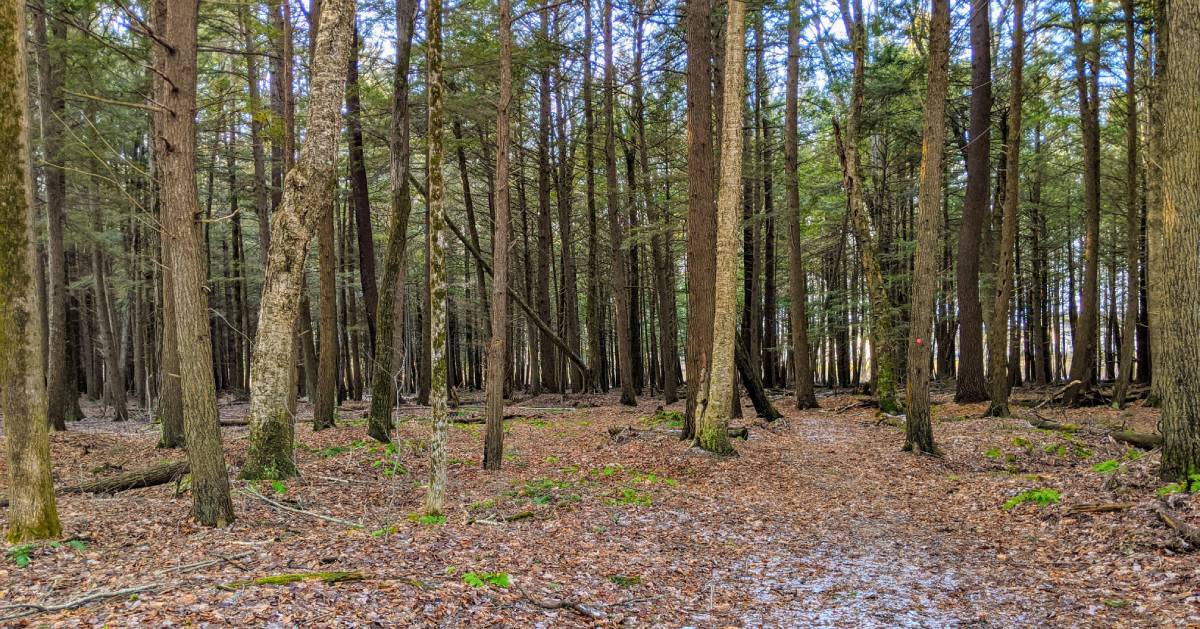 We suggest Blue Moon Cafe for breakfast, a delightful eatery that's a two-minute walk from Hotel Saranac. They open at 7:30am on Saturdays. This highly rated restaurant has a variety of options from egg dishes to breakfast sandwiches to steak and eggs.
After your meal take a quick drive to the Upper Oseetah Woods Loop Trail, located less than 10 minutes from the hotel and cafe. This is a multi-use trail that's just under 2 miles. If you don't want to stray far from your home base, you can check out the Saranac Lake Riverwalk, a 1.5-mile, brick-paved path that's within walking distance of the hotel.
On the other hand, if you're up for an adventure and are an experienced hiker, research Ampersand or another nearby mountain. Be sure to stay safe with winter hiking. (Remember that even if there's no snow at the trailhead, there may be snow at the summit, and you should plan accordingly.)
Saturday Afternoon: Visit the Lake Placid Winter Olympic Museum & Grab Lunch to Go at the Pickled Pig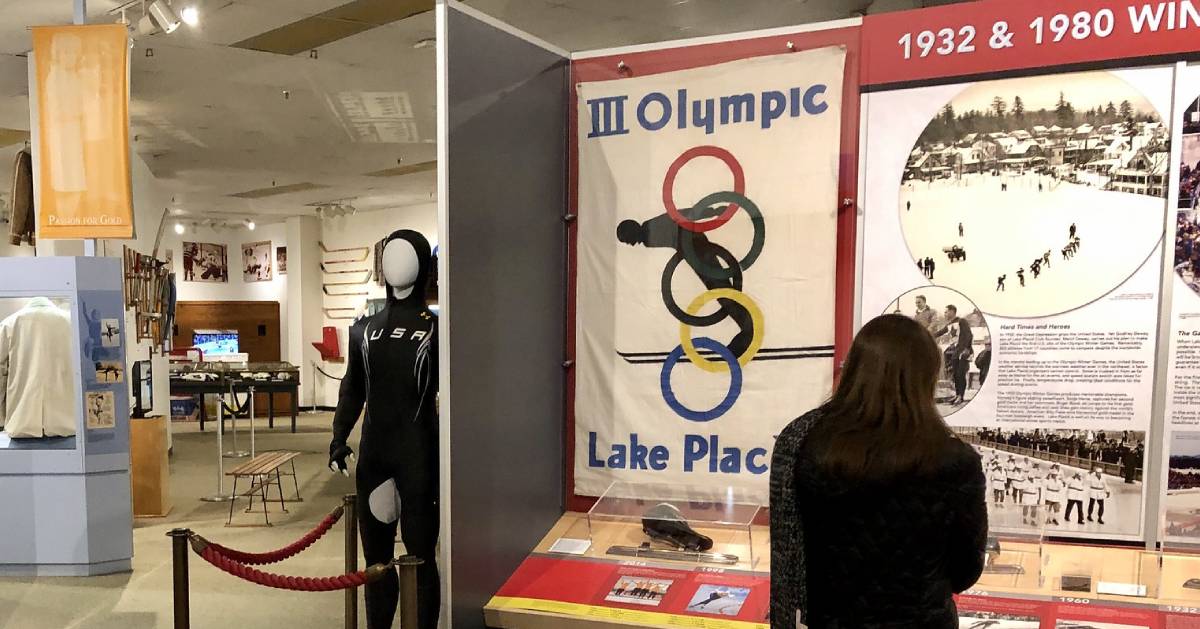 You can't visit the Saranac Lake and Lake Placid region without a stop at the Winter Olympic Museum! Step inside and away from the cold to learn about "America's Olympic hometown." Even if you're not super into the Games, it's tough not to get swept up with the excitement when you're immersed in the birthplace of North America's first Winter Olympics. The Museum is open 10am to 5pm on Saturdays (and is closed 12pm to 1pm). You can purchase tickets ahead of time online, and they're $8 for adults.
For lunch, we recommend the Pickled Pig, a restaurant within walking distance of the Museum. They have an extensive menu with barbecue fare, pub grub, street tacos, and bistro salads, and, they're open for dine-in and pickup.
See info on all Lake Placid Olympic venues »
Bonus suggestion: If you haven't driven by it already, Lake Flower, home of the famous Saranac Lake Winter Carnival's Ice Palace, is minutes from Hotel Saranac. If you're visiting at the right time of year, then you can see this winter wonder! Construction typically begins in January, with the palace up through mid-February as the weather allows.
For 2021, visitors are not allowed to go inside the Palace, so this might be a great opportunity for a scenic drive-by as you enjoy takeout from the Pickled Pig on the way back to Saranac Lake - it will be on your route.
Saturday Evening: Get a Taste of the ADK at Hotel Saranac's Restaurant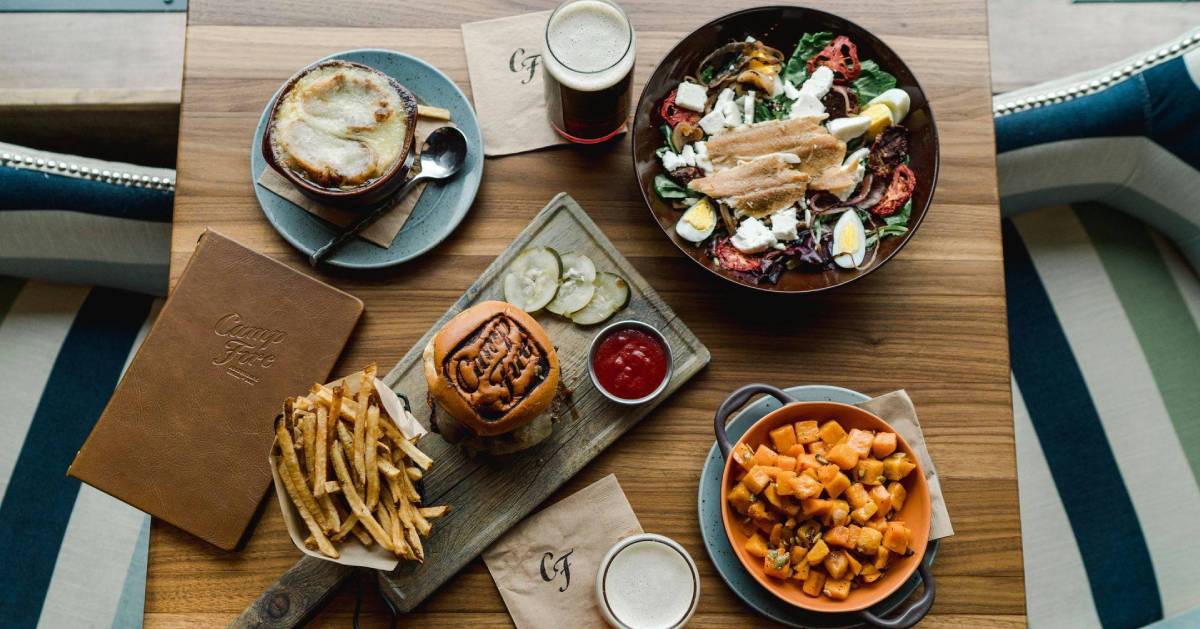 Remember the on-site restaurant and spa at Hotel Saranac we mentioned? Start channeling those cozy vibes as soon as you return to the hotel from Lake Placid, because you won't need to step out into the cold again until Sunday afternoon.
Campfire Adirondack Bar + Grill specializes in locally sourced fare, with an ever-changing, always-fresh menu that fluctuates depending on the season and availability from local farms. They are known for their burgers!
Sunday Morning: Enjoy a Decadent Breakfast Then Unwind With a Rejuvenating Spa Treatment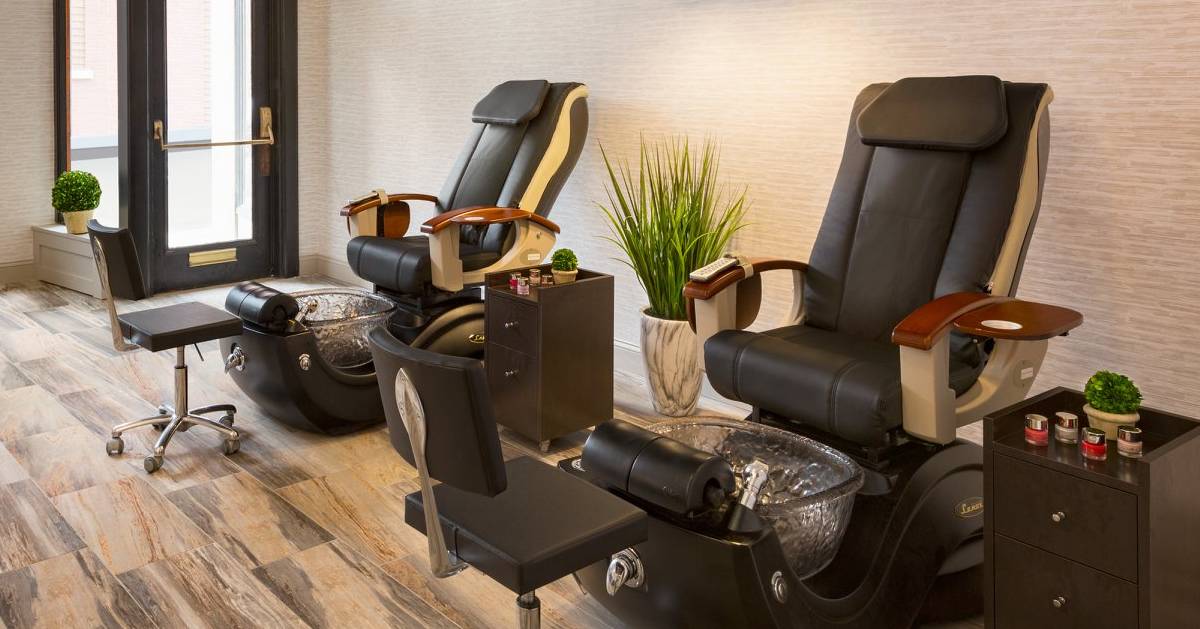 Stay comfortable indoors and enjoy breakfast at the same fabulous on-site restaurant. Campfire opens at 6:30am on Sunday and their breakfast menu includes campfire eggs, buttermilk pancakes, campfire Spanish torta, croque madame, smoked pastrami hash, and a few lighter options.
Then, get ready to be spoiled at a refined spa while the winds blow and temperatures dip below freezing outside. Ampersand Salon and Spa opens on Sundays starting at 10am. They use reputable Red Flower products and offer massages, facials, and more. A Google reviewer from January 2021 offers a solid idea of what to expect from Hotel Saranac's spa:
"I decided to get a custom massage last minute and the spa was very accommodating. Everything went well, the spa was spotless, and massage room was cleaned and sanitized. My massage therapist did a great job and I was left feeling at ease and rejuvenated. Some of the usual benefits like the shower and steam room were not open because of COVID, but the relaxation room was nice and had wonderful tea. They give great discounts for locals. Highly recommended."
Make sure to check out spa services and prices and book an appointment beforehand.
Sunday Afternoon: Lunch at The Cottage Followed by a Walk Around Mirror Lake
The library at Mirror Lake Inn
Being so close to the well-known Lake Placid and Saranac Lake, visitors might make the mistake of discounting the smaller Mirror Lake, which you would have driven by when visiting the Lake Placid Winter Olympic Museum.
The Cottage at Mirror Lake Inn opens at 11am on Sundays for lunch, and you just may be able to get a seat with views of the lake to enjoy with your meal. Patrons love the restaurant's pulled pork on a pretzel roll and the baked brie appetizer - go ahead and indulge in your meal, and then walk it off on the Mirror Lake Loop, a 2.7-mile pathway that goes all around the lake.
Sunday Evening: Take Your Time Getting Home & Soak in the Winter Landscapes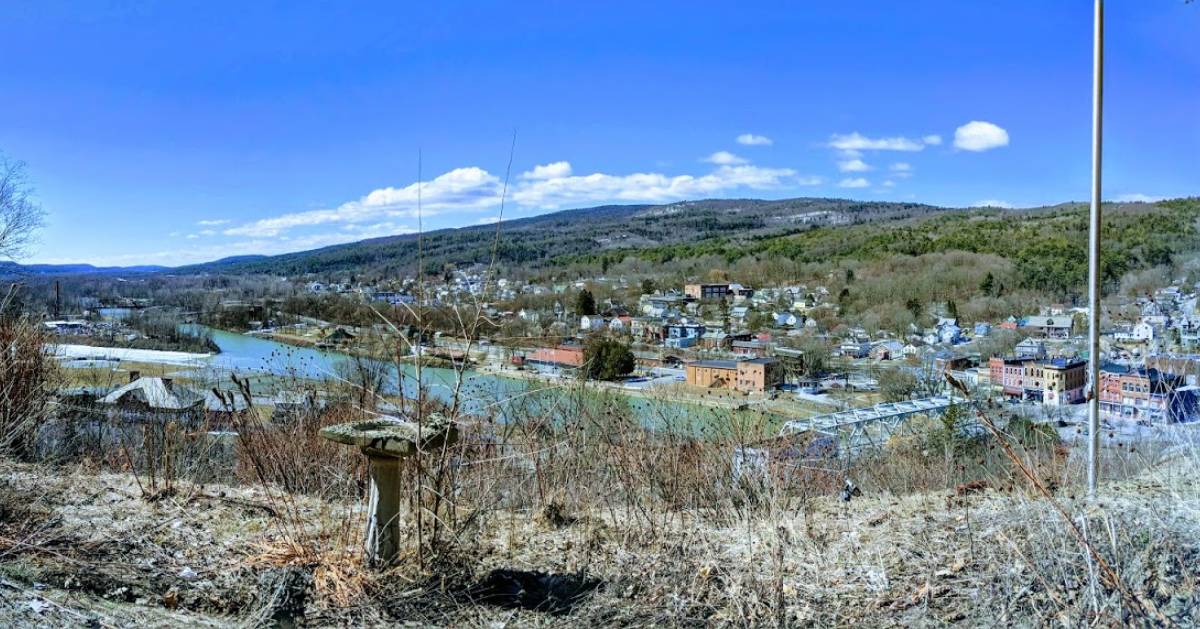 If you've already checked out of the hotel before your Mirror Lake visit, then you're ready to head home. Visitors from the Capital Region traveling south should consider checking "avoid highways" on their GPS for a super scenic drive home through Adirondack towns Keene, Elizabethtown, Moriah, and Ticonderoga.
Then, you'll continue south on the east side of Lake George coming down through picturesque Washington County - even in the winter, even with no snow! Shown above is a view of Whitehall from the Skene Manor, which is situated on top of a hill; Whitehall will be on your way toward the Capital Region.
Enjoy your Adirondack winter getaway - both the drives and the destinations.
Returning when there's snow? We have an itinerary for that too!