Discover The Adirondacks & Adirondack Mountains!
A Guide to the Adirondack Mountains For Vacationers, Residents & Anyone Who Calls the Adirondacks Home
Planning a visit to the Adirondacks? Looking for businesses in your own backyard? Adirondack.net is your guide to:
The Adirondacks offer the highest peaks in New York State, thousands of miles of hiking trails and canoe routes, and numerous scenic highways and byways that draw visitors each year to the many towns, villages and hamlets that are scattered throughout the six-million-acre Adirondack Park. First-time visitors can choose from luxurious resorts, a week of solitude backpacking along a remote mountain trail or enjoying the many activities and amenities of a local campground. You might even find a piece of Adirondack real estate that's just right for you!
Many first time visitors to the Adirondacks are surprised to learn that "the Park" isn't a traditional park at all! You won't find an entrance gate guarded by conservation officers – but you will find a vibrant blend of public and private lands where thousands of people live, work and play amid the breathtaking Adirondack mountains, forests and streams.
Experience the Adirondacks today!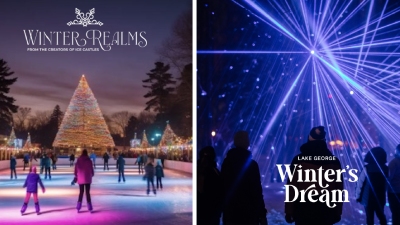 Enter now for your chance to win a family 4-pack of tickets to Winter Realms & Lake George Winter's Dream!