Trails & Ales: Sample Brews and Views with the ADK 6 Pack Hiking Challenge
Please note, it is possible that this challenge is now defunct. Efforts have been made to contact the challenge organizer without success.
The ADK 6 Pack is a unique challenge that takes hikers on a tour of the Adirondack's best brews and views, and you can be among the first to conquer it!
The challenge includes 32 miles of trails, 6 mountains, and 6 local craft breweries. After hiking each mountain, visit its corresponding brewery for ice cold local beer and a bite to eat.
As always, drink responsibly, be cautious while on the trails, and don't forget to share your photos using #adk6pack. Cheers!
The Brews & Views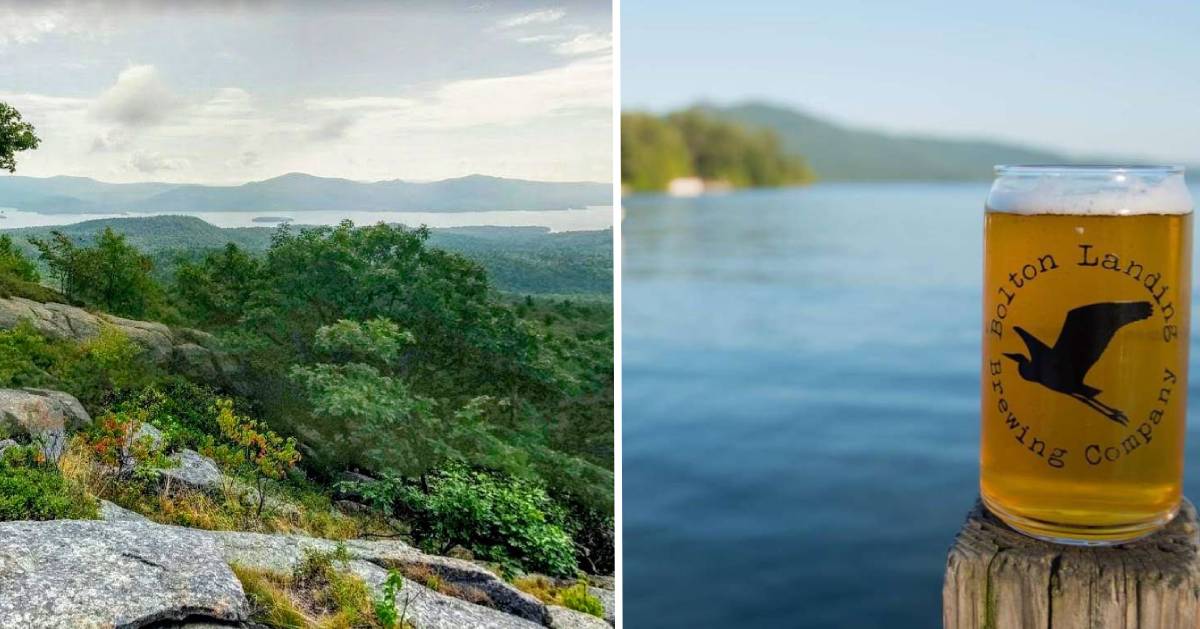 Cat Mountain photo credit: Alan Nudi
Cat Mountain is located near Bolton Landing, and the trailhead is only a short distance from Exit 24 on the Northway. Getting to the top of Cat Mountain is a fairly moderate round-trip hike of about 7.6 miles, with an elevation gain of 1,125 feet, but the views are totally worth the trek. From the summit, you'll be treated to sweeping views of Lake George, which will stretch out below you from north-to-south through the southern Adirondacks.
Afterwards, head back down the mountain and into the town of Bolton Landing to taste some of Bolton Landing Brewing Company's amazing signature craft beer in their taproom. Sip some of their seasonal on-tap brews and fan-favorites, such as their Tight Squeeze IPA. If you worked up an appetite on the hike, they also make delicious light pub fare.
Follow Bolton Landing Brewing Company on Facebook to see their latest brews >>
Learn more about and get directions to Cat Mountain >>
2. Pharaoh Mountain & Paradox Brewery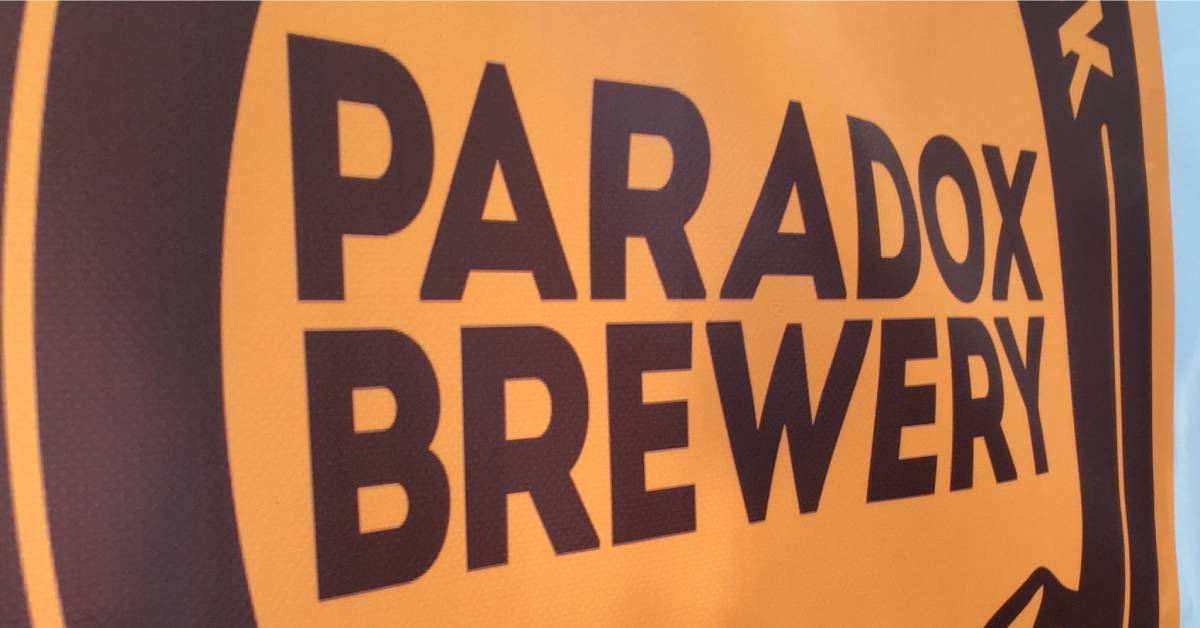 Photo credit: SaratogaPhotographer.com
Take Exit 28 on the Northway to reach the Pharaoh Lake Wilderness, where you'll hike up Pharaoh Mountain. The journey to the summit and back is just over 9 miles, with an elevation gain of 1,870 feet. You'll want to spend some time at the summit drinking in the scenery, which includes Paradox Lake, Schroon Lake, Eagle Lake, Crane Pond, and the High Peaks of the Adirondacks.
To complete this leg of the challenge, you'll want to stop by Paradox Brewery for a glass or can of craft beer. Some of their signature and inventive flavors include Beaver Bite IPA, the Paradox Pilsner, or the Southern Hemisphere. The Brewery was founded in Schroon Lake, but they are now located in North Hudson. Be sure to check their hours of operation before visiting!
Plan your trip to the Pharaoh Lake Wilderness >>
3. Poke-O-Moonshine Mountain & Ausable Brewing Company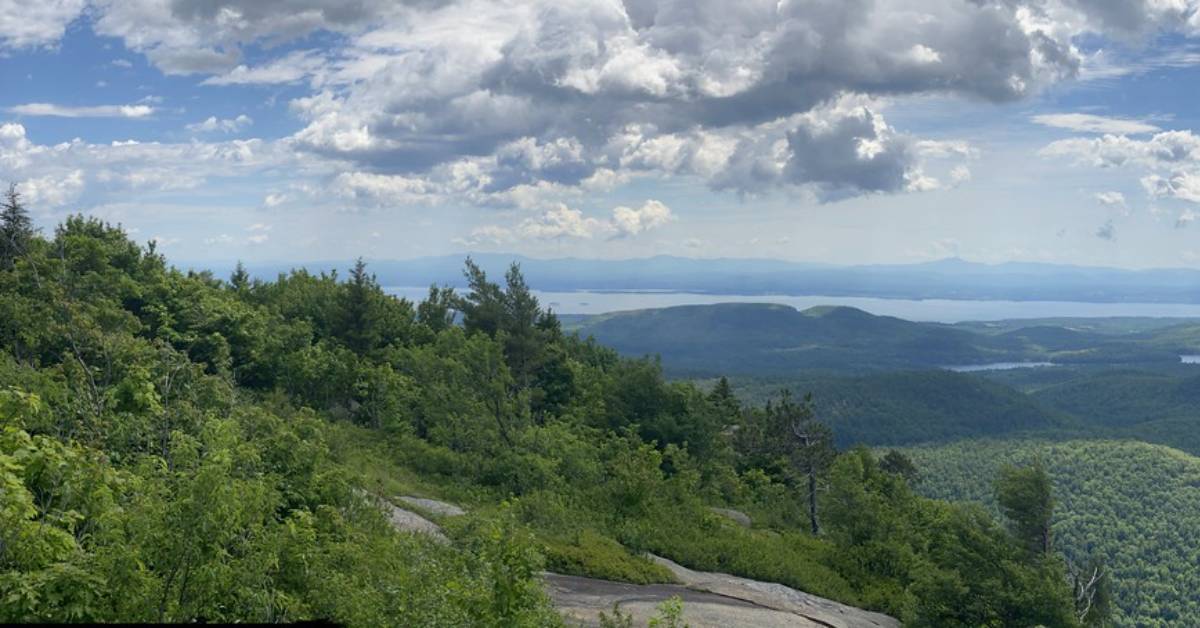 Journey north to Keeseville to hike Poke-O-Moonshine Mountain. This mountain is right alongside the Northway; you'll see it if you're approaching Exit 33 from the south. After taking the exit, head south on Route 9 to double back to the trailhead. The trail is only 2.3 miles long round-trip, but it's a steep hike with an elevation gain of 1,279 feet, so be prepared for a somewhat challenging hike. Once at the top, though, you'll be able to visit a firetower (when open) and see Lake Champlain, the High Peaks, and even Mount Mansfield in Vermont.
After the climb, rest up at Ausable Brewing Company, which is situated on 140 beautiful acres near the Ausable River and Lake Champlain. The only place you can get a taste of this nanobrewery's products is at the brewery itself. Their lineup of 11 on-tap beers includes 6 signature brews and a rotating selection of seasonal beers, stouts, sours, and ales. They also serve up their own root beer and ginger soda.
Learn more about the Ausable Valley >>
4. Bears Den Mountain & The Lake Placid Pub & Brewery or Big Slide Brewery & Public House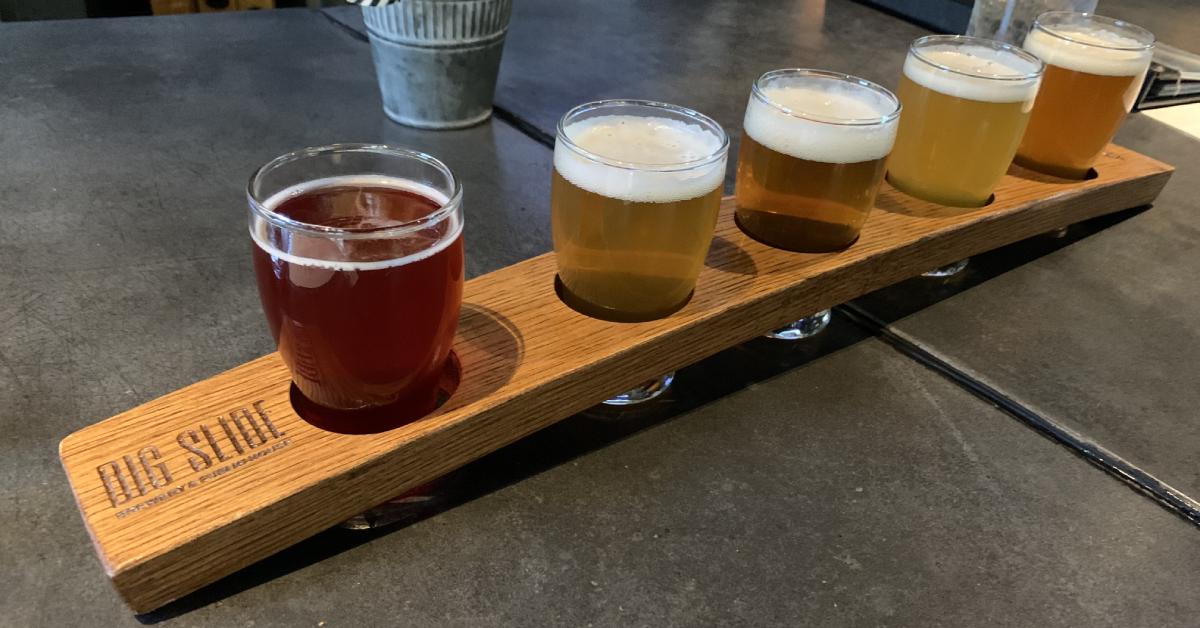 Head out to the High Peaks region near Lake Placid, where you'll hike Bears Den Mountain. From Lake Placid, head north on Route 86 to the entrance of Whiteface Mountain Ski Area -- the trailhead will be inside and to the right. This lesser-known hike can be rather steep, with an elevation gain of 1,479 feet, but the trek is only about 3.3 miles long and you'll be treated to stunning views of Whiteface Mountain and the High Peaks. You'll also be close to gorgeous Adirondack waterfalls like High Falls Gorge.
The mountain actually has not one, but two summits, so it's fitting that there are two breweries from which to choose to complete this leg of the challenge. Both offer unique brews made right in the heart of the Adirondacks; Lake Placid Pub & Brewery is known for its amazing lagers and ales, while Big Slide Brewery & Public House specializes in barrel-aged and sour beers.
Discover lodging and landmarks in Lake Placid >>
5. Scarface Mountain & Ray Brook Brewhouse
Halfway between Saranac Lake and Lake Placid lies Scarface Mountain, a moderate hike that gets steep towards the summit, with an elevation gain of 1,584 feet. The trailhead is located on Route 86 in the hamlet of Ray Brook. The 7.4 mile excursion boasts views of the High Peaks and nearby lakes, but not from the summit! There's a lovely place to stop and take in the view at the 3 mile mark, but the summit itself is wooded.
Once back on level ground, head out to Ray Brook Brewhouse near Wolf Pond (less than half a mile from the trailhead). Their unique craft brews, such as Slab of Granite IPA or Moon on the Lake IPA, are served up with amazing food you won't want to pass up after your hike.
Plan your trip to the Saranac Lake area >>
6. Bald Mountain & Fulton Chain Craft Brewery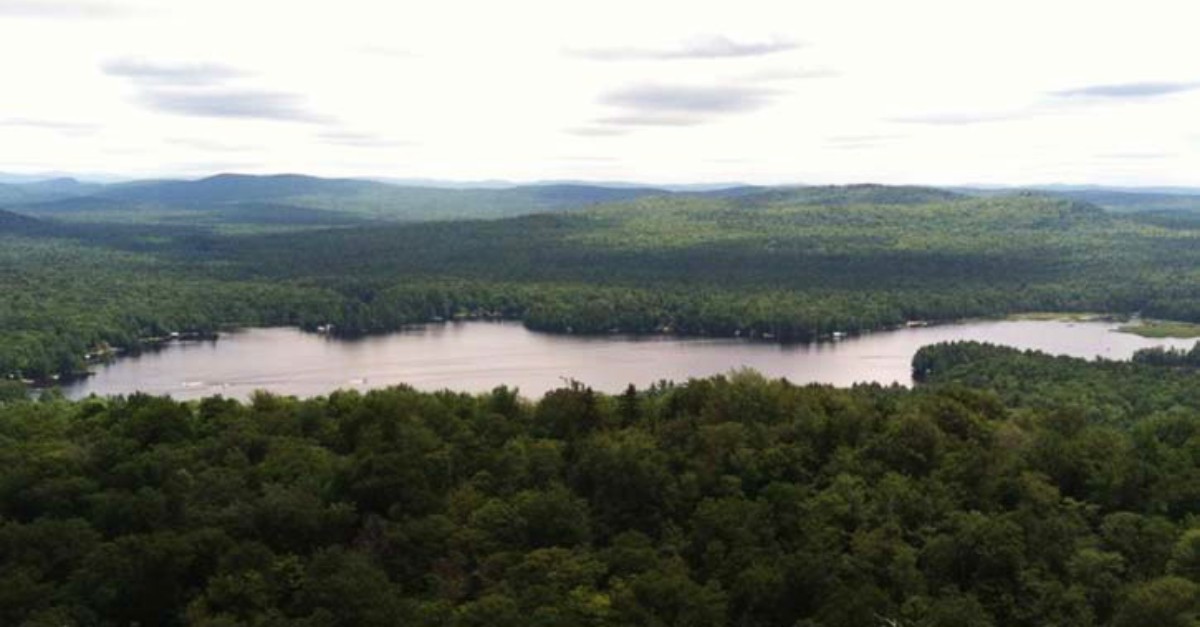 Finally, head west to Old Forge and hike Bald Mountain, the shortest (1.9 miles) and one of the most beautiful hikes in this challenge. Drive north on Route 28 out of Old Forge, then turn onto Route 93/Rondaxe Road to reach the trailhead. You can reach the top from interior herd paths or a scenic (but narrow) ridge top trail. The elevation gain is only 416 feet, and the trip can be somewhat steep, but you'll get stunning views from the summit. There's the Rondaxe Fire Tower to climb, as well as spectacular views of Blue Mountain, Mount Marcy, Indian Lake, the Fulton Chain of Lakes (pictured above), and more.
Celebrate your accomplishment at Fulton Chain Craft Brewery in Old Forge, which offers a rotating selection of brews on tap, including ales, lagers, and pilsners, which are made with locally-sourced ingredients.
Find places to stay and things to do in Old Forge >>
The Next Step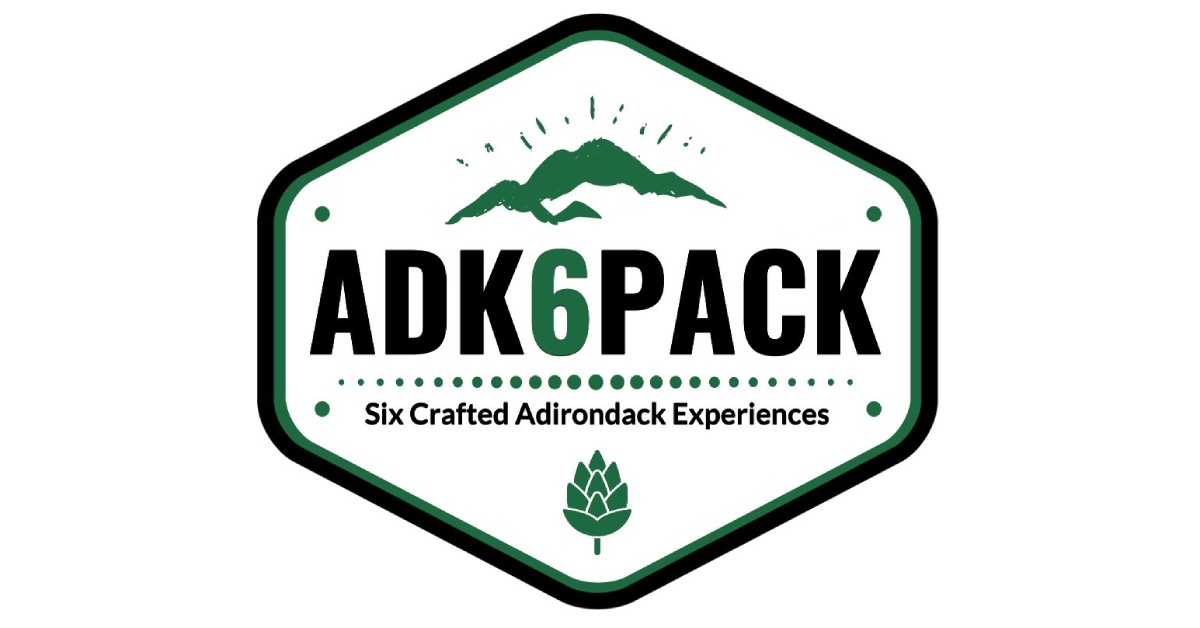 Image provided by ADK 6 Pack
Now that you've completed the challenge, how do you claim your spot beside other ADK6PACKers? After completing each hike and visiting each brewery in the order of your choice, you'll submit a registration form. While you don't need to purchase or drink anything at the breweries to participate, you will need to share the dates of each climb and visit. After mailing in the form with a small registration fee, you'll receive a patch and sticker to celebrate your accomplishment. They also have a winter version of the challenge that lasts from December 21 through March 21.
Now that you've learned about the ADK 6 Pack, have you checked out the Adirondack 46ers or the Fire Tower Challenge?