Plan the Perfect Holiday Party This Season
Want to host the best party of the holiday season? Before you follow your creative side, learn a few of the basics - even the most impressive party can be drab without proper planning.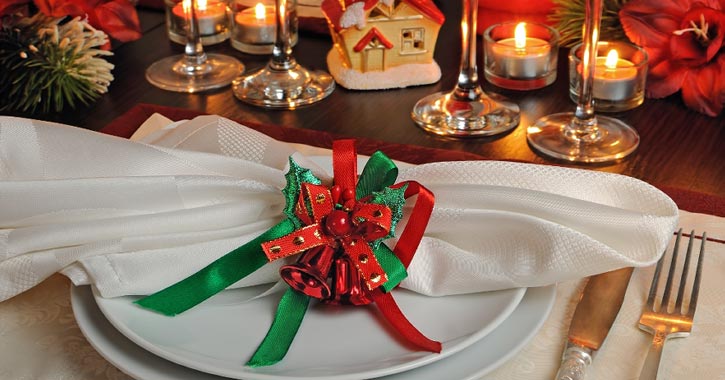 Gather Basic Information
First, you need to decide the following:
Venue
Number of Guests
Food
Budget
All of these factors can help when it comes to making party planning decisions. Know everything before you send out the invites - you do not want to send out too many and find out the venue will not fit a number near that size, or too little and find that the catering company does not do small functions. For all of the above, it's important to keep to a budget and not go overboard if you don't have to.
Once you've begun the initial brainstorming for your party, you can then consider outside venues, food options, party themes, and forms of entertainment.
Explore Outside Venues
Consider hosting your holiday party at a hotel, inn, lodge or Adirondack resort. This is a great option for a plethora of reasons - you don't have to clean up after the party is over, and most Adirondack hotels and resorts will give you plenty of room to move around. Some hotels have catering, and many offer great deals if you book early. Search our Adirondack lodging section for possibilities.
Select a Food Option
If you decide to have food at your party, you can choose between:
Appetizers
Snacks
A Sit-Down Meal
A Potluck
Cooking On Your Own
Hiring A Caterer
Whatever you decide to do, be sure to take your guests' allergies and diet restrictions into consideration, and provide alternatives to make everyone happy.
Choose a Theme
If you want to decorate for your party, try choosing a theme first. This will give you ideas on the kinds of decorations needed. The theme can be religious, a festive holiday, a celebration in winter - anything you can think of. Keep the decor simple!
If you are keen on decorations and want to try some "green" alternatives to disposable cutouts or balloons, try setting up soy candles. Soy is a renewable resource, and the glow can provide a comforting touch to the party. Try gathering outdoor trinkets like pinecones and fallen branches (if you're in the Adirondacks) and sprinkle some glitter on them to create a bright and sparkling decoration.
Decide on Entertainment
Will your party be a small function where everyone is well acquainted? In that case, little entertainment will be needed, since most of the adults will be comfortable enough to mingle and talk. For larger parties where guests might not know each other, providing entertainment will lighten the mood.
You could have a singer or comedian perform, or provide fun group activities like trivia or karaoke. If there will be kids attending, consider setting up some activities - scavenger hunts, board games, or even a movie can keep little ones entertained at the party.
With these party planning tips in mind, your next holiday party is sure to be a hit!