Saranac Lake, NY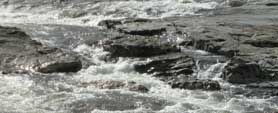 Flickr Photo by Roytsaplinjr
Saranac Lake is much more than its world-famous Ice Castle (built of ice blocks for the town's annual Winter Festival). The area is loaded with hiking trails and canoe routes, with outfitters to help you along. You can spot the local wildlife on the Saranac River Cruise Line, downhill-ski at Mount Pisgah, and cross-country-ski at Dewey Mountain. Golfers and cyclists will also find plenty of enjoyment here. Saranac Lake is home to the hiking challenge, the Saranac Lake 6er.
Saranac Lake also has its quiet pleasures. Its palette of unique shops and restaurants is amazing. The Pendragon Theater offers live professional performances to delight all drama lovers. Literary types will want to peruse the Robert Louis Stevenson Cottage. Train lovers can travel to Lake Placid from Union Station through spectacular mountains on the Adirondack Scenic Railroad. Riders of the Adirondack Carousel, instead of riding horses, will clamber atop some local Adirondack fauna: Mosquitoes, anyone?
Check out the Saranac Lake Winter Carnival!
| | |
| --- | --- |
| | On Lower Saranac Lake, Ampersand Bay Resort offers a unique opportunity to enjoy the quiet luxury of a vacation rental with hospitality and service of a resort. Open during Spring, Summer and Fall. Book your wilderness adventure today! |
| | |
| --- | --- |
| | Not to be confused with the High Peak Mt. Haystack, this one is in Ray Brook and offers a friendlier climb. |
| | |
| --- | --- |
| | Baker Mountain is possibly the easiest of the Saranac Lake 6ers, and makes a great family hike. |
| | |
| --- | --- |
| | Trade Craft Builders in Saranac Lake, NY has proudly served the Tri-Lakes region for over thirty years. We provide a wide range of remodeling and new construction building services. |
| | |
| --- | --- |
| | Rollins Pond Campground is the ideal destination for those desiring to fish, boat and hike. The 442-acre pond is popular for fishing and boating enthusiasts and is surrounded by miles of hiking trails. Enjoy a stay with your family and friends! |
| | |
| --- | --- |
| | Visit Saranac Lake Islands for excellent fishing and extensive hiking! Access to four additional lakes is available and golfing and horseback riding opportunities are nearby. Bring your family and friends for days of fun! |
| | |
| --- | --- |
| | Visit 7444 Gallery, a former industrial site, now houses a variety of local artists. |
| | |
| --- | --- |
| | Featuring original fine art by 14 regional member artists |
| | |
| --- | --- |
| | Bluseed Studios provides a project space where artists have the opportunity to experiment, diverge, exhibit and perform; to move ideas and aesthetics forward; and to share this diversity with the community. |
| | |
| --- | --- |
| | Summer Camp for Girl Scouts |
| | |
| --- | --- |
| | Located in Historic Saranac Lake, 5 miles from Lake Placid, lies our family owned Two-acre Premier Waterfront Property. Saranac lake Inn embraces beautiful Lake Views lakefront rooms and direct access to over 30 miles of connecting Adirondack water. |
| | |
| --- | --- |
| | Georgeanne Gaffney Studio & Gallery hosts fine art designed by Gaffney herself. |
| | |
| --- | --- |
| | Saranac Lake Farmers' Market has a great selection of fresh foods! Every Saturday from 10:00 a.m. until 2:00 p.m. from May through September. |
| | |
| --- | --- |
| | Established in the 1920's, this 9 hole golf course is fun and challenging at an affordable price. Tee Times accepted on weekends. Practice Range, Driving Range, Pro Shop, Restaurant and Cocktail Lounge. |
| | |
| --- | --- |
| | The Small Fortune Studio features Oil Painting of the Adirondacks by Tim Fortune. |