From Winter Carnivals to Striking Scenery: Learn What Makes This Season Special in the Adirondacks
Winter is a wonderful time of year to visit the Adirondacks, but how much do you know about it? If you've never visited this corner of NY State during the winter season, then you're missing out on some of the best activities and events that are offered in the Northeast. Take a look at these 6 things you should know about winter in the Adirondacks!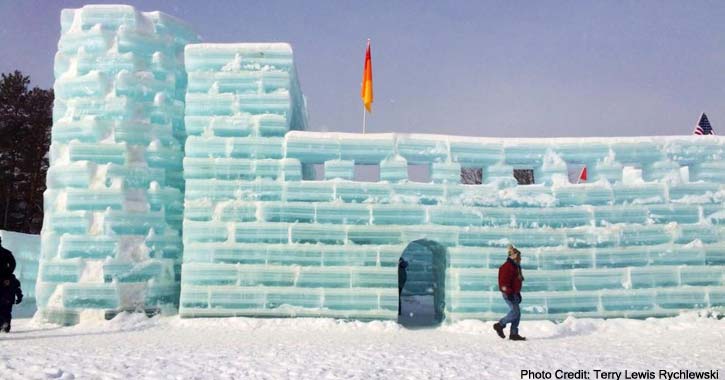 Imagine yourself sipping hot cocoa, playing games on a frozen lake, and watching fireworks blast off over a snowy landscape. You can do all that and more at one of the many winter carnivals that are held in communities throughout the Adirondack Park.
Instead of the theme park rides you'd expect to find at the bigger summer and fall festivals, Adirondack winter carnivals are about celebrating the best parts of the season. At the Saranac Lake Winter Carnival, you can explore a massive ice palace that is built by hand each year, while at the Long Lake Winter Carnival, you can participate in cardboard box sled races on snowy hillsides.
Best of all, these carnivals are family-friendly and the perfect way to spend part of your winter vacation in the Adirondacks.
Check out these winter carnivals »
You can't talk about winter in the Adirondacks without mentioning the premier ski resorts, which are located all around the region. Downhill skiing and snowboarding are the signature activities at these winter destinations, and whether you're just starting out or looking for thrilling rides, there is a trail for you.
Gore Mountain - Close to the heart of the Adirondack Park is Gore Mountain in North Creek. Offering skiers and snowboarders 108 trails and 14 lifts across four peaks, you'll have a blast on the slopes and spend less time in line.
McCauley Mountain - Located in the Western Adirondacks, McCauley Mountain in Old Forge features an altitude of 2,200 feet and 21 ski trails. There are easy and expert-level trails that begin at the summit, giving everyone the chance to see the beautiful surroundings.
Whiteface Mountain - Ski and snowboard along multiple groomed cruising trails at Whiteface Mountain in Wilmington. This ski resort is home to one of the best ski experiences in the East and the region's longest single intermediate run.
Find ski resorts and hills in the Adirondacks »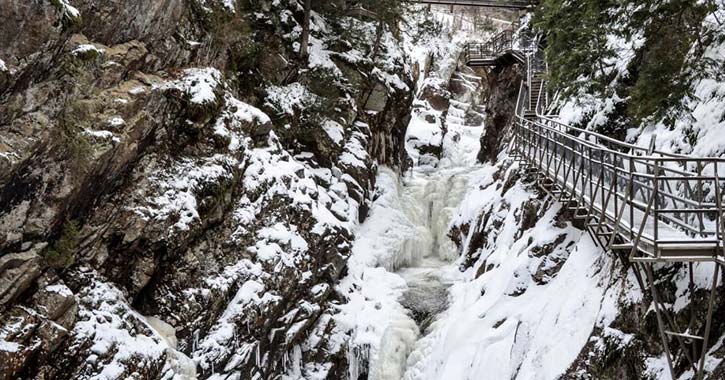 Some of the most unique outdoor attractions can be found deep in the Adirondack Park, and throughout winter, you can strap on your snowshoes and go on an adventure through the snow at them. From High Falls Gorge to Ausable Chasm, here are three that you must see this season!
High Falls Gorge - Located in Wilmington and just a short drive from Lake Placid, High Falls Gorge will leave you stunned after you tour the site in winter. Start off by seeing the ice formations that have formed over the waterfalls, and then go snowshoeing around the nature trails.
Natural Stone Bridge & Caves Park - Home to the largest marble cave entrance in the east, this geologic wonder is an impressive sight whether it's summer or winter. Enjoy a snowshoe tour of the entrance and the surrounding property.
Ausable Chasm - Nicknamed the "Grand Canyon of the Adirondacks," this natural attraction really transforms after the snow falls. When weather allows, visitors will get to see gigantic icicles tower 150 feet over the Ausable River and a massive gorge that is blanketed in snow.
View more snowshoeing destinations »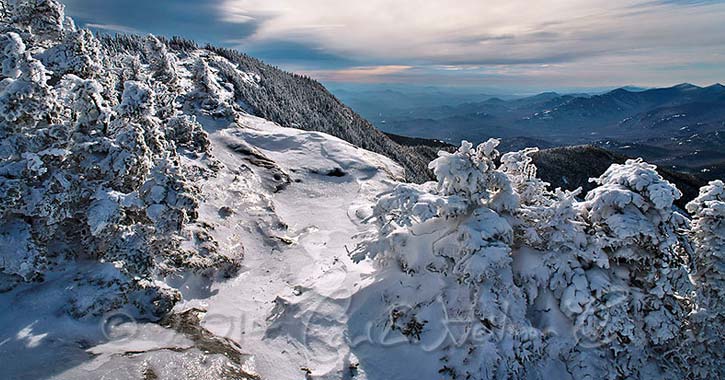 Wondering where the best views of winter are? The answer is in the Adirondacks! Take a winter hike to the top of an Adirondack mountain and witness a stunning landscape filled with snow-covered forests and frozen lakes.
While fall is a particularly popular time of year for hiking in the Adirondack Park (a hotspot for leaf peeping), the region's winter transformation is equally as impressive if you're willing to brave the season's cold and snowy conditions.
With the proper planning, a winter hike can be the most exhilarating activity you do all season. Learn what to wear, what you need to bring to prepare, and then get ready to discover the beauty of winter. Happy hiking!
Get prepared with our Winter Hiking Guide »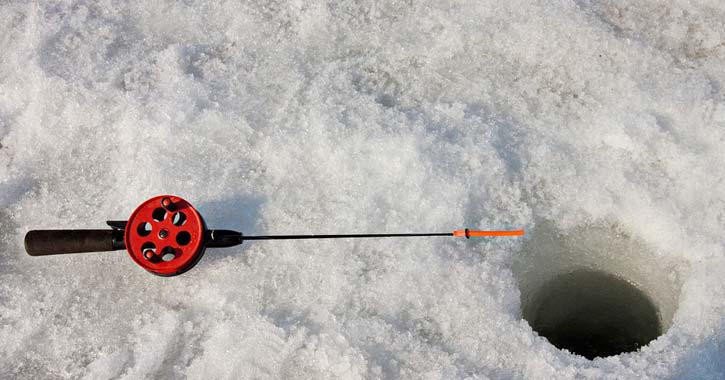 As the temperature drops, ice fishermen in the Adirondacks keep any eye on their favorite fishing spots in anticipation of the first major freeze. When they finally freeze over and become safe to walk on, ice fishing season officially kicks off!
The Adirondack Park is renowned for its numerous bodies of water that are home to a variety of fish that you can catch in winter, such as northern pike, perch, walleye, landlocked salmon, and many more.
Depending on the ice thickness, from December through mid-March, you can grab your fishing pole, head out to the nearest body of water, and see what's biting.
While many of the Adirondacks' lakes and ponds allow for ice fishing, some of the most visited destinations include St. Lawrence County, Lake George, Schroon Lake, Indian Lake, Lake Champlain, and more. Enjoy the scenic winter views as you settle in for a day of exceptional ice fishing.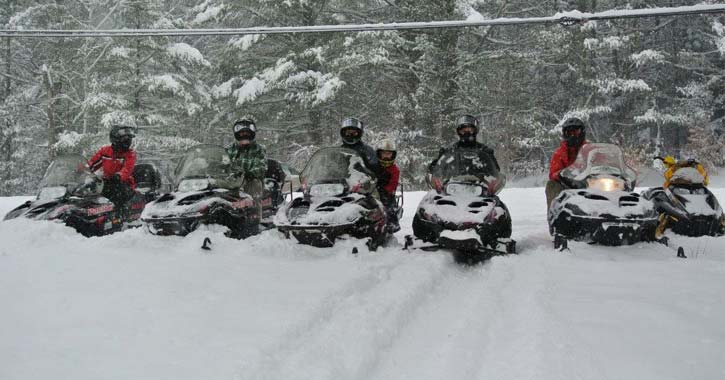 The ski resorts of the Adirondacks aren't the only places where you can experience thrills in winter. From Old Forge to Lake Placid and beyond, there are hundreds of groomed and backcountry snowmobile trails just waiting to be explored.
Compared to the rest of Northeast, the Adirondack Park is extremely popular among snowmobilers looking to ride along a vast trail network that winds through picturesque forests and connects to local communities.
Once you map your route and prepare for the journey, all that's left to do is hop on your snowmobile and ride for miles through this winter wonderland.
Find out more about snowmobiling »