Winter Adventures at Gore Mountain: Explore Featured Ski & Stay Packages for Your Trip
Please note, the following is for the 2019 to 2020 ski season. Please contact Gore Mountain directly to inquire about any 2022 to 2023 ski and stay packages.
One of the best kinds of winter getaways in the Adirondack Park is a "ski-cation," especially at Gore Mountain in North Creek, NY. This alpine ski and cross-country ski resort is a popular place for both skiers and snowboarders who love to hit the slopes on four snow-covered peaks. If you're ready to experience Gore Mountain in winter, then you should book one of these featured ski & stay packages.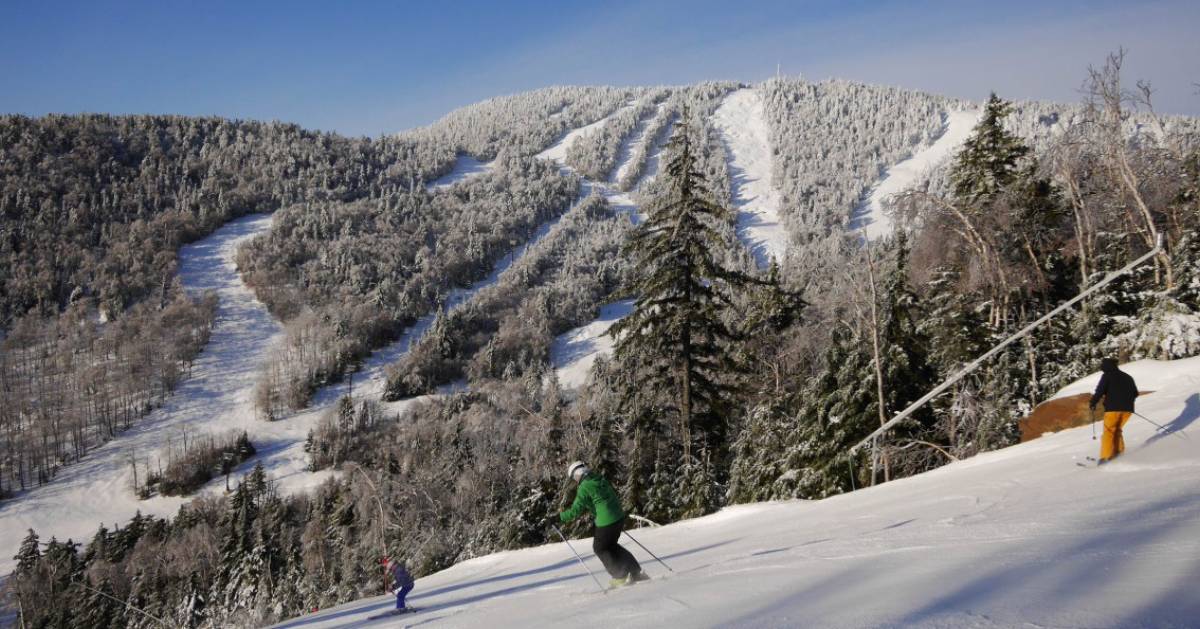 When you book one of Gore Mountain's ski & stay packages that's featured on their website, you can enjoy the ski resort for a great value. These lodging packages are available for specific times during winter, so you're sure to find one that fits your needs and "ski-cation" plans.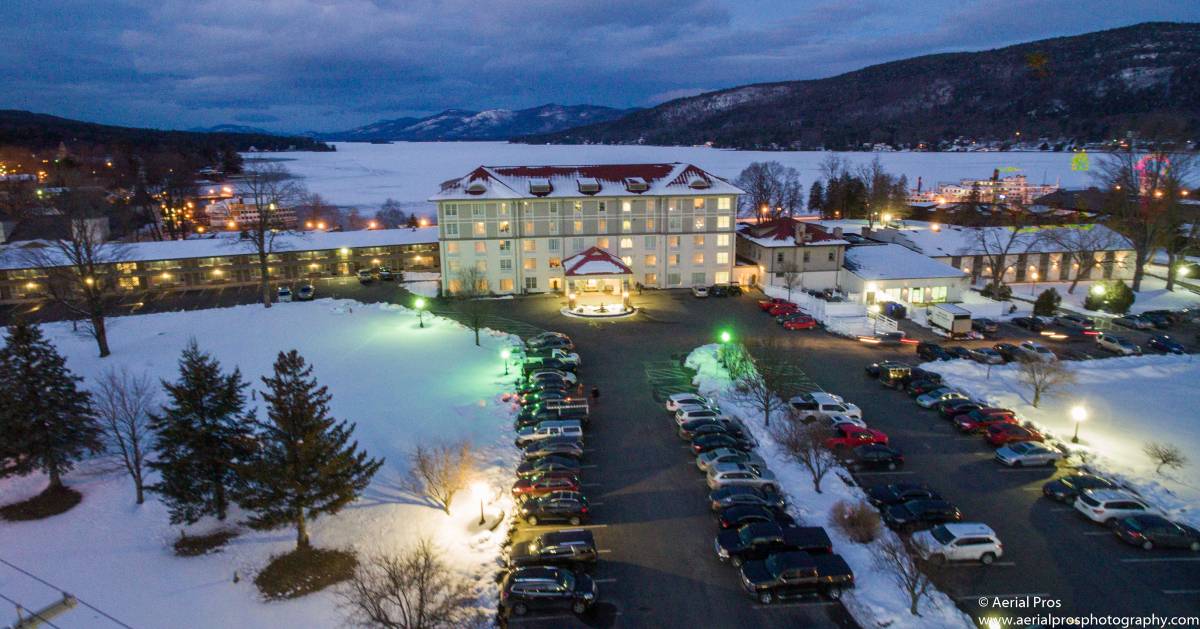 Located in the heart of Lake George Village, the Fort William Henry Hotel is an 18-acre estate that provides upscale lodging accommodations, extensive amenities, waterfront views of the lake, and a variety of ski & stay packages in winter. Each package is unique and includes shuttle service to and from Gore Mountain, which makes them convenient options for visitors.
The four packages offered on the Fort William Henry Hotel's website are:
Your Best More Gore Weekend
Available weekends from December 1, 2019 - March 31, 2020, this package offers two nights of accommodations, shuttle service, and a two-day lift ticket (Friday and Saturday lodging, Saturday and Sunday skiing).
Gore Holiday Your Way
Available Christmas Week, MLK Weekend, and Presidents' Week, this package offers accommodations (choose the length of your stay, two-night minimum), shuttle service, and an adult lift ticket.
Gore Mountain Learn a Snowsport Weekend
Available January 4-5, 11-12, 18-19, and 25-26, 2020, this package offers a two-night stay at the hotel / two-day program at Gore for first-time skiers and snowboarders ages 13+ and shuttle service.
Gore Mountain I Love NY Bonus Weekend
Available January 11-12, February 1-2, or March 7-8, 2020, this package offers three nights of accommodations, a free day of skiing/riding, a two-day adult lift ticket, shuttle service, and the best room available at time of booking. You can book Friday and Saturday, and add Thursday or Sunday night complimentary of the hotel.
You can learn more about these packages on their website, and contact the hotel directly to book one. Remember to ask about a fireplace suite for extra comfort!
View their full list of lodging specials »
Book a getaway at Fort William Henry »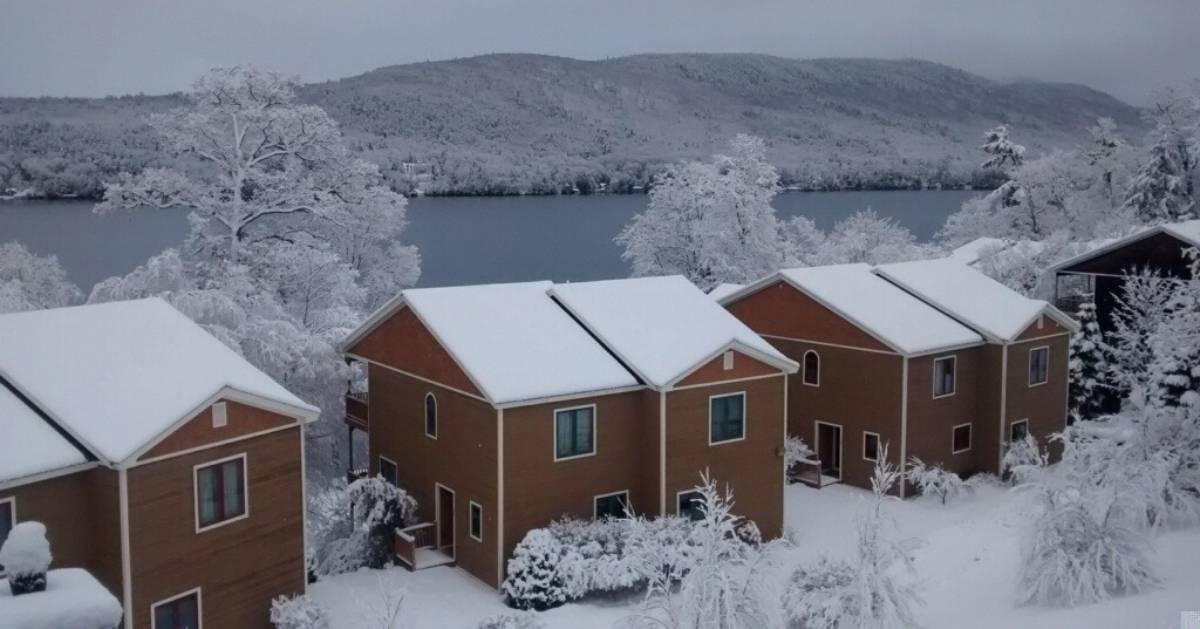 Picture yourself waking up to panoramic views of Lake George after a restful night's sleep. Sun Castle Resort in the town of Lake George is a luxurious lakefront lodging property with cozy villas and modern townhouses equipped with all the comforts & conveniences of home. From November 7, 2019 - April 30, 2020, Sun Castle Resort is offering a Dine & Stay Package that's available Sundays, Mondays, Thursdays, and select weekends.
This special package includes a one-night stay in a waterfront townhouse, a three-course dinner for two, and a farm-fresh breakfast at their on-site sister property, The Inn at Erlowest. Prices start at $299 + tax, and each townhouse features a full-size kitchen, cable television, a fireplace, and other great amenities. They can sleep a maximum of six people, and extra guests can be added to dinner and breakfast for a fee.
A townhouse would be an excellent lodging option if you're planning a Gore Mountain ski trip with a small group of friends this winter. Contact Sun Castle Resort and book the Dine & Stay Package.
Book lodging at Sun Castle Resort »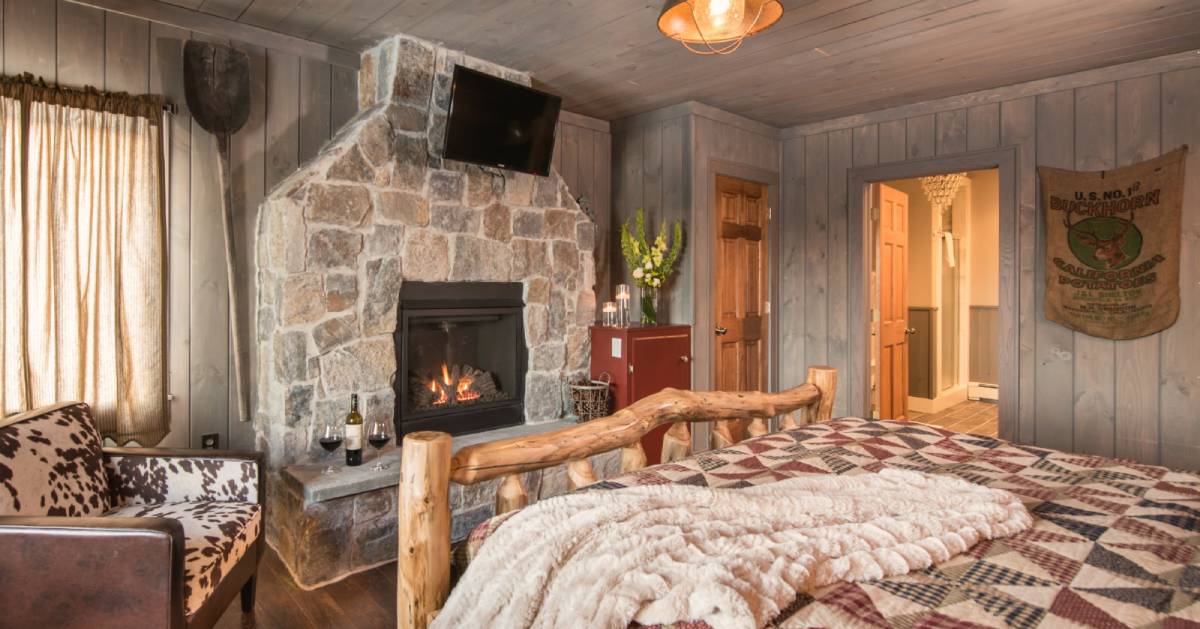 In the Gore Mountain Region of the Adirondacks, Friends Lake Inn stands out because it is one of the closest lodging properties to the ski resort that offers both upscale accommodations and dining. Perfect for couples, this rustic Adirondack hotel is a wonderful place for a romantic getaway after a day on the slopes.
There are 17 unique rooms, and Friends Lake Inn's premier room amenities include a steam shower, a jacuzzi or soaker tub, luxurious robes, and fireplaces where you can warm up and wind down. Plus, you can enjoy world-class food paired with exquisite wine at the Bistro Bar and fine dining restaurant.
Choose Friends Lake Inn as your home away from home for your next ski trip to Gore Mountain. They always offer a number of lodging packages and add-ons to make your stay even more memorable.
See their specials and packages »
Visit their website and book now »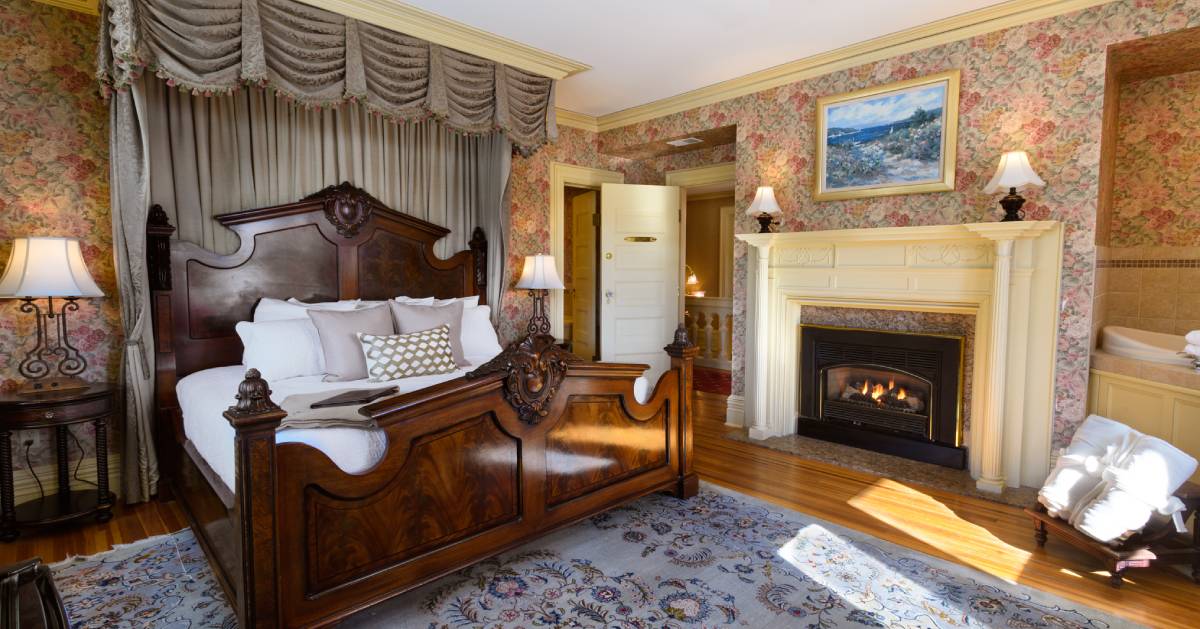 Unparalleled and luxurious comforts await when you book a room at The Inn at Erlowest in Lake George. This turn-of-the-century stone castle is home to 10 beautiful suites with king-size beds, a spacious sitting area, double jacuzzi tubs, and private fireplaces on the second floor. This winter, The Inn at Erlowest is offering a Dine & Stay Package that's valid for November 7, 2019 - April 30, 2020, on Sundays, Mondays, and Thursdays. Select weekends and upgrades are available.
This package includes a one-night stay in a warm and cozy suite (fireplaces in some rooms), a three-course dinner for two at their intimate restaurant, and a farm-fresh breakfast. Ski throughout the day, and then enjoy a delicious meal and drinks. The cost is $299 plus tax, and it's recommended that you call the inn to check availability.
Book a room at The Inn at Erlowest »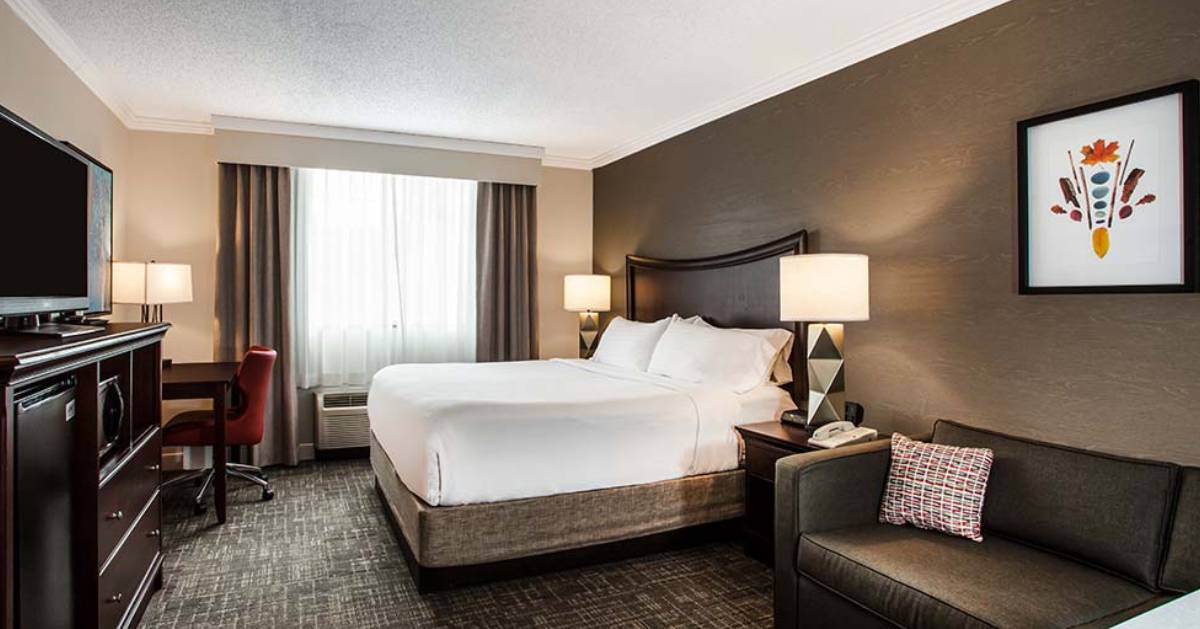 For many visitors to the Southern Adirondacks and Lake George Region, the Holiday Inn Resort is the ideal vacation destination. Their combination of premium amenities, renovated guest rooms, and family-friendly atmosphere make them a popular choice year round.
From now through the end of ski season, April 1, 2020, the hotel is offering an Apres Ski Package that includes a one-night stay, dinner for two in the on-site TR's Restaurant, and two complimentary drinks to enjoy fireside.
Rates vary based on the type of room you'd like, and there are plenty of areas where you can warm up after an adventure at Gore Mountain, such as the outdoor fire pits, outdoor hot tub, and the indoor heated pool. If you visit on January 24-25 or January 31 - February 1, you can also check out the hotel's annual Forest Ice Bar, one of the season's coolest attractions.
Book your room at the Holiday Inn Resort »
The ski slopes are calling! Pick a ski & stay package that's best for you and plan your trip to the Adirondacks.