Golden Arrow Resort Recognized as One of the Most Environmentally Friendly Properties in the World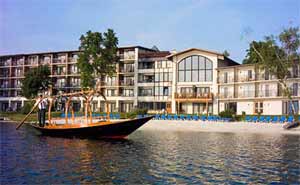 The Golden Arrow Lakeside Resort, one of the most popular in Lake Placid, was recently recognized for being a leader in protecting the environment within the lodging industry.
They are now one of two resorts in the entire world, and the only one in the US, to have received a Green Leaf™ Eco-rating of 5 from International Audubon for their tremendous green initiatives.
So what did the Golden Arrow do to earn such high praise? They have continuously kept the environment and resource sustainability in mind in all phases of their business. From housekeeping (energy efficient room heating and cooling system) to playtime (beach sand made from limestone to help fight acid rain), they have made sure that the environment is minimally impacted at every turn. A complete list of their initiatives can be found on their website: http://www.golden-arrow.com.
The Golden Arrow held a public announcement for their recognition on March 3, 2010.
The Golden Arrow Lakeside Resort is located on Main Street in Lake Placid. It has 166 rooms and suites, extensive conference facilities, dining and a wide range of amenities on property. For more information or reservations, call 518-523-3353, 800-582-5540.
More information on their restaurant and food offerings:
Straight Shot Bar and Generations Restaurant